Derby Betting Tips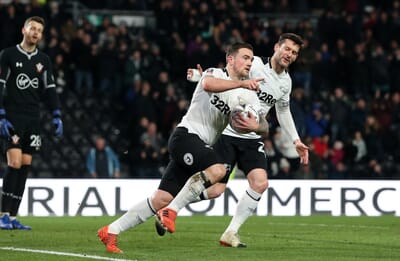 Derby County are a proud football club based in the Midlands. They play at Pride Park and have a strong rivalry with Nottingham Forest, with free Derby betting tips and picks made available for games against the Tricky Trees and several other high-profile matches.
Get the odds days in advance of kick-off thanks to the bookmakers looking to price up the latest Rams match, while there is often In-Play wagering available when it comes to this popular team.
We publish Derby betting tips and team news so you can get predicted lineups based on the injury situation, while confirmed starting 11s are also published in the minutes leading up to kick-off.
Derby Free Bets & Bonuses
Derby Injuries
Type
Name
Position
Matches
Goals
Assists
Info
Expected Return
Sam Baldock
F
6
1
0
Broken nose
Early November
Craig Forsyth
D
5
0
1
Illness
Late October
Krystian Bielik
M
0
0
0
ACL injury
Early November
Next Game: Coventry vs Derby
1:

1.61

X:

3.80

2:

5.25
Bet Now!
T&Cs apply, Gamble Responsibly 18+
Derby Lineups
Confirmed Lineups
Predicted Lineups
Derby Squad
Manager: Wayne Rooney
Goalkeepers

1

David Marshall

21

Kelle Roos

31

Ryan Allsop
Defenders

2

Nathan Byrne

3

Craig Forsyth

4

Graeme Shinnie

6

Phil Jagielka

16

Richard Stearman

26

Lee Buchanan

33

Curtis Davies

36

Festy Ebosele

37

Kornell McDonald

41

Eiran Cashin

43

Dylan Williams

46

Jordan Brown
Midfielders

5

Krystian Bielik

7

Kamil Jozwiak

8

Max Bird

11

Ravel Morrison

17

Louie Sibley

28

Connor Dixon

35

Louie Watson

38

Jason Knight

40

Isaac Hutchinson

42

Liam Thompson
Forwards

9

Sam Baldock

10

Tom Lawrence

13

C. Kazim-Richards

39

Jack Stretton

49

Tyree Wilson

0

Bobby Duncan
Derby Fixtures
Saturday 23 October
Best Odds
Saturday 30 October
Wednesday 03 November
Saturday 06 November
Saturday 20 November
Derby Results
Tuesday 19 October
Championship 21:45 Tue 19 Oct
21:45
England Championship
Saturday 16 October
Championship 17:00 Sat 16 Oct
17:00
England Championship
Saturday 02 October
Championship 17:00 Sat 2 Oct
17:00
England Championship
Wednesday 29 September
Championship 21:45 Wed 29 Sep
21:45
England Championship
Saturday 25 September
Championship 17:00 Sat 25 Sep
17:00
England Championship
Sheffield United
1-0
Derby
Championship 2021/2022
| # | Team | G | W | D | L | +/- | P |
| --- | --- | --- | --- | --- | --- | --- | --- |
| 1 | Bournemouth | 13 | 9 | 4 | 0 | 21:8 | 31 |
| 2 | Fulham | 13 | 8 | 2 | 3 | 29:14 | 26 |
| 3 | West Brom | 13 | 7 | 4 | 2 | 22:11 | 25 |
| 4 | Coventry | 13 | 7 | 2 | 4 | 19:16 | 23 |
| 5 | QPR | 13 | 6 | 3 | 4 | 24:20 | 21 |
| 6 | Huddersfield | 13 | 6 | 3 | 4 | 18:14 | 21 |
| 7 | Stoke | 13 | 6 | 3 | 4 | 16:14 | 21 |
| 8 | Reading | 13 | 6 | 1 | 6 | 20:22 | 19 |
| 9 | Luton | 13 | 4 | 6 | 3 | 22:18 | 18 |
| 10 | Middlesbrough | 13 | 5 | 3 | 5 | 15:13 | 18 |
| 11 | Millwall | 13 | 4 | 6 | 3 | 13:14 | 18 |
| 12 | Blackpool | 13 | 5 | 3 | 5 | 15:18 | 18 |
| 13 | Blackburn | 13 | 4 | 5 | 4 | 21:17 | 17 |
| 14 | Nottingham Forest | 13 | 5 | 2 | 6 | 18:16 | 17 |
| 15 | Swansea | 13 | 4 | 5 | 4 | 14:15 | 17 |
| 16 | Bristol City | 13 | 4 | 4 | 5 | 15:17 | 16 |
| 17 | Sheffield United | 13 | 4 | 3 | 6 | 17:19 | 15 |
| 18 | Preston | 13 | 3 | 6 | 4 | 14:16 | 15 |
| 19 | Birmingham | 13 | 3 | 4 | 6 | 10:16 | 13 |
| 20 | Peterborough | 13 | 3 | 2 | 8 | 14:26 | 11 |
| 21 | Cardiff | 13 | 3 | 2 | 8 | 12:24 | 11 |
| 22 | Hull | 13 | 2 | 3 | 8 | 9:19 | 9 |
| 23 | Barnsley | 13 | 1 | 5 | 7 | 7:17 | 8 |
| 24 | Derby | 13 | 3 | 7 | 3 | 9:10 | 4 |
| # | Team | G | W | D | L | +/- | P |
| --- | --- | --- | --- | --- | --- | --- | --- |
| 1 | Coventry | 6 | 6 | 0 | 0 | 14:3 | 18 |
| 2 | Fulham | 7 | 5 | 1 | 1 | 16:5 | 16 |
| 3 | Stoke | 7 | 5 | 1 | 1 | 10:5 | 16 |
| 4 | West Brom | 6 | 4 | 2 | 0 | 11:4 | 14 |
| 5 | Bournemouth | 6 | 4 | 2 | 0 | 13:7 | 14 |
| 6 | QPR | 7 | 4 | 2 | 1 | 12:7 | 14 |
| 7 | Middlesbrough | 7 | 4 | 1 | 2 | 12:7 | 13 |
| 8 | Reading | 7 | 4 | 1 | 2 | 14:11 | 13 |
| 9 | Huddersfield | 7 | 4 | 1 | 2 | 11:9 | 13 |
| 10 | Swansea | 7 | 3 | 3 | 1 | 7:4 | 12 |
| 11 | Preston | 7 | 3 | 3 | 1 | 9:8 | 12 |
| 12 | Blackburn | 6 | 3 | 2 | 1 | 14:8 | 11 |
| 13 | Derby | 7 | 2 | 5 | 0 | 7:5 | 11 |
| 14 | Sheffield United | 7 | 3 | 1 | 3 | 13:10 | 10 |
| 15 | Luton | 6 | 2 | 3 | 1 | 11:8 | 9 |
| 16 | Blackpool | 6 | 3 | 0 | 3 | 4:7 | 9 |
| 17 | Peterborough | 6 | 2 | 2 | 2 | 9:7 | 8 |
| 18 | Millwall | 6 | 2 | 2 | 2 | 6:7 | 8 |
| 19 | Barnsley | 6 | 1 | 2 | 3 | 3:6 | 5 |
| 20 | Hull | 7 | 1 | 2 | 4 | 5:10 | 5 |
| 21 | Birmingham | 6 | 1 | 2 | 3 | 3:9 | 5 |
| 22 | Nottingham Forest | 6 | 1 | 1 | 4 | 6:10 | 4 |
| 23 | Bristol City | 7 | 0 | 4 | 3 | 4:8 | 4 |
| 24 | Cardiff | 6 | 1 | 1 | 4 | 5:10 | 4 |