Sheff Wed v Sheff Utd Championship preview and tips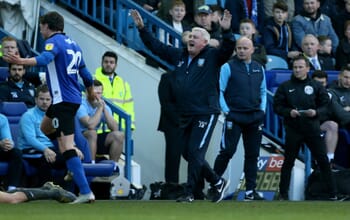 20:45 Mon 04 Mar
Football
Steve Bruce will have cast a wry smile at the fixture list when becoming manager of Sheffield Wednesday, with Sheffield United a club who has been previously managed by the experienced manager who will now be looking to put a dent into the Blades' promotion campaign.
United are in a very strong position in the Championship after amassing 64 points from 34 games, with Chris Wilder having continued to demonstrate what a brilliant football manager he is and he will have his team fired up for Sunday's derby.
The Blades have won their past three encounters, with Middlesbrough and Reading beaten before a slender triumph at The Hawthorns which means they are strong favourites coming into this clash.
Whisper it quietly but Gary Madine could be in line to haunt his former club, with the striker having scored a brace against the Royals and he was a controversial signing when Wilder decided to recruit the big front man.
Wednesday are fifteenth in the Championship table and won't be going up or down this season, with the owners hoping that Bruce can help the club sustain a promotion campaign next season.
The Owls haven't lost a Championship game since 12 January, with Wednesday having beaten Wigan and Swansea, while these results sandwiched a goalless draw against Reading.
Indeed, Bruce has focused on making this team hard to beat, although that recent 3-1 triumph against the Swans was the best result since the manager took charge and it's clear that the supporters will be fired up for this encounter.
It's hard to get excited about the Blades winning when they've won less than 50% of their matches on the road this season, especially when remembering the way that the team cast away a three-goal lead to draw 3-3 with Aston Villa recently.
BETTING TIP
Draw @ 3.50 with bet365

All odds are correct at time of publishing and are subject to change
Published Feb 26, 2019, 15:17 by
Tony Thomas
Team News
Sheff Wed: 4-4-1-1 (Confirmed Line-ups)
Sheff Utd: 3-5-2 (Confirmed Line-ups)
Championship
| # | Team | G | W | D | L | +/- | P |
| --- | --- | --- | --- | --- | --- | --- | --- |
| 1 | Norwich | 38 | 23 | 9 | 6 | 77:48 | 78 |
| 2 | Sheffield Unite | 38 | 22 | 8 | 8 | 64:34 | 74 |
| 3 | Leeds | 38 | 22 | 7 | 9 | 63:39 | 73 |
| 4 | West Bromwich A | 38 | 19 | 10 | 9 | 71:47 | 67 |
| 5 | Middlesbrough | 37 | 15 | 13 | 9 | 40:31 | 58 |
| 6 | Aston Villa | 38 | 14 | 15 | 9 | 68:54 | 57 |
| 7 | Preston | 38 | 15 | 12 | 11 | 58:50 | 57 |
| 8 | Derby | 37 | 15 | 11 | 11 | 46:44 | 56 |
| 9 | Bristol City | 36 | 15 | 10 | 11 | 45:38 | 55 |
| 10 | Sheffield Wedne | 38 | 14 | 13 | 11 | 48:51 | 55 |
| 11 | Nottingham Fore | 38 | 13 | 15 | 10 | 52:44 | 54 |
| 12 | Hull | 38 | 14 | 9 | 15 | 54:56 | 51 |
| 13 | Birmingham | 38 | 12 | 14 | 12 | 53:49 | 50 |
| 14 | Brentford | 37 | 13 | 10 | 14 | 60:50 | 49 |
| 15 | Swansea | 36 | 13 | 8 | 15 | 45:46 | 47 |
| 16 | Blackburn | 38 | 12 | 11 | 15 | 52:60 | 47 |
| 17 | Stoke | 37 | 10 | 16 | 11 | 37:42 | 46 |
| 18 | Queens Park Ran | 38 | 12 | 8 | 18 | 45:59 | 44 |
| 19 | Wigan | 38 | 10 | 9 | 19 | 41:57 | 39 |
| 20 | Millwall | 37 | 9 | 10 | 18 | 41:55 | 37 |
| 21 | Reading | 37 | 8 | 12 | 17 | 40:56 | 36 |
| 22 | Rotherham | 38 | 7 | 15 | 16 | 40:61 | 36 |
| 23 | Bolton | 38 | 7 | 8 | 23 | 26:63 | 29 |
| 24 | Ipswich | 38 | 3 | 15 | 20 | 29:61 | 24 |