Arsenal
v

Brighton Betting Tips & Predictions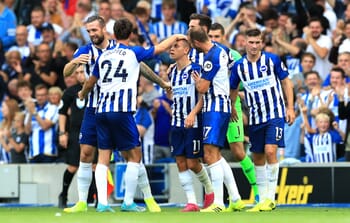 21:15 Thu 05 Dec
Football
Brighton & Hove Albion might not look as though they are pulling up many trees at the AMEX Stadium this season, although the Seagulls have produced some memorable performances including a 3-0 thrashing of Tottenham Hotspur, while they also ran Liverpool close at Anfield last Saturday.
Team news | League Table | Odds
Graham Potter has recently been rewarded with a six-year contract at the club despite only replacing Chris Hughton last summer and it must be the case that the Englishman is laying down some excellent foundations at the Sussex club, with Brighton heading to the Emirates on Thursday.
Although the bookies make Albion the rank outsiders to claim victory at the Emirates Stadium, they will face an Arsenal side who have been blowing hot and cold all season and recently parted company with manager Unai Emery.
Fredrik Ljungberg is now tasked with improving the Gunners' situation although the team looked far from defensively solid when drawing 2-2 at Norwich on Sunday and it said plenty that Bernd Leno was the outstanding performer for the London side.
While Arsenal are unbeaten at home this season, they have drawn more (4) than they have won (3) in front of their own supporters, while Southampton outclassed them in the last match there and should have come away with a maximum haul.
We're going to side with Brighton on the Asian Handicap for this match and will err on the side of caution by going with the visitors with a +1.5 goal start which means they can even afford to lose by the odd goal for us to profit with our bet.
A braver punter might want to take the Seagulls with a +1 goal start or even 0.5 goal considering that they acquitted themselves well in the toughest fixture of the season and could easily have come away with a point in the final reckoning.
BETTING TIP
Brighton +1.5 @ 1.52 with bet365
Team News
Confirmed Lineup
Arsenal v Brighton - Predicted Lineups & Confirmed Starting 11s
Arsenal Lineup
Confirmed Lineup & Formation
Brighton Lineup
Confirmed Lineup & Formation
05

Sokratis Papastathopoulos
14

Pierre Emerick Aubameyang
44

Aaron Anthony Connolly
Arsenal Formation
4-2-3-1
Arsenal Substitutes
35: Gabriel Martinelli
19: Nicolas Pepe
24: Reiss Nelson
29: Matteo Guendouzi
03: Kieran Tierney
21: Calum Chambers
26: Damian Emiliano Martinez
Brighton Formation
3-4-3
Brighton Substitutes
17: Glenn Murray
11: Leandro Trossard
08: Yves Bissouma
22: Martin Montoya
30: Bernardo
27: David Button
04: Shane Duffy
Arsenal v Brighton - Injuries, Bans & Suspensions
Arsenal v Brighton - Stats
Premier League - Standings & League Table
Premier League
- League Table
| # | Team | G | W | D | L | +/- | P |
| --- | --- | --- | --- | --- | --- | --- | --- |
| 1 | Liverpool | 29 | 27 | 1 | 1 | 66:21 | 82 |
| 2 | Manchester City | 28 | 18 | 3 | 7 | 68:31 | 57 |
| 3 | Leicester | 29 | 16 | 5 | 8 | 58:28 | 53 |
| 4 | Chelsea | 29 | 14 | 6 | 9 | 51:39 | 48 |
| 5 | Manchester United | 29 | 12 | 9 | 8 | 44:30 | 45 |
| 6 | Wolverhampton | 29 | 10 | 13 | 6 | 41:34 | 43 |
| 7 | Sheffield United | 28 | 11 | 10 | 7 | 30:25 | 43 |
| 8 | Tottenham | 29 | 11 | 8 | 10 | 47:40 | 41 |
| 9 | Arsenal | 28 | 9 | 13 | 6 | 40:36 | 40 |
| 10 | Burnley | 29 | 11 | 6 | 12 | 34:40 | 39 |
| 11 | Crystal Palace | 29 | 10 | 9 | 10 | 26:32 | 39 |
| 12 | Everton | 29 | 10 | 7 | 12 | 37:46 | 37 |
| 13 | Newcastle | 29 | 9 | 8 | 12 | 25:41 | 35 |
| 14 | Southampton | 29 | 10 | 4 | 15 | 35:52 | 34 |
| 15 | Brighton | 29 | 6 | 11 | 12 | 32:40 | 29 |
| 16 | West Ham | 29 | 7 | 6 | 16 | 35:50 | 27 |
| 17 | Watford | 29 | 6 | 9 | 14 | 27:44 | 27 |
| 18 | Bournemouth | 29 | 7 | 6 | 16 | 29:47 | 27 |
| 19 | Aston Villa | 28 | 7 | 4 | 17 | 34:56 | 25 |
| 20 | Norwich | 29 | 5 | 6 | 18 | 25:52 | 21 |
| # | Team | G | W | D | L | +/- | P |
| --- | --- | --- | --- | --- | --- | --- | --- |
| 1 | Liverpool | 15 | 15 | 0 | 0 | 40:12 | 45 |
| 2 | Leicester | 15 | 9 | 3 | 3 | 30:15 | 30 |
| 3 | Manchester City | 13 | 9 | 2 | 2 | 33:12 | 29 |
| 4 | Manchester United | 15 | 8 | 5 | 2 | 29:12 | 29 |
| 5 | Tottenham | 14 | 8 | 2 | 4 | 27:15 | 26 |
| 6 | Arsenal | 15 | 7 | 5 | 3 | 26:20 | 26 |
| 7 | Everton | 14 | 7 | 4 | 3 | 19:15 | 25 |
| 8 | Chelsea | 15 | 7 | 3 | 5 | 22:15 | 24 |
| 9 | Sheffield United | 15 | 7 | 3 | 5 | 17:13 | 24 |
| 10 | Burnley | 15 | 7 | 2 | 6 | 20:19 | 23 |
| 11 | Wolverhampton | 15 | 5 | 7 | 3 | 21:17 | 22 |
| 12 | Crystal Palace | 15 | 6 | 4 | 5 | 12:13 | 22 |
| 13 | Newcastle | 14 | 5 | 6 | 3 | 12:12 | 21 |
| 14 | Brighton | 14 | 4 | 6 | 4 | 17:15 | 18 |
| 15 | Watford | 14 | 4 | 5 | 5 | 16:17 | 17 |
| 16 | Bournemouth | 14 | 4 | 5 | 5 | 17:21 | 17 |
| 17 | Aston Villa | 13 | 5 | 2 | 6 | 18:24 | 17 |
| 18 | West Ham | 14 | 4 | 3 | 7 | 23:26 | 15 |
| 19 | Norwich | 14 | 4 | 3 | 7 | 19:26 | 15 |
| 20 | Southampton | 15 | 4 | 2 | 9 | 16:31 | 14 |
Free Daily Betting Tips from our Expert Tipsters
Free Daily Betting Tips from our Tipsters
Sat 02 May
Sun 03 May
Sat 30 May
Sat 30 May