Arsenal
vs

Newcastle Betting Tips & Predictions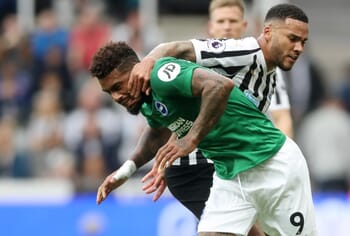 17:30 Sun 16 Feb
Football
Tip: 2 AH +1.5
Units: 3/5
Newcastle United supporters have recently joked that their team are enjoying the "worst unbeaten run" considering that the Magpies haven't lost for eight matches although only two of those games have ended in actual victory.
Team news | League Table | Odds
The run started with a 1-1 draw at Rochdale and also included a goalless draw against Oxford, although there were some bright moments which featured an amazing injury-time comeback to land a point at Goodison Park.
Newcastle have also beaten Chelsea along the way and perhaps they can give a good account of themselves at the Emirates Stadium on Sunday, with several key players having returned from injury including Jamaal Lascelles and Allan Saint-Maximin.
Lascelles is probably the best defender for the north-east side and will marshal affairs from deep, while Saint-Maximin is an exciting attacking player who could be lively on the break against an Arsenal team carrying all the expectations of their supporters.
The Gunners are ridiculously short to win this game considering they are actually level on points with their opponents at the moment, with Arsenal having only won four of their twelve matches at the Emirates this term.
The team looked to be on the rise when beating Manchester United in early January, although they have failed to win any of their ensuring four top flight games and were held to a 1-1 draw against Sheffield United along the way.
Arteta is clearly making the team harder to beat but his pragmatic approach isn't yielding many goals and it's possible that it could be another frustrating afternoon for supporters who have given up hope of a top four finish this season.
Yes, the presence of players such as Pierre-Emerick Aubameyang and Gabriel Martinelli could see the Gunners cut through their opponents here, although Newcastle are capable of keeping the game tight enough to win with this bet.
BETTING TIP
Newcastle +1.5 @ 1.65 with bet365
Team News
Confirmed Lineup
Arsenal vs Newcastle - Predicted Lineups & Confirmed Starting 11s
Arsenal Lineup
Confirmed Lineup & Formation
Newcastle Lineup
Confirmed Lineup & Formation
14

Pierre Emerick Aubameyang
Arsenal Formation
4-2-3-1
Arsenal Substitutes
09: Alexandre Lacazette
11: Lucas Torreira
28: Joseph Willock
35: Gabriel Martinelli
31: Sead Kolasinac
05: Sokratis Papastathopoulos
26: Damian Emiliano Martinez
Newcastle Formation
5-4-1
Newcastle Substitutes
14: Isaac Hayden
30: Christian Atsu
43: Matthew Longstaff
11: Matt Ritchie
05: Fabian Schär
20: Florian Lejeune
26: Karl Darlow
Arsenal vs Newcastle - Injuries, Bans & Suspensions
Arsenal vs Newcastle - Stats
Premier League - Standings & League Table
Premier League
- League Table
| # | Team | G | W | D | L | +/- | P |
| --- | --- | --- | --- | --- | --- | --- | --- |
| 1 | Liverpool | 29 | 27 | 1 | 1 | 66:21 | 82 |
| 2 | Manchester City | 28 | 18 | 3 | 7 | 68:31 | 57 |
| 3 | Leicester | 29 | 16 | 5 | 8 | 58:28 | 53 |
| 4 | Chelsea | 29 | 14 | 6 | 9 | 51:39 | 48 |
| 5 | Manchester United | 29 | 12 | 9 | 8 | 44:30 | 45 |
| 6 | Wolverhampton | 29 | 10 | 13 | 6 | 41:34 | 43 |
| 7 | Sheffield United | 28 | 11 | 10 | 7 | 30:25 | 43 |
| 8 | Tottenham | 29 | 11 | 8 | 10 | 47:40 | 41 |
| 9 | Arsenal | 28 | 9 | 13 | 6 | 40:36 | 40 |
| 10 | Burnley | 29 | 11 | 6 | 12 | 34:40 | 39 |
| 11 | Crystal Palace | 29 | 10 | 9 | 10 | 26:32 | 39 |
| 12 | Everton | 29 | 10 | 7 | 12 | 37:46 | 37 |
| 13 | Newcastle | 29 | 9 | 8 | 12 | 25:41 | 35 |
| 14 | Southampton | 29 | 10 | 4 | 15 | 35:52 | 34 |
| 15 | Brighton | 29 | 6 | 11 | 12 | 32:40 | 29 |
| 16 | West Ham | 29 | 7 | 6 | 16 | 35:50 | 27 |
| 17 | Watford | 29 | 6 | 9 | 14 | 27:44 | 27 |
| 18 | Bournemouth | 29 | 7 | 6 | 16 | 29:47 | 27 |
| 19 | Aston Villa | 28 | 7 | 4 | 17 | 34:56 | 25 |
| 20 | Norwich | 29 | 5 | 6 | 18 | 25:52 | 21 |
| # | Team | G | W | D | L | +/- | P |
| --- | --- | --- | --- | --- | --- | --- | --- |
| 1 | Liverpool | 15 | 15 | 0 | 0 | 40:12 | 45 |
| 2 | Leicester | 15 | 9 | 3 | 3 | 30:15 | 30 |
| 3 | Manchester City | 13 | 9 | 2 | 2 | 33:12 | 29 |
| 4 | Manchester United | 15 | 8 | 5 | 2 | 29:12 | 29 |
| 5 | Tottenham | 14 | 8 | 2 | 4 | 27:15 | 26 |
| 6 | Arsenal | 15 | 7 | 5 | 3 | 26:20 | 26 |
| 7 | Everton | 14 | 7 | 4 | 3 | 19:15 | 25 |
| 8 | Chelsea | 15 | 7 | 3 | 5 | 22:15 | 24 |
| 9 | Sheffield United | 15 | 7 | 3 | 5 | 17:13 | 24 |
| 10 | Burnley | 15 | 7 | 2 | 6 | 20:19 | 23 |
| 11 | Wolverhampton | 15 | 5 | 7 | 3 | 21:17 | 22 |
| 12 | Crystal Palace | 15 | 6 | 4 | 5 | 12:13 | 22 |
| 13 | Newcastle | 14 | 5 | 6 | 3 | 12:12 | 21 |
| 14 | Brighton | 14 | 4 | 6 | 4 | 17:15 | 18 |
| 15 | Watford | 14 | 4 | 5 | 5 | 16:17 | 17 |
| 16 | Bournemouth | 14 | 4 | 5 | 5 | 17:21 | 17 |
| 17 | Aston Villa | 13 | 5 | 2 | 6 | 18:24 | 17 |
| 18 | West Ham | 14 | 4 | 3 | 7 | 23:26 | 15 |
| 19 | Norwich | 14 | 4 | 3 | 7 | 19:26 | 15 |
| 20 | Southampton | 15 | 4 | 2 | 9 | 16:31 | 14 |
Free Daily Betting Tips from our Expert Tipsters
Free Daily Betting Tips from our Tipsters
20:30 Friday 05 Jun
15:30 Saturday 06 Jun
15:30 Saturday 06 Jun
15:30 Saturday 06 Jun
15:30 Saturday 06 Jun
18:30 Saturday 06 Jun
13:30 Sunday 07 Jun
15:30 Sunday 07 Jun
18:00 Sunday 07 Jun
22:00 Thursday 11 Jun
19:30 Friday 12 Jun
22:00 Friday 12 Jun
13:00 Saturday 13 Jun
17:00 Saturday 13 Jun
19:30 Saturday 13 Jun
22:00 Saturday 13 Jun
13:00 Sunday 14 Jun
19:30 Sunday 14 Jun
22:00 Sunday 14 Jun
20:00 Wednesday 17 Jun
20:00 Wednesday 17 Jun
19:30 Saturday 20 Jun
21:45 Saturday 20 Jun
17:00 Sunday 21 Jun
19:30 Sunday 21 Jun
17:30 Tuesday 30 Jun
21:00 Tuesday 30 Jun