Burnley
vs

Arsenal Betting Tips & Predictions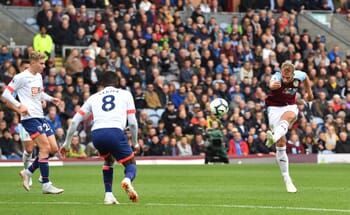 15:00 Sun 02 Feb
Football
Tip: 1 AH +0.5
Units: 3/5
When it comes to providing Premier League betting tips, there's nothing better than the table as a guide for predicting what is going to happen in the next game.
Team news | League Table | Odds
For example, Arsenal are trading at a shade of odds-against to win at Turf Moor on Sunday afternoon despite the fact that they have won just two of their twelve games on the road this season.
Indeed, the Gunners have the same amount of points as Burnley after twenty-four matches played and it's puzzling as to why they are regarded to have a probability of 50% considering there are two other outcomes on the Full-Time Result market.
Mikel Arteta's side are also playing a Burnley side who have enjoyed a nice long rest since winning at Old Trafford last week, with this 2-0 victory coming after a 2-1 win over Leicester.
Everyone seemed to make a deal about Manchester United's abject performance during that game against the Clarets, although credit should be given to Sean Dyche's side who produced a strong defensive performance and found the net twice.
They have to be given a sporting chance for the arrival of Arsenal this weekend and we think the Lancashire side on the Asian Handicap market with half a goal start is surely the way to go.
Burnley have won half of their matches at Turf Moor this season and seem to have come through a sticky spell which threatened to see them get sucked into a relegation battle.
They now sit seven points clear of the drop zone and Dyche effectively threw in the FA Cup towel at the weekend by fielding a second string team who were turned over at home to Norwich.
Arteta has a few selection dilemmas after his team won at Bournemouth in the FA Cup on Monday, with Eddie Nketiah among the scorers, although the return of Pierre-Emerick Aubameyang means the captain is likely to be back in the side.
BETTING TIP
Burnley +0.5 @ 1.84 with bet365
Team News
Confirmed Lineup
Burnley vs Arsenal - Predicted Lineups & Confirmed Starting 11s
Burnley Lineup
Confirmed Lineup & Formation
Arsenal Lineup
Confirmed Lineup & Formation
14

Pierre Emerick Aubameyang
Burnley Formation
4-4-2
Burnley Substitutes
27: Matej Vydra
25: Aaron Lennon
12: Robert Brady
28: Kevin Long
26: Phillip Bardsley
23: Erik Pieters
20: Joe Hart
Arsenal Formation
4-2-3-1
Arsenal Substitutes
30: Edward Nketiah
19: Nicolas Pepe
28: Joseph Willock
11: Lucas Torreira
08: Daniel Ceballos
05: Sokratis Papastathopoulos
26: Damian Emiliano Martinez
Burnley vs Arsenal - Injuries, Bans & Suspensions
Burnley vs Arsenal - Stats
Premier League - Standings & League Table
Premier League
- League Table
| # | Team | G | W | D | L | +/- | P |
| --- | --- | --- | --- | --- | --- | --- | --- |
| 1 | Liverpool | 29 | 27 | 1 | 1 | 66:21 | 82 |
| 2 | Manchester City | 28 | 18 | 3 | 7 | 68:31 | 57 |
| 3 | Leicester | 29 | 16 | 5 | 8 | 58:28 | 53 |
| 4 | Chelsea | 29 | 14 | 6 | 9 | 51:39 | 48 |
| 5 | Manchester United | 29 | 12 | 9 | 8 | 44:30 | 45 |
| 6 | Wolverhampton | 29 | 10 | 13 | 6 | 41:34 | 43 |
| 7 | Sheffield United | 28 | 11 | 10 | 7 | 30:25 | 43 |
| 8 | Tottenham | 29 | 11 | 8 | 10 | 47:40 | 41 |
| 9 | Arsenal | 28 | 9 | 13 | 6 | 40:36 | 40 |
| 10 | Burnley | 29 | 11 | 6 | 12 | 34:40 | 39 |
| 11 | Crystal Palace | 29 | 10 | 9 | 10 | 26:32 | 39 |
| 12 | Everton | 29 | 10 | 7 | 12 | 37:46 | 37 |
| 13 | Newcastle | 29 | 9 | 8 | 12 | 25:41 | 35 |
| 14 | Southampton | 29 | 10 | 4 | 15 | 35:52 | 34 |
| 15 | Brighton | 29 | 6 | 11 | 12 | 32:40 | 29 |
| 16 | West Ham | 29 | 7 | 6 | 16 | 35:50 | 27 |
| 17 | Watford | 29 | 6 | 9 | 14 | 27:44 | 27 |
| 18 | Bournemouth | 29 | 7 | 6 | 16 | 29:47 | 27 |
| 19 | Aston Villa | 28 | 7 | 4 | 17 | 34:56 | 25 |
| 20 | Norwich | 29 | 5 | 6 | 18 | 25:52 | 21 |
| # | Team | G | W | D | L | +/- | P |
| --- | --- | --- | --- | --- | --- | --- | --- |
| 1 | Liverpool | 15 | 15 | 0 | 0 | 40:12 | 45 |
| 2 | Leicester | 15 | 9 | 3 | 3 | 30:15 | 30 |
| 3 | Manchester City | 13 | 9 | 2 | 2 | 33:12 | 29 |
| 4 | Manchester United | 15 | 8 | 5 | 2 | 29:12 | 29 |
| 5 | Tottenham | 14 | 8 | 2 | 4 | 27:15 | 26 |
| 6 | Arsenal | 15 | 7 | 5 | 3 | 26:20 | 26 |
| 7 | Everton | 14 | 7 | 4 | 3 | 19:15 | 25 |
| 8 | Chelsea | 15 | 7 | 3 | 5 | 22:15 | 24 |
| 9 | Sheffield United | 15 | 7 | 3 | 5 | 17:13 | 24 |
| 10 | Burnley | 15 | 7 | 2 | 6 | 20:19 | 23 |
| 11 | Wolverhampton | 15 | 5 | 7 | 3 | 21:17 | 22 |
| 12 | Crystal Palace | 15 | 6 | 4 | 5 | 12:13 | 22 |
| 13 | Newcastle | 14 | 5 | 6 | 3 | 12:12 | 21 |
| 14 | Brighton | 14 | 4 | 6 | 4 | 17:15 | 18 |
| 15 | Watford | 14 | 4 | 5 | 5 | 16:17 | 17 |
| 16 | Bournemouth | 14 | 4 | 5 | 5 | 17:21 | 17 |
| 17 | Aston Villa | 13 | 5 | 2 | 6 | 18:24 | 17 |
| 18 | West Ham | 14 | 4 | 3 | 7 | 23:26 | 15 |
| 19 | Norwich | 14 | 4 | 3 | 7 | 19:26 | 15 |
| 20 | Southampton | 15 | 4 | 2 | 9 | 16:31 | 14 |
Free Daily Betting Tips from our Expert Tipsters
Free Daily Betting Tips from our Tipsters
20:30 Friday 05 Jun
15:30 Saturday 06 Jun
15:30 Saturday 06 Jun
15:30 Saturday 06 Jun
15:30 Saturday 06 Jun
18:30 Saturday 06 Jun
13:30 Sunday 07 Jun
15:30 Sunday 07 Jun
18:00 Sunday 07 Jun
22:00 Thursday 11 Jun
19:30 Friday 12 Jun
22:00 Friday 12 Jun
13:00 Saturday 13 Jun
17:00 Saturday 13 Jun
19:30 Saturday 13 Jun
22:00 Saturday 13 Jun
19:30 Sunday 14 Jun
20:00 Wednesday 17 Jun
20:00 Wednesday 17 Jun
17:30 Tuesday 30 Jun
21:00 Tuesday 30 Jun