Burnley
vs

Man City Betting Tips & Predictions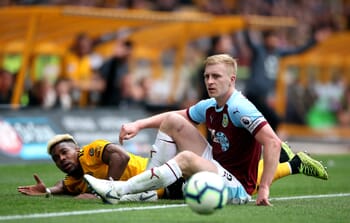 21:15 Tue 03 Dec
Football
Tip: Burnley +2.5
Units: 5/5
Pep Guardiola probably doesn't enjoy going to Turf Moor considering that his Manchester City side have always struggled in this fixture since he took charge of the English club.
Team news | League Table | Odds
The Citizens enjoyed a narrow 2-1 victory during his first season in charge before drawing 1-1 the following year and last season's clash was decided by a solitary Sergio Aguero goal.
Manchester City can ill-afford to drop any more Premier League points considering that they trail Liverpool by nine at the time of writing, with the visitors having already lost at Carrow Road and Anfield this season.
Burnley are in good shape with eighteen points on the board after thirteen played and this is something of a bonus game for them, with Sean Dyche's side under no pressure after recently racking up maximum hauls against West Ham and Watford.
These were both 3-0 victories and Dyche has a typically settled side who know their jobs, with Nick Pope impressing between the sticks, while the front two of Chris Wood and Ashley Barnes could pose a few problems for their north-west opponents.
Wood is currently averaging a goal per match in a claret and blue shirt and we think there could be mileage backing the home side with an enormous handicap in this clash.
We can actually get odds of 1.50 about Burnley with a +2.5 goal start which means this bet would still cop if the Clarets lost the match by a two-goal margin.
The last time that City won by three goals or more was when they thrashed Atalanta 5-1 in the Champions League on 22 October, with the team last doing it in the league when putting Watford to the sword by an 8-0 scoreline.
However, recent history suggests that Burnley can make things suitably tough and this clash comes quickly after City's trip to St James' Park and Champions League clash against Shakhtar.
BETTING TIP
Burnley +2.5 @ 1.50 with bet365
Team News
Confirmed Lineup
Burnley vs Manchester City - Predicted Lineups & Confirmed Starting 11s
Burnley Lineup
Confirmed Lineup & Formation
Manchester City Lineup
Confirmed Lineup & Formation
Burnley Formation
4-4-2
Burnley Substitutes
27: Matej Vydra
19: Jay Rodriguez
20: Joe Hart
14: Ben Gibson
12: Robert Brady
10: Ashley Barnes
02: Matthew Lowton
Manchester City Formation
4-3-3
Manchester City Substitutes
50: Eric García
47: Phil Foden
27: Joao Cancelo
26: Riyad Mahrez
22: Benjamin Mendy
05: John Stones
01: Claudio Bravo
Burnley vs Manchester City - Injuries, Bans & Suspensions
Type
Player
Info
Expected return

No players are currently injured or suspended.
Type
Player
Info
Expected return

No players are currently injured or suspended.
Burnley vs Manchester City - Stats
Premier League - Standings & League Table
Premier League
- League Table
| # | Team | G | W | D | L | +/- | P |
| --- | --- | --- | --- | --- | --- | --- | --- |
| 1 | Liverpool | 29 | 27 | 1 | 1 | 66:21 | 82 |
| 2 | Manchester City | 28 | 18 | 3 | 7 | 68:31 | 57 |
| 3 | Leicester | 29 | 16 | 5 | 8 | 58:28 | 53 |
| 4 | Chelsea | 29 | 14 | 6 | 9 | 51:39 | 48 |
| 5 | Manchester United | 29 | 12 | 9 | 8 | 44:30 | 45 |
| 6 | Wolverhampton | 29 | 10 | 13 | 6 | 41:34 | 43 |
| 7 | Sheffield United | 28 | 11 | 10 | 7 | 30:25 | 43 |
| 8 | Tottenham | 29 | 11 | 8 | 10 | 47:40 | 41 |
| 9 | Arsenal | 28 | 9 | 13 | 6 | 40:36 | 40 |
| 10 | Burnley | 29 | 11 | 6 | 12 | 34:40 | 39 |
| 11 | Crystal Palace | 29 | 10 | 9 | 10 | 26:32 | 39 |
| 12 | Everton | 29 | 10 | 7 | 12 | 37:46 | 37 |
| 13 | Newcastle | 29 | 9 | 8 | 12 | 25:41 | 35 |
| 14 | Southampton | 29 | 10 | 4 | 15 | 35:52 | 34 |
| 15 | Brighton | 29 | 6 | 11 | 12 | 32:40 | 29 |
| 16 | West Ham | 29 | 7 | 6 | 16 | 35:50 | 27 |
| 17 | Watford | 29 | 6 | 9 | 14 | 27:44 | 27 |
| 18 | Bournemouth | 29 | 7 | 6 | 16 | 29:47 | 27 |
| 19 | Aston Villa | 28 | 7 | 4 | 17 | 34:56 | 25 |
| 20 | Norwich | 29 | 5 | 6 | 18 | 25:52 | 21 |
| # | Team | G | W | D | L | +/- | P |
| --- | --- | --- | --- | --- | --- | --- | --- |
| 1 | Liverpool | 15 | 15 | 0 | 0 | 40:12 | 45 |
| 2 | Leicester | 15 | 9 | 3 | 3 | 30:15 | 30 |
| 3 | Manchester City | 13 | 9 | 2 | 2 | 33:12 | 29 |
| 4 | Manchester United | 15 | 8 | 5 | 2 | 29:12 | 29 |
| 5 | Tottenham | 14 | 8 | 2 | 4 | 27:15 | 26 |
| 6 | Arsenal | 15 | 7 | 5 | 3 | 26:20 | 26 |
| 7 | Everton | 14 | 7 | 4 | 3 | 19:15 | 25 |
| 8 | Chelsea | 15 | 7 | 3 | 5 | 22:15 | 24 |
| 9 | Sheffield United | 15 | 7 | 3 | 5 | 17:13 | 24 |
| 10 | Burnley | 15 | 7 | 2 | 6 | 20:19 | 23 |
| 11 | Wolverhampton | 15 | 5 | 7 | 3 | 21:17 | 22 |
| 12 | Crystal Palace | 15 | 6 | 4 | 5 | 12:13 | 22 |
| 13 | Newcastle | 14 | 5 | 6 | 3 | 12:12 | 21 |
| 14 | Brighton | 14 | 4 | 6 | 4 | 17:15 | 18 |
| 15 | Watford | 14 | 4 | 5 | 5 | 16:17 | 17 |
| 16 | Bournemouth | 14 | 4 | 5 | 5 | 17:21 | 17 |
| 17 | Aston Villa | 13 | 5 | 2 | 6 | 18:24 | 17 |
| 18 | West Ham | 14 | 4 | 3 | 7 | 23:26 | 15 |
| 19 | Norwich | 14 | 4 | 3 | 7 | 19:26 | 15 |
| 20 | Southampton | 15 | 4 | 2 | 9 | 16:31 | 14 |
Free Daily Betting Tips from our Expert Tipsters
Free Daily Betting Tips from our Tipsters
20:30 Friday 29 May
18:30 Saturday 30 May
18:00 Sunday 31 May
20:30 Monday 01 Jun
21:00 Friday 12 Jun
17:30 Tuesday 30 Jun
21:00 Tuesday 30 Jun