Chelsea
vs

Aston Villa Betting Tips & Predictions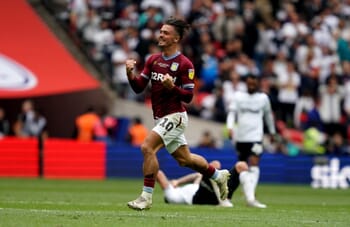 20:30 Wed 04 Dec
Football
Frank Lampard paid the price for questionable team selection on Saturday, deciding to leave N'Golo Kante and Willian out of the Starting XI for the clash against West Ham, while Reece James was also preferred ahead of Cesar Azpilicueta.
Team news | League Table | Odds
Chelsea ended up losing the game by a single goal and Lampard will now look for an improved performance against an Aston Villa side who are fresh from drawing 2-2 at Old Trafford last weekend.
Tammy Abraham is still unavailable for the home side which means the manager has to decide between Michy Batshuayi and Olivier Giroud in an attacking position, while it's possible that we'll see Callum Hudson-Odoi enjoy a rare start after a twenty-minute cameo against the Hammers.
Chelsea did enjoy a seven-match winning run a few weeks ago, although they've only triumphed twice in the previous seven encounters and their form at Stamford Bridge has been decidedly iffy since the season began.
There have only been three wins in seven games and the team also failed to overcome Ajax and Valencia in the Champions League, with Aston Villa arriving looking to make life difficult for their opponents.
Dean Smith's side are going along nicely and were full value for their point against Manchester United, with the Villans having previously beaten Newcastle and they'll be looking to continue the unbeaten run going in this clash.
While a home win is the most likely outcome, we're not sure that Chelsea can win by a huge margin and the only teams that they've beaten by two goals are Brighton and Crystal Palace.
With Jack Grealish and John McGinn both in excellent form for the visiting side, we have no reservation in backing them at even money with a comfortable 1.5 goal cushion.
That means that the visitors losing by a single goal will be enough to profit with this bet.
BETTING TIP
Aston Villa +1.5 @ 2.00 with bet365
Team News
Confirmed Lineup
Chelsea vs Aston Villa - Predicted Lineups & Confirmed Starting 11s
Chelsea Lineup
Confirmed Lineup & Formation
Aston Villa Lineup
Confirmed Lineup & Formation
18

Matthew Robert Targett
Chelsea Formation
4-2-3-1
Chelsea Substitutes
13: Willy Caballero
23: Michy Batshuayi
05: Jorginho
29: Fikayo Tomori
33: Emerson
20: Callum Hudson-Odoi
18: Olivier Giroud
Aston Villa Formation
4-3-3
Aston Villa Substitutes
22: Björn Engels
26: Jonathan Kodjia
08: Henri Lansbury
06: Douglas Luiz
25: Ørjan Håskjold Nyland
23: Jota Peleteiro
03: Neil Taylor
Chelsea vs Aston Villa - Injuries, Bans & Suspensions
Chelsea vs Aston Villa - Stats
Premier League - Standings & League Table
Premier League
- League Table
| # | Team | G | W | D | L | +/- | P |
| --- | --- | --- | --- | --- | --- | --- | --- |
| 1 | Liverpool | 29 | 27 | 1 | 1 | 66:21 | 82 |
| 2 | Manchester City | 28 | 18 | 3 | 7 | 68:31 | 57 |
| 3 | Leicester | 29 | 16 | 5 | 8 | 58:28 | 53 |
| 4 | Chelsea | 29 | 14 | 6 | 9 | 51:39 | 48 |
| 5 | Manchester United | 29 | 12 | 9 | 8 | 44:30 | 45 |
| 6 | Wolverhampton | 29 | 10 | 13 | 6 | 41:34 | 43 |
| 7 | Sheffield United | 28 | 11 | 10 | 7 | 30:25 | 43 |
| 8 | Tottenham | 29 | 11 | 8 | 10 | 47:40 | 41 |
| 9 | Arsenal | 28 | 9 | 13 | 6 | 40:36 | 40 |
| 10 | Burnley | 29 | 11 | 6 | 12 | 34:40 | 39 |
| 11 | Crystal Palace | 29 | 10 | 9 | 10 | 26:32 | 39 |
| 12 | Everton | 29 | 10 | 7 | 12 | 37:46 | 37 |
| 13 | Newcastle | 29 | 9 | 8 | 12 | 25:41 | 35 |
| 14 | Southampton | 29 | 10 | 4 | 15 | 35:52 | 34 |
| 15 | Brighton | 29 | 6 | 11 | 12 | 32:40 | 29 |
| 16 | West Ham | 29 | 7 | 6 | 16 | 35:50 | 27 |
| 17 | Watford | 29 | 6 | 9 | 14 | 27:44 | 27 |
| 18 | Bournemouth | 29 | 7 | 6 | 16 | 29:47 | 27 |
| 19 | Aston Villa | 28 | 7 | 4 | 17 | 34:56 | 25 |
| 20 | Norwich | 29 | 5 | 6 | 18 | 25:52 | 21 |
| # | Team | G | W | D | L | +/- | P |
| --- | --- | --- | --- | --- | --- | --- | --- |
| 1 | Liverpool | 15 | 15 | 0 | 0 | 40:12 | 45 |
| 2 | Leicester | 15 | 9 | 3 | 3 | 30:15 | 30 |
| 3 | Manchester City | 13 | 9 | 2 | 2 | 33:12 | 29 |
| 4 | Manchester United | 15 | 8 | 5 | 2 | 29:12 | 29 |
| 5 | Tottenham | 14 | 8 | 2 | 4 | 27:15 | 26 |
| 6 | Arsenal | 15 | 7 | 5 | 3 | 26:20 | 26 |
| 7 | Everton | 14 | 7 | 4 | 3 | 19:15 | 25 |
| 8 | Chelsea | 15 | 7 | 3 | 5 | 22:15 | 24 |
| 9 | Sheffield United | 15 | 7 | 3 | 5 | 17:13 | 24 |
| 10 | Burnley | 15 | 7 | 2 | 6 | 20:19 | 23 |
| 11 | Wolverhampton | 15 | 5 | 7 | 3 | 21:17 | 22 |
| 12 | Crystal Palace | 15 | 6 | 4 | 5 | 12:13 | 22 |
| 13 | Newcastle | 14 | 5 | 6 | 3 | 12:12 | 21 |
| 14 | Brighton | 14 | 4 | 6 | 4 | 17:15 | 18 |
| 15 | Watford | 14 | 4 | 5 | 5 | 16:17 | 17 |
| 16 | Bournemouth | 14 | 4 | 5 | 5 | 17:21 | 17 |
| 17 | Aston Villa | 13 | 5 | 2 | 6 | 18:24 | 17 |
| 18 | West Ham | 14 | 4 | 3 | 7 | 23:26 | 15 |
| 19 | Norwich | 14 | 4 | 3 | 7 | 19:26 | 15 |
| 20 | Southampton | 15 | 4 | 2 | 9 | 16:31 | 14 |
Free Daily Betting Tips from our Expert Tipsters
Free Daily Betting Tips from our Tipsters
20:30 Wednesday 03 Jun
20:30 Friday 05 Jun
15:30 Saturday 06 Jun
18:30 Saturday 06 Jun
15:30 Sunday 07 Jun
22:00 Thursday 11 Jun
22:00 Friday 12 Jun
22:00 Saturday 13 Jun
19:30 Sunday 14 Jun
20:00 Wednesday 17 Jun
20:00 Wednesday 17 Jun
17:30 Tuesday 30 Jun
21:00 Tuesday 30 Jun