Chelsea
v

Crystal Palace Betting Tips & Predictions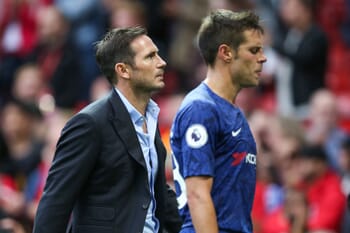 13:30 Sat 09 Nov
Football
Tip: 1 Win to Nil
Units: 2/5
Can Chelsea win the 2019/20 Premier League title? Nobody could have made a case for the Blues after losing 4-0 at Old Trafford in their opening game of the season, although Frank Lampard has quickly started to get things right at Stamford Bridge.
Team news | League Table | Odds
The London side have 23 points from eleven games played and a win in this Saturday lunchtime fixture would actually see them leapfrog second-placed Manchester City before the latter head to Anfield on Sunday.
It has been five consecutive wins for Chelsea since losing at home to Liverpool and, despite a transfer embargo, Lampard has a glut of attacking options within the squad which means that players such as Callum Hudson-Odoi, Michy Batshuayi and Olivier Giroud are struggling for game time.
Jorginho and Mateo Kovacic were both outstanding at Watford last weekend and Christian Pulisic is now starting to justify his hefty price tag, with the American likely to cause untold problems for a Crystal Palace team who would love to have the firepower within the home team's ranks.
Roy Hodgson bemoaned the lack of cutting edge when his team lost 2-0 at home to Leicester City on Sunday, with Palace in danger of sliding down the table despite a bright start to the campaign.
Palace do have two away wins and a draw on the board, with the Eagles having triumphed at Old Trafford and the London Stadium, while they came back from two goals down at the Emirates to record a draw.
However, they were spanked 4-0 at Tottenham and lost 1-0 at Sheffield United, while it should be noted that Chelsea are now looking defensively solid despite some silly mistakes that gives the opposition a chance.
Kurt Zouma and Fikayo Tomori are operating well in tandem and we'll back Chelsea at the bigger price to win and keep a clean sheet in front of their own supporters.
BETTING TIP
Chelsea Win to Nil @ 2.30 with bet365
Team News
Confirmed Lineup
Chelsea v Crystal Palace - Predicted Lineups & Confirmed Starting 11s
Chelsea Lineup
Confirmed Lineup & Formation
Crystal Palace Lineup
Confirmed Lineup & Formation
Chelsea Formation
4-2-3-1
Chelsea Substitutes
18: Olivier Giroud
23: Michy Batshuayi
20: Callum Hudson-Odoi
47: Billy Gilmour
04: Andreas Christensen
28: Cesar Azpilicueta
13: Willy Caballero
Crystal Palace Formation
4-3-2-1
Crystal Palace Substitutes
17: Christian Benteke
15: Jeffrey Schlupp
44: Jairo Riedewald
22: James McCarthy
34: Martin Kelly
06: Scott Dann
13: Wayne Hennessey
Chelsea v Crystal Palace - Injuries, Bans & Suspensions
Chelsea v Crystal Palace - Stats
Premier League - Standings & League Table
Premier League
- League Table
| # | Team | G | W | D | L | +/- | P |
| --- | --- | --- | --- | --- | --- | --- | --- |
| 1 | Liverpool | 16 | 15 | 1 | 0 | 40:14 | 46 |
| 2 | Leicester | 16 | 12 | 2 | 2 | 39:10 | 38 |
| 3 | Manchester City | 16 | 10 | 2 | 4 | 44:19 | 32 |
| 4 | Chelsea | 16 | 9 | 2 | 5 | 31:24 | 29 |
| 5 | Manchester United | 16 | 6 | 6 | 4 | 25:19 | 24 |
| 6 | Wolverhampton | 16 | 5 | 9 | 2 | 23:19 | 24 |
| 7 | Tottenham | 16 | 6 | 5 | 5 | 30:23 | 23 |
| 8 | Sheffield United | 16 | 5 | 7 | 4 | 19:16 | 22 |
| 9 | Arsenal | 16 | 5 | 7 | 4 | 24:24 | 22 |
| 10 | Crystal Palace | 16 | 6 | 4 | 6 | 14:18 | 22 |
| 11 | Newcastle | 16 | 6 | 4 | 6 | 17:23 | 22 |
| 12 | Brighton | 16 | 5 | 4 | 7 | 20:24 | 19 |
| 13 | Burnley | 16 | 5 | 3 | 8 | 21:29 | 18 |
| 14 | Everton | 16 | 5 | 2 | 9 | 19:28 | 17 |
| 15 | Bournemouth | 16 | 4 | 4 | 8 | 18:24 | 16 |
| 16 | West Ham | 16 | 4 | 4 | 8 | 18:28 | 16 |
| 17 | Aston Villa | 16 | 4 | 3 | 9 | 23:28 | 15 |
| 18 | Southampton | 16 | 4 | 3 | 9 | 18:35 | 15 |
| 19 | Norwich | 16 | 3 | 2 | 11 | 17:34 | 11 |
| 20 | Watford | 16 | 1 | 6 | 9 | 9:30 | 9 |
| # | Team | G | W | D | L | +/- | P |
| --- | --- | --- | --- | --- | --- | --- | --- |
| 1 | Liverpool | 8 | 8 | 0 | 0 | 24:9 | 24 |
| 2 | Leicester | 8 | 7 | 1 | 0 | 18:4 | 22 |
| 3 | Tottenham | 8 | 5 | 2 | 1 | 19:7 | 17 |
| 4 | Manchester City | 8 | 5 | 1 | 2 | 22:8 | 16 |
| 5 | Manchester United | 8 | 4 | 3 | 1 | 15:8 | 15 |
| 6 | Chelsea | 8 | 4 | 2 | 2 | 11:7 | 14 |
| 7 | Arsenal | 8 | 3 | 4 | 1 | 14:12 | 13 |
| 8 | Wolverhampton | 8 | 3 | 4 | 1 | 12:10 | 13 |
| 9 | Newcastle | 8 | 3 | 4 | 1 | 9:7 | 13 |
| 10 | Everton | 8 | 4 | 1 | 3 | 11:11 | 13 |
| 11 | Brighton | 8 | 3 | 3 | 2 | 12:10 | 12 |
| 12 | Burnley | 8 | 4 | 0 | 4 | 12:13 | 12 |
| 13 | Aston Villa | 8 | 3 | 2 | 3 | 11:11 | 11 |
| 14 | Crystal Palace | 8 | 3 | 2 | 3 | 6:7 | 11 |
| 15 | Sheffield United | 8 | 3 | 1 | 4 | 9:9 | 10 |
| 16 | Bournemouth | 8 | 2 | 3 | 3 | 9:12 | 9 |
| 17 | West Ham | 8 | 2 | 1 | 5 | 11:17 | 7 |
| 18 | Norwich | 8 | 2 | 1 | 5 | 13:20 | 7 |
| 19 | Southampton | 8 | 2 | 1 | 5 | 9:23 | 7 |
| 20 | Watford | 8 | 0 | 4 | 4 | 4:13 | 4 |
Free Daily Betting Tips from our Expert Tipsters
Free Daily Betting Tips from our Tipsters
Sat 14 Dec
Sat 14 Dec
Sat 14 Dec
Sun 15 Dec
Sun 15 Dec
Sun 15 Dec
Mon 16 Dec
Mon 16 Dec
Mon 16 Dec
Tue 17 Dec
Tue 17 Dec
Wed 18 Dec
Wed 18 Dec
Wed 18 Dec