Chelsea
vs

Tottenham Betting Tips & Predictions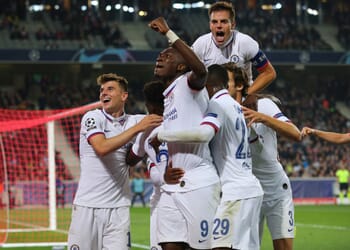 13:30 Sat 22 Feb
Football
Tip: 2 AH +0.5
Units: 3/5
Chelsea were sitting in the box seat to claim fourth spot in the Premier League a few weeks ago, although Frank Lampard's side have now started to wobble and Monday's defeat at the hands of Manchester United have really opened up the race for the Champions League places.
Team news | League Table | Odds
With Manchester City facing a UEFA ban, it might be that fifth place lands a spot in Europe's most prestigious club competition, although both of these London sides will want to secure fourth position and make sure they are part of the Champions League next season.
Chelsea are a point ahead of their opponents although home form is a serious concern considering that the Blues have won just five of their thirteen matches at Stamford Bridge this season. Lampard's side clearly have issues breaking down teams and they've scored a paltry sixteen goals in front of their own supporters.
Jose Mourinho will arrive at the Bridge with his Tottenham team and they will be sniffing blood, with the team having away day concerns considering that Spurs have registered just three victories on the road this season.
The latest of these came at Villa Park last weekend when the visitors came away with a 3-2 win and Tottenham have built up a head of steam which has seen them go unbeaten in the past seven encounters in all competitions.
While Chelsea were the winners when the teams met at White Hart Lane just before Christmas, one feels as though the tables could be turned in this clash and we can't pass up the opportunity to back the visitors at nearly even money with half a goal advantage.
This means they simply need a draw or better in order for this bet to win and we feel as though one team will be arriving in much more confident spirits ahead of kick-off.
BETTING TIP
Tottenham +0.5 @ 1.98 with bet365
Team News
Confirmed Lineup
Chelsea vs Tottenham - Predicted Lineups & Confirmed Starting 11s
Chelsea Lineup
Confirmed Lineup & Formation
Tottenham Lineup
Confirmed Lineup & Formation
Chelsea Formation
3-4-2-1
Chelsea Substitutes
09: Tammy Abraham
10: Willian
47: Billy Gilmour
12: Ruben Loftus-Cheek
33: Emerson
15: Kurt Zouma
01: Kepa Arrizabalaga
Tottenham Formation
3-5-2
Tottenham Substitutes
29: Oliver Skipp
15: Eric Dier
20: Bamidele Alli
30: Gedson Fernandes
11: Erik Lamela
24: Serge Aurier
22: Paulo Gazzaniga
Chelsea vs Tottenham - Injuries, Bans & Suspensions
Chelsea vs Tottenham - Stats
Premier League - Standings & League Table
Premier League
- League Table
| # | Team | G | W | D | L | +/- | P |
| --- | --- | --- | --- | --- | --- | --- | --- |
| 1 | Liverpool | 29 | 27 | 1 | 1 | 66:21 | 82 |
| 2 | Manchester City | 28 | 18 | 3 | 7 | 68:31 | 57 |
| 3 | Leicester | 29 | 16 | 5 | 8 | 58:28 | 53 |
| 4 | Chelsea | 29 | 14 | 6 | 9 | 51:39 | 48 |
| 5 | Manchester United | 29 | 12 | 9 | 8 | 44:30 | 45 |
| 6 | Wolverhampton | 29 | 10 | 13 | 6 | 41:34 | 43 |
| 7 | Sheffield United | 28 | 11 | 10 | 7 | 30:25 | 43 |
| 8 | Tottenham | 29 | 11 | 8 | 10 | 47:40 | 41 |
| 9 | Arsenal | 28 | 9 | 13 | 6 | 40:36 | 40 |
| 10 | Burnley | 29 | 11 | 6 | 12 | 34:40 | 39 |
| 11 | Crystal Palace | 29 | 10 | 9 | 10 | 26:32 | 39 |
| 12 | Everton | 29 | 10 | 7 | 12 | 37:46 | 37 |
| 13 | Newcastle | 29 | 9 | 8 | 12 | 25:41 | 35 |
| 14 | Southampton | 29 | 10 | 4 | 15 | 35:52 | 34 |
| 15 | Brighton | 29 | 6 | 11 | 12 | 32:40 | 29 |
| 16 | West Ham | 29 | 7 | 6 | 16 | 35:50 | 27 |
| 17 | Watford | 29 | 6 | 9 | 14 | 27:44 | 27 |
| 18 | Bournemouth | 29 | 7 | 6 | 16 | 29:47 | 27 |
| 19 | Aston Villa | 28 | 7 | 4 | 17 | 34:56 | 25 |
| 20 | Norwich | 29 | 5 | 6 | 18 | 25:52 | 21 |
| # | Team | G | W | D | L | +/- | P |
| --- | --- | --- | --- | --- | --- | --- | --- |
| 1 | Liverpool | 15 | 15 | 0 | 0 | 40:12 | 45 |
| 2 | Leicester | 15 | 9 | 3 | 3 | 30:15 | 30 |
| 3 | Manchester City | 13 | 9 | 2 | 2 | 33:12 | 29 |
| 4 | Manchester United | 15 | 8 | 5 | 2 | 29:12 | 29 |
| 5 | Tottenham | 14 | 8 | 2 | 4 | 27:15 | 26 |
| 6 | Arsenal | 15 | 7 | 5 | 3 | 26:20 | 26 |
| 7 | Everton | 14 | 7 | 4 | 3 | 19:15 | 25 |
| 8 | Chelsea | 15 | 7 | 3 | 5 | 22:15 | 24 |
| 9 | Sheffield United | 15 | 7 | 3 | 5 | 17:13 | 24 |
| 10 | Burnley | 15 | 7 | 2 | 6 | 20:19 | 23 |
| 11 | Wolverhampton | 15 | 5 | 7 | 3 | 21:17 | 22 |
| 12 | Crystal Palace | 15 | 6 | 4 | 5 | 12:13 | 22 |
| 13 | Newcastle | 14 | 5 | 6 | 3 | 12:12 | 21 |
| 14 | Brighton | 14 | 4 | 6 | 4 | 17:15 | 18 |
| 15 | Watford | 14 | 4 | 5 | 5 | 16:17 | 17 |
| 16 | Bournemouth | 14 | 4 | 5 | 5 | 17:21 | 17 |
| 17 | Aston Villa | 13 | 5 | 2 | 6 | 18:24 | 17 |
| 18 | West Ham | 14 | 4 | 3 | 7 | 23:26 | 15 |
| 19 | Norwich | 14 | 4 | 3 | 7 | 19:26 | 15 |
| 20 | Southampton | 15 | 4 | 2 | 9 | 16:31 | 14 |
Free Daily Betting Tips from our Expert Tipsters
Free Daily Betting Tips from our Tipsters
20:30 Friday 05 Jun
15:30 Saturday 06 Jun
15:30 Saturday 06 Jun
15:30 Saturday 06 Jun
15:30 Saturday 06 Jun
18:30 Saturday 06 Jun
13:30 Sunday 07 Jun
15:30 Sunday 07 Jun
18:00 Sunday 07 Jun
22:00 Thursday 11 Jun
19:30 Friday 12 Jun
22:00 Friday 12 Jun
13:00 Saturday 13 Jun
17:00 Saturday 13 Jun
19:30 Saturday 13 Jun
22:00 Saturday 13 Jun
19:30 Sunday 14 Jun
20:00 Wednesday 17 Jun
20:00 Wednesday 17 Jun
17:30 Tuesday 30 Jun
21:00 Tuesday 30 Jun