Crystal Palace v Tottenham Premier League betting preview and tips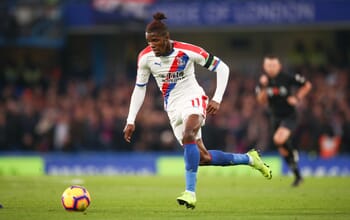 18:30 Sat 10 Nov
Football
Crystal Palace have had a poor season results-wise although they are two points above the drop zone and a victory in this game would give them clear daylight over the strugglers rooted near the foot of the table.
It's hard to be too confident about an Eagles win considering they are winless in five at Selhurst Park and come up against a Spurs team who have won six of their seven matches on the road.
It gets to a stage where you can't say Tottenham are proving fortunate on the road as they always seem to find a way to win. The 3-2 victory at Wolves had the London side hanging on and it was a similar story at West Ham a few weeks ago.
Christian Eriksen will come back into the team here even if Dele Alli continues to be absent, with Erik Lamela probably the shining light in attack for the visitors at the moment and Lucas Moura continues to look bright.
However, Spurs will have to contend with a lively Wilfried Zaha in this game and it was his trickery which won a penalty against Arsenal which ultimately saw the home side claim a point against the other Premier League team from north London.
Palace also created plenty of chances at Stamford Bridge last weekend and we're not averse to backing the draw in this match, especially after Tottenham's midweek Champions League encounter against PSV.
BETTING TIP
Draw @ 3.50 with bet365

All odds are correct at time of publishing and are subject to change
Published Nov 06, 2018, 13:56 by
Tony Thomas
Team News
Crystal Palace: 4-3-3 (Confirmed Line-ups)
Tottenham: 4-2-3-1 (Confirmed Line-ups)
Premier League
| # | Team | G | W | D | L | +/- | P |
| --- | --- | --- | --- | --- | --- | --- | --- |
| 1 | Liverpool | 31 | 23 | 7 | 1 | 70:18 | 76 |
| 2 | Manchester City | 30 | 23 | 3 | 4 | 76:20 | 72 |
| 3 | Tottenham | 30 | 20 | 1 | 9 | 57:32 | 61 |
| 4 | Arsenal | 30 | 18 | 6 | 6 | 63:39 | 60 |
| 5 | Manchester Unit | 30 | 17 | 7 | 6 | 58:40 | 58 |
| 6 | Chelsea | 30 | 17 | 6 | 7 | 50:33 | 57 |
| 7 | Wolverhampton W | 30 | 12 | 8 | 10 | 38:36 | 44 |
| 8 | Watford | 30 | 12 | 7 | 11 | 42:44 | 43 |
| 9 | West Ham | 31 | 12 | 6 | 13 | 41:46 | 42 |
| 10 | Everton | 31 | 11 | 8 | 12 | 42:39 | 41 |
| 11 | Leicester | 31 | 12 | 5 | 14 | 40:43 | 41 |
| 12 | Bournemouth | 31 | 11 | 5 | 15 | 43:56 | 38 |
| 13 | Newcastle Unite | 31 | 9 | 8 | 14 | 31:40 | 35 |
| 14 | Crystal Palace | 30 | 9 | 6 | 15 | 36:41 | 33 |
| 15 | Brighton | 29 | 9 | 6 | 14 | 32:42 | 33 |
| 16 | Southampton | 30 | 7 | 9 | 14 | 34:50 | 30 |
| 17 | Burnley | 31 | 8 | 6 | 17 | 35:59 | 30 |
| 18 | Cardiff | 30 | 8 | 4 | 18 | 27:57 | 28 |
| 19 | Fulham | 31 | 4 | 5 | 22 | 29:70 | 17 |
| 20 | Huddersfield | 31 | 3 | 5 | 23 | 18:57 | 14 |