Everton v Crystal Palace Premier League betting preview and tips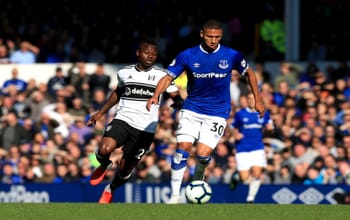 17:00 Sun 21 Oct
Football
Everton are in good nick under Marco Silva after enjoying a return of twelve points from eight games played, with the Portuguese having seen his team enjoy victories over Fulham and Leicester before the international break.
There's a serious chance for the Toffees to land sixth place in the Premier League this season and the fact that they are playing an attractive brand of football is an added bonus after the pragmatism of Sam Allardyce last term.
Richarlison arrived for an eye-watering amount of cash although his performances have been top notch so far, while Gylfi Sigurdsson is finally starting to show why Everton also broke the bank to sign someone who played a large role in keeping Swansea in the top flight for so many seasons.
There is a growing confidence in the ranks at Goodison Park and there has also been the emergence of Bernard who set up Richarlison for his goal at the King Power Stadium, with Tom Davies also coming to the fore in midfield.
Palace are not in such a happy place and there's a feeling that the London side are too reliant on Wilfried Zaha, with the Eagles having had a meagre return of seven points from eight games played.
Three of those points came at Fulham in their opening game so Palace are really staring down a barrel at the moment and Roy Hodgson can't seem to address the team's erratic performances.
There is a clear lack of goals within the team, with just five goals being scored so far and three of those have been notched by Zaha who is likely to find himself heavily marked again.
It all points to another win for Everton and the pressure mounting on Hodgson just a few months after being applauded for doing such a good job keeping them in the division.
BETTING TIP
Everton @ 1.90 with bet365

All odds are correct at time of publishing and are subject to change
Published Oct 12, 2018, 08:15 by
Tony Thomas
Team News
Everton: 4-2-3-1 (Confirmed Line-ups)
Crystal Palace: 4-4-2 (Confirmed Line-ups)
20

Bernard Anicio Caldeira Duarte
Premier League
| # | Team | G | W | D | L | +/- | P |
| --- | --- | --- | --- | --- | --- | --- | --- |
| 1 | Liverpool | 31 | 23 | 7 | 1 | 70:18 | 76 |
| 2 | Manchester City | 30 | 23 | 3 | 4 | 76:20 | 72 |
| 3 | Tottenham | 30 | 20 | 1 | 9 | 57:32 | 61 |
| 4 | Arsenal | 30 | 18 | 6 | 6 | 63:39 | 60 |
| 5 | Manchester Unit | 30 | 17 | 7 | 6 | 58:40 | 58 |
| 6 | Chelsea | 30 | 17 | 6 | 7 | 50:33 | 57 |
| 7 | Wolverhampton W | 30 | 12 | 8 | 10 | 38:36 | 44 |
| 8 | Watford | 30 | 12 | 7 | 11 | 42:44 | 43 |
| 9 | West Ham | 31 | 12 | 6 | 13 | 41:46 | 42 |
| 10 | Everton | 31 | 11 | 8 | 12 | 42:39 | 41 |
| 11 | Leicester | 31 | 12 | 5 | 14 | 40:43 | 41 |
| 12 | Bournemouth | 31 | 11 | 5 | 15 | 43:56 | 38 |
| 13 | Newcastle Unite | 31 | 9 | 8 | 14 | 31:40 | 35 |
| 14 | Crystal Palace | 30 | 9 | 6 | 15 | 36:41 | 33 |
| 15 | Brighton | 29 | 9 | 6 | 14 | 32:42 | 33 |
| 16 | Southampton | 30 | 7 | 9 | 14 | 34:50 | 30 |
| 17 | Burnley | 31 | 8 | 6 | 17 | 35:59 | 30 |
| 18 | Cardiff | 30 | 8 | 4 | 18 | 27:57 | 28 |
| 19 | Fulham | 31 | 4 | 5 | 22 | 29:70 | 17 |
| 20 | Huddersfield | 31 | 3 | 5 | 23 | 18:57 | 14 |