Everton
vs

Man Utd Betting Tips & Predictions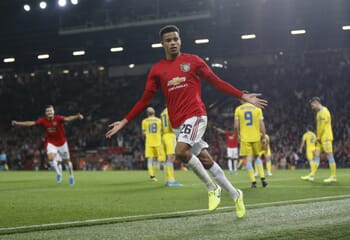 15:00 Sun 01 Mar
Football
After finishing in eighth place last season, Everton supporters will have felt confident that a top-six assault could be on the cards this time around, although the Toffees currently sit eleventh in the table and look unlikely to qualify for European competition again this term.
Team news | League Table | Odds
Carlo Ancelotti has done a decent job since replacing Marco Silva, although those defensive frailties continue to rear their ugly head, with Arsenal's three goals at the Emirates coming a few weeks after the Merseyside team relinquished a two-goal lead against Newcastle in injury-time.
The Italian manager does have the team playing positive attacking football and the form of Dominic Calvert-Lewin has been especially striking under Ancelotti, with the 22-year-old having scored twelve goals in the Premier League this season.
Similarly, Richarlison is looking razor-sharp and has also hit double figures, with the pair likely to cause problems for a Manchester United team who blow hot and cold when it comes to away matches.
The Red Devils have only won four of their thirteen away games this season, with the team averaging a little over one goal per match on the road and they continue to miss leading striker Marcus Rashford.
However, Anthony Martial has scored in three consecutive matches and the signing of Bruno Fernandes looks to be an inspired one if early evidence is to be believed, with the Portuguese having played a key role in Sunday's 3-0 win over Watford.
The big negative for United is that they'll have played FC Brugge in the Europa League just days before this clash and Ole Gunnar Solskjaer will have fielded a strong team due to the fact that the tie is 1-1 after the first leg.
Therefore, fatigue could play a major part, although we're going to go down the Both Teams to Score route in search of value and think the "Yes" option could be the way forward.
Everton have found the net in their past nine Premier League matches, while United are fresh from putting three past the Hornets and have the dangerous Mason Greenwood in reserve should the first team be struggle to find the net.
BETTING TIP
BTTS Yes @ 1.75 with bet365
Team News
Confirmed Lineup
Everton vs Manchester United - Predicted Lineups & Confirmed Starting 11s
Everton Lineup
Confirmed Lineup & Formation
Manchester United Lineup
Confirmed Lineup & Formation
02

Victor Nilsson-Lindelof
Everton Formation
4-4-2
Everton Substitutes
20: Bernard Anicio Caldeira Duarte
27: Moise Kean
08: Fabian Delph
17: Alex Iwobi
19: Djibril Sidibe
13: Yerry Mina
N/A: João Virgínia
Manchester United Formation
4-3-1-2
Manchester United Substitutes
14: Jesse Lingard
25: Odion Ighalo
15: Andreas Pereira
08: Juan Mata
03: Eric Bailly Bertrand
53: Brandon Williams
22: Sergio Romero
Everton vs Manchester United - Injuries, Bans & Suspensions
Type
Player
Info
Expected return

No players are currently injured or suspended.
Everton vs Manchester United - Stats
Premier League - Standings & League Table
Premier League
- League Table
| # | Team | G | W | D | L | +/- | P |
| --- | --- | --- | --- | --- | --- | --- | --- |
| 1 | Liverpool | 29 | 27 | 1 | 1 | 66:21 | 82 |
| 2 | Manchester City | 28 | 18 | 3 | 7 | 68:31 | 57 |
| 3 | Leicester | 29 | 16 | 5 | 8 | 58:28 | 53 |
| 4 | Chelsea | 29 | 14 | 6 | 9 | 51:39 | 48 |
| 5 | Manchester United | 29 | 12 | 9 | 8 | 44:30 | 45 |
| 6 | Wolverhampton | 29 | 10 | 13 | 6 | 41:34 | 43 |
| 7 | Sheffield United | 28 | 11 | 10 | 7 | 30:25 | 43 |
| 8 | Tottenham | 29 | 11 | 8 | 10 | 47:40 | 41 |
| 9 | Arsenal | 28 | 9 | 13 | 6 | 40:36 | 40 |
| 10 | Burnley | 29 | 11 | 6 | 12 | 34:40 | 39 |
| 11 | Crystal Palace | 29 | 10 | 9 | 10 | 26:32 | 39 |
| 12 | Everton | 29 | 10 | 7 | 12 | 37:46 | 37 |
| 13 | Newcastle | 29 | 9 | 8 | 12 | 25:41 | 35 |
| 14 | Southampton | 29 | 10 | 4 | 15 | 35:52 | 34 |
| 15 | Brighton | 29 | 6 | 11 | 12 | 32:40 | 29 |
| 16 | West Ham | 29 | 7 | 6 | 16 | 35:50 | 27 |
| 17 | Watford | 29 | 6 | 9 | 14 | 27:44 | 27 |
| 18 | Bournemouth | 29 | 7 | 6 | 16 | 29:47 | 27 |
| 19 | Aston Villa | 28 | 7 | 4 | 17 | 34:56 | 25 |
| 20 | Norwich | 29 | 5 | 6 | 18 | 25:52 | 21 |
| # | Team | G | W | D | L | +/- | P |
| --- | --- | --- | --- | --- | --- | --- | --- |
| 1 | Liverpool | 15 | 15 | 0 | 0 | 40:12 | 45 |
| 2 | Leicester | 15 | 9 | 3 | 3 | 30:15 | 30 |
| 3 | Manchester City | 13 | 9 | 2 | 2 | 33:12 | 29 |
| 4 | Manchester United | 15 | 8 | 5 | 2 | 29:12 | 29 |
| 5 | Tottenham | 14 | 8 | 2 | 4 | 27:15 | 26 |
| 6 | Arsenal | 15 | 7 | 5 | 3 | 26:20 | 26 |
| 7 | Everton | 14 | 7 | 4 | 3 | 19:15 | 25 |
| 8 | Chelsea | 15 | 7 | 3 | 5 | 22:15 | 24 |
| 9 | Sheffield United | 15 | 7 | 3 | 5 | 17:13 | 24 |
| 10 | Burnley | 15 | 7 | 2 | 6 | 20:19 | 23 |
| 11 | Wolverhampton | 15 | 5 | 7 | 3 | 21:17 | 22 |
| 12 | Crystal Palace | 15 | 6 | 4 | 5 | 12:13 | 22 |
| 13 | Newcastle | 14 | 5 | 6 | 3 | 12:12 | 21 |
| 14 | Brighton | 14 | 4 | 6 | 4 | 17:15 | 18 |
| 15 | Watford | 14 | 4 | 5 | 5 | 16:17 | 17 |
| 16 | Bournemouth | 14 | 4 | 5 | 5 | 17:21 | 17 |
| 17 | Aston Villa | 13 | 5 | 2 | 6 | 18:24 | 17 |
| 18 | West Ham | 14 | 4 | 3 | 7 | 23:26 | 15 |
| 19 | Norwich | 14 | 4 | 3 | 7 | 19:26 | 15 |
| 20 | Southampton | 15 | 4 | 2 | 9 | 16:31 | 14 |
Free Daily Betting Tips from our Expert Tipsters
Free Daily Betting Tips from our Tipsters
20:30 Friday 05 Jun
15:30 Saturday 06 Jun
15:30 Saturday 06 Jun
15:30 Saturday 06 Jun
15:30 Saturday 06 Jun
18:30 Saturday 06 Jun
13:30 Sunday 07 Jun
15:30 Sunday 07 Jun
18:00 Sunday 07 Jun
22:00 Thursday 11 Jun
19:30 Friday 12 Jun
22:00 Friday 12 Jun
13:00 Saturday 13 Jun
17:00 Saturday 13 Jun
19:30 Saturday 13 Jun
22:00 Saturday 13 Jun
19:30 Sunday 14 Jun
20:00 Wednesday 17 Jun
20:00 Wednesday 17 Jun
17:30 Tuesday 30 Jun
21:00 Tuesday 30 Jun