Everton
v

West Ham Betting Tips & Predictions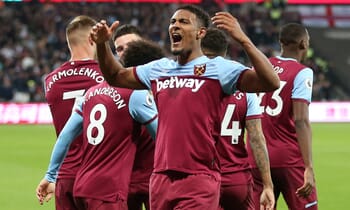 13:30 Sat 19 Oct
Football
Before the start of the season, Everton were regarded as one of the teams that could potentially break into the Premier League top six, although the Toffees have shown little evidence that they'll qualify for European competition this season.
Team news | League Table | Odds
It was a fairly measly return of seven points from eight games played before the international break and we're not sure that even money represents a value price about the Merseyside outfit for this encounter.
Those odds would suggest a 50% chance of winning a fixture that they lost last season, while Marco Silva's side have also been turned over at home to Sheffield United and Manchester City already this term.
Away from home, Everton are yet to register a victory and will meet a West Ham side who are unbeaten on the road thus far, with the London side winning at Watford as well as landing draws away to Bournemouth, Brighton and Aston Villa.
Defensively, Manuel Pellegrini's side have been fairly robust away from home and will now look to bounce back from that 2-1 reverse at home to Crystal Palace before the fortnight break.
Andriy Yarmolenko has probably been the stand out player of the season so far and the Ukrainian has shown little ill effects from that injury which kept him out of action for most of last season.
Sebastian Haller is averaging a goal every two matches thus far, while Declan Rice is another player who would walk into the current Everton line-up.
Indeed, you have to argue that West Ham have the stronger of the two teams right now and we will therefore back them on the Asian Handicap with half a goal start.
That means we only need them to land a draw against an off colour Everton side to land a profit and we should note that the Toffees have now lost their last four top flight encounters.
BETTING TIP
West Ham +0.5 @ 1.91 with bet365
Team News
Confirmed Lineup
Everton v West Ham - Predicted Lineups & Confirmed Starting 11s
Everton Lineup
Confirmed Lineup & Formation
West Ham Lineup
Confirmed Lineup & Formation
20

Bernard Anicio Caldeira Duarte
Everton Formation
4-2-3-1
Everton Substitutes
34: Beni Baningime
27: Moise Kean
10: Gylfi Sigurdsson
09: Dominic Calvert-Lewin
03: Leighton Baines
02: Mason Holgate
49: Jonas Lössl
West Ham Formation
4-1-4-1
West Ham Substitutes
27: Albian Ajeti
07: Andriy Yarmolenko
19: Jack Wilshere
11: Robert Snodgrass
04: Fabian Balbuena
05: Pablo Zabaleta
25: David Martin
Everton v West Ham - Injuries, Bans & Suspensions
Everton v West Ham - Stats
Premier League - Standings & League Table
Premier League
- League Table
| # | Team | G | W | D | L | +/- | P |
| --- | --- | --- | --- | --- | --- | --- | --- |
| 1 | Liverpool | 26 | 25 | 1 | 0 | 61:15 | 76 |
| 2 | Manchester City | 25 | 16 | 3 | 6 | 65:29 | 51 |
| 3 | Leicester | 26 | 15 | 5 | 6 | 54:26 | 50 |
| 4 | Chelsea | 26 | 12 | 5 | 9 | 43:36 | 41 |
| 5 | Tottenham | 26 | 11 | 7 | 8 | 43:34 | 40 |
| 6 | Sheffield United | 26 | 10 | 9 | 7 | 28:24 | 39 |
| 7 | Manchester United | 26 | 10 | 8 | 8 | 38:29 | 38 |
| 8 | Wolverhampton | 26 | 8 | 12 | 6 | 35:32 | 36 |
| 9 | Everton | 26 | 10 | 6 | 10 | 34:38 | 36 |
| 10 | Arsenal | 26 | 7 | 13 | 6 | 36:34 | 34 |
| 11 | Burnley | 26 | 10 | 4 | 12 | 30:39 | 34 |
| 12 | Southampton | 26 | 9 | 4 | 13 | 32:48 | 31 |
| 13 | Newcastle | 26 | 8 | 7 | 11 | 24:40 | 31 |
| 14 | Crystal Palace | 26 | 7 | 9 | 10 | 23:32 | 30 |
| 15 | Brighton | 26 | 6 | 9 | 11 | 31:38 | 27 |
| 16 | Bournemouth | 26 | 7 | 5 | 14 | 26:40 | 26 |
| 17 | Aston Villa | 26 | 7 | 4 | 15 | 34:50 | 25 |
| 18 | West Ham | 25 | 6 | 6 | 13 | 30:43 | 24 |
| 19 | Watford | 26 | 5 | 9 | 12 | 24:40 | 24 |
| 20 | Norwich | 26 | 4 | 6 | 16 | 24:48 | 18 |
| # | Team | G | W | D | L | +/- | P |
| --- | --- | --- | --- | --- | --- | --- | --- |
| 1 | Liverpool | 13 | 13 | 0 | 0 | 35:9 | 39 |
| 2 | Leicester | 13 | 8 | 3 | 2 | 26:14 | 27 |
| 3 | Manchester City | 12 | 8 | 2 | 2 | 31:12 | 26 |
| 4 | Tottenham | 13 | 8 | 2 | 3 | 25:12 | 26 |
| 5 | Everton | 13 | 7 | 3 | 3 | 18:14 | 24 |
| 6 | Manchester United | 13 | 6 | 5 | 2 | 24:12 | 23 |
| 7 | Arsenal | 13 | 5 | 5 | 3 | 22:18 | 20 |
| 8 | Sheffield United | 13 | 6 | 2 | 5 | 15:12 | 20 |
| 9 | Newcastle | 13 | 5 | 5 | 3 | 12:12 | 20 |
| 10 | Burnley | 13 | 6 | 1 | 6 | 16:18 | 19 |
| 11 | Brighton | 13 | 4 | 6 | 3 | 17:14 | 18 |
| 12 | Chelsea | 13 | 5 | 3 | 5 | 16:14 | 18 |
| 13 | Wolverhampton | 13 | 4 | 6 | 3 | 18:17 | 18 |
| 14 | Aston Villa | 13 | 5 | 2 | 6 | 18:24 | 17 |
| 15 | Crystal Palace | 13 | 4 | 4 | 5 | 10:13 | 16 |
| 16 | Bournemouth | 13 | 4 | 4 | 5 | 15:19 | 16 |
| 17 | Watford | 13 | 3 | 5 | 5 | 13:17 | 14 |
| 18 | West Ham | 13 | 3 | 3 | 7 | 20:25 | 12 |
| 19 | Norwich | 13 | 3 | 3 | 7 | 18:26 | 12 |
| 20 | Southampton | 13 | 3 | 2 | 8 | 14:30 | 11 |
Free Daily Betting Tips from our Expert Tipsters
Free Daily Betting Tips from our Tipsters
Wed 19 Feb
Wed 19 Feb
Thu 20 Feb
Thu 20 Feb
Thu 20 Feb
Sat 22 Feb
Sat 22 Feb
Sun 23 Feb
Tue 25 Feb
Tue 25 Feb
Wed 26 Feb
Wed 26 Feb
Thu 26 Mar