Fulham v Man Utd Premier League betting preview and tips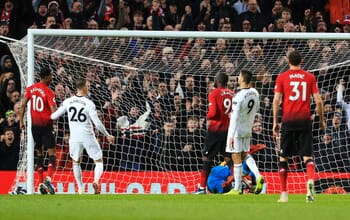 13:30 Sat 09 Feb
Football
It's quite clear that Ole Gunnar Solskjaer has restored the feelgood factor to Old Trafford, although a recent 2-2 draw at home to Burnley illustrates that there are still flaws within this Manchester United team.
The Norwegian couldn't have imagined that this stint in charge of the Red Devils would begin with eight successive victories, although it's still odds-against that United can land a top four finish in the Premier League, even if Chelsea appear to be wobbling.
As you might expect, the north-west outfit are strong favourites to win at Craven Cottage although it should be noted that this clash takes place just days before an important Champions League encounter against Paris Saint-Germain.
Solskjaer won't want to take risks ahead of such an important game considering that Neymar is absent for both legs of the above tie and there's a very real chance that United can go through at the expense of the French champions.
Fulham are fighting for their lives and they showed plenty of spirit to come from two goals down to defeat Brighton last week, with Claudio Ranieri still confident that the London side can avoid the drop.
They generally score in front of their own supporters as seventeen goals in twelve home matches will testify, although they have conceded twenty-three times and there's plenty to like about this United attack.
A recent 2-2 draw against Burnley saw Alexis Sanchez and Fred waiting in the wings, while Anthony Martial was out injured, so it's clear that United have lots of dangerous attacking players at their disposal.
Jesse Lingard could add some cut and thrust and it should be noted that Marcus Rashford has scored seven times since Jose Mourinho left. This is in stark contrast to the two goals scored for his club beforehand.
BETTING TIP
BTTS @ 1.75 with bet365

All odds are correct at time of publishing and are subject to change
Published Feb 01, 2019, 09:32 by
Tony Thomas
Team News
Fulham: 4-2-3-1 (Confirmed Line-ups)
Man Utd: 4-3-3 (Confirmed Line-ups)
Premier League
| # | Team | G | W | D | L | +/- | P |
| --- | --- | --- | --- | --- | --- | --- | --- |
| 1 | Liverpool | 31 | 23 | 7 | 1 | 70:18 | 76 |
| 2 | Manchester City | 30 | 23 | 3 | 4 | 76:20 | 72 |
| 3 | Tottenham | 30 | 20 | 1 | 9 | 57:32 | 61 |
| 4 | Arsenal | 30 | 18 | 6 | 6 | 63:39 | 60 |
| 5 | Manchester Unit | 30 | 17 | 7 | 6 | 58:40 | 58 |
| 6 | Chelsea | 30 | 17 | 6 | 7 | 50:33 | 57 |
| 7 | Wolverhampton W | 30 | 12 | 8 | 10 | 38:36 | 44 |
| 8 | Watford | 30 | 12 | 7 | 11 | 42:44 | 43 |
| 9 | West Ham | 31 | 12 | 6 | 13 | 41:46 | 42 |
| 10 | Everton | 31 | 11 | 8 | 12 | 42:39 | 41 |
| 11 | Leicester | 31 | 12 | 5 | 14 | 40:43 | 41 |
| 12 | Bournemouth | 31 | 11 | 5 | 15 | 43:56 | 38 |
| 13 | Newcastle Unite | 31 | 9 | 8 | 14 | 31:40 | 35 |
| 14 | Crystal Palace | 30 | 9 | 6 | 15 | 36:41 | 33 |
| 15 | Brighton | 29 | 9 | 6 | 14 | 32:42 | 33 |
| 16 | Southampton | 30 | 7 | 9 | 14 | 34:50 | 30 |
| 17 | Burnley | 31 | 8 | 6 | 17 | 35:59 | 30 |
| 18 | Cardiff | 30 | 8 | 4 | 18 | 27:57 | 28 |
| 19 | Fulham | 31 | 4 | 5 | 22 | 29:70 | 17 |
| 20 | Huddersfield | 31 | 3 | 5 | 23 | 18:57 | 14 |