Leicester
v

Arsenal Betting Tips & Predictions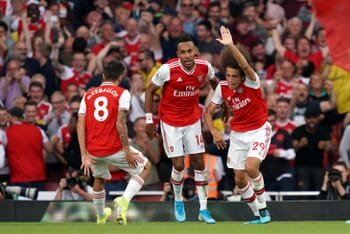 18:30 Sat 09 Nov
Football
Leicester's excellent start to the season has people questioning whether the Foxes can genuinely compete for the Premier League title this season.
Team news | League Table | Odds
While odds of 40/1 suggest that it's still a major long shot, it's clear that Brendan Rodgers' side are capable of qualifying for the Champions League again this term, with the Midlands side having 23 points on the board from eleven games played.
Leicester have won seven of their previous eight games in all competitions and the only defeat was a slender 2-1 defeat at Anfield, with City rightly trading as strong favourites to overcome an Arsenal team who will be nine points behind their opponents if they lose this clash.
The Gunners might be sitting fifth in the table although it's been a difficult few weeks for Unai Emery's side which has seen them lose at Sheffield United before throwing away a two-goal lead against Crystal Palace.
Last weekend's 1-1 draw against Wolves has done nothing to dissuade the notion that all is not well at the Emirates, with club captain Granit Xhaka currently in limbo and the manager still trying to work out his best XI.
On the flip side, Arsenal are a decent team and they have only lost twice in the Premier League this season. Indeed, that reverse at Bramall Lane was the only time that the Gunners have lost in thirteen matches and you can make a case for them getting something here.
We're not sure Leicester should be even money to win considering that they were somewhat fortunate to beat Tottenham at the King Power, while Burnley were unlucky to have an equaliser chalked off recently after a VAR decision.
Yes, Leicester are playing with huge amounts of confidence, although Arsenal still have a better team on paper and they have enough firepower to come away from this clash with at least a point.
BETTING TIP
Arsenal +0.5 @ 1.77 with bet365
Team News
Confirmed Lineup
Leicester v Arsenal - Predicted Lineups & Confirmed Starting 11s
Leicester Lineup
Confirmed Lineup & Formation
Arsenal Lineup
Confirmed Lineup & Formation
14

Pierre Emerick Aubameyang
Leicester Formation
4-1-4-1
Leicester Substitutes
26: Dennis Praet
20: Hamza Choudhury
11: Marc Albrighton
07: Demarai Gray
05: Wes Morgan
02: James Justin
12: Danny Ward
Arsenal Formation
3-4-2-1
Arsenal Substitutes
19: Nicolas Pepe
35: Gabriel Teodoro Martinelli Silva
28: Joseph Willock
77: Bukayo Saka
05: Sokratis Papastathopoulos
03: Kieran Tierney
26: Damian Emiliano Martinez
Leicester v Arsenal - Injuries, Bans & Suspensions
Leicester v Arsenal - Stats
Premier League - Standings & League Table
Premier League
- League Table
| # | Team | G | W | D | L | +/- | P |
| --- | --- | --- | --- | --- | --- | --- | --- |
| 1 | Liverpool | 21 | 20 | 1 | 0 | 50:14 | 61 |
| 2 | Manchester City | 22 | 15 | 2 | 5 | 62:25 | 47 |
| 3 | Leicester | 22 | 14 | 3 | 5 | 47:21 | 45 |
| 4 | Chelsea | 22 | 12 | 3 | 7 | 39:29 | 39 |
| 5 | Manchester United | 22 | 9 | 7 | 6 | 36:25 | 34 |
| 6 | Sheffield United | 22 | 8 | 8 | 6 | 24:21 | 32 |
| 7 | Wolverhampton | 22 | 7 | 10 | 5 | 31:28 | 31 |
| 8 | Tottenham | 22 | 8 | 6 | 8 | 36:31 | 30 |
| 9 | Crystal Palace | 22 | 7 | 8 | 7 | 20:24 | 29 |
| 10 | Arsenal | 22 | 6 | 10 | 6 | 29:31 | 28 |
| 11 | Everton | 22 | 8 | 4 | 10 | 25:32 | 28 |
| 12 | Southampton | 22 | 8 | 4 | 10 | 27:39 | 28 |
| 13 | Newcastle | 22 | 7 | 5 | 10 | 21:34 | 26 |
| 14 | Brighton | 22 | 6 | 6 | 10 | 25:30 | 24 |
| 15 | Burnley | 22 | 7 | 3 | 12 | 24:37 | 24 |
| 16 | West Ham | 21 | 6 | 4 | 11 | 25:33 | 22 |
| 17 | Watford | 22 | 5 | 7 | 10 | 20:34 | 22 |
| 18 | Aston Villa | 22 | 6 | 3 | 13 | 28:43 | 21 |
| 19 | Bournemouth | 22 | 5 | 5 | 12 | 20:35 | 20 |
| 20 | Norwich | 22 | 3 | 5 | 14 | 22:45 | 14 |
| # | Team | G | W | D | L | +/- | P |
| --- | --- | --- | --- | --- | --- | --- | --- |
| 1 | Liverpool | 11 | 11 | 0 | 0 | 29:9 | 33 |
| 2 | Manchester City | 11 | 8 | 1 | 2 | 29:10 | 25 |
| 3 | Leicester | 11 | 7 | 2 | 2 | 20:11 | 23 |
| 4 | Manchester United | 11 | 6 | 4 | 1 | 24:10 | 22 |
| 5 | Tottenham | 11 | 6 | 2 | 3 | 21:11 | 20 |
| 6 | Everton | 11 | 6 | 2 | 3 | 13:11 | 20 |
| 7 | Chelsea | 11 | 5 | 2 | 4 | 14:10 | 17 |
| 8 | Sheffield United | 11 | 5 | 2 | 4 | 13:10 | 17 |
| 9 | Wolverhampton | 11 | 4 | 5 | 2 | 17:15 | 17 |
| 10 | Brighton | 11 | 4 | 4 | 3 | 15:12 | 16 |
| 11 | Arsenal | 11 | 4 | 4 | 3 | 17:17 | 16 |
| 12 | Crystal Palace | 11 | 4 | 4 | 3 | 10:10 | 16 |
| 13 | Newcastle | 11 | 4 | 4 | 3 | 11:12 | 16 |
| 14 | Burnley | 11 | 5 | 0 | 6 | 14:17 | 15 |
| 15 | Aston Villa | 11 | 4 | 2 | 5 | 14:20 | 14 |
| 16 | Watford | 11 | 3 | 4 | 4 | 11:14 | 13 |
| 17 | Southampton | 11 | 3 | 2 | 6 | 11:25 | 11 |
| 18 | West Ham | 10 | 3 | 1 | 6 | 16:19 | 10 |
| 19 | Bournemouth | 11 | 2 | 4 | 5 | 10:17 | 10 |
| 20 | Norwich | 11 | 2 | 3 | 6 | 17:25 | 9 |
Free Daily Betting Tips from our Expert Tipsters
Free Daily Betting Tips from our Tipsters
Sun 19 Jan
Sun 19 Jan
Mon 20 Jan
Tue 21 Jan
Tue 21 Jan
Tue 21 Jan
Wed 22 Jan
Wed 22 Jan
Thu 23 Jan
Tue 18 Feb
Tue 18 Feb
Wed 19 Feb
Wed 19 Feb
Tue 25 Feb
Tue 25 Feb
Wed 26 Feb
Wed 26 Feb