Leicester
vs

Aston Villa Betting Tips & Predictions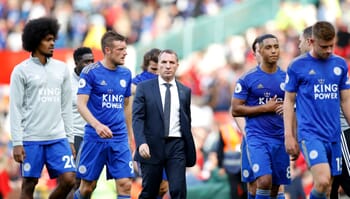 21:00 Mon 09 Mar
Football
Leicester City are not tumbling down the Premier League table – in fact they are still stationed in third place behind Liverpool and Manchester City – although the gap between them and the chasing pack has significantly shortened in recent weeks.
Team news | League Table | Odds
Since winning 3-0 at St James' Park on 1 January, the Foxes' form has gone off a cliff and there has been just one Premier League victory since then, while Brendan Rodgers' side have also been beaten over two legs against Aston Villa in the EFL Cup semi-finals.
Perhaps rumours of their demise are inaccurate considering that Leicester served up a bright performance when losing 1-0 to Manchester City a fortnight ago, while a 2-2 draw against Chelsea in their previous game at the King Power Stadium saw the Midlands side dominate the match.
Jamie Vardy missed the recent 1-0 defeat at Norwich but should be raring to go against a Villa team who will have been exhausted after ninety minutes at Wembley Stadium where they battled gamely against Manchester City before losing 2-1.
Dean Smith's side are simply not very good away from home and they have lost ten of their fourteen matches on the road this season. There have often been occasions where the Villans have looked outclassed and if it wasn't for the striking form of Jack Grealish, the team could be sitting bottom of the table.
There appears to be an injury concern regarding Grealish considering he was clutching his calf muscles during the EFL Cup final, although Villa will always be attack-minded under Smith and we think they can find the net during the ninety minutes of this clash.
However, Leicester do have eight victories on the board at the King Power Stadium and this winless run can't continue indefinitely, with the best bet potentially being the Foxes to triumph and both sides finding the net.
BETTING TIP
Leicester + BTTS @ 2.75 with bet365
Team News
Confirmed Lineup
Leicester vs Aston Villa - Predicted Lineups & Confirmed Starting 11s
Leicester Lineup
Confirmed Lineup & Formation
Aston Villa Lineup
Confirmed Lineup & Formation
18

Matthew Robert Targett
Leicester Formation
4-1-4-1
Leicester Substitutes
09: Jamie Vardy
17: Ayoze Perez
08: Youri Tielemans
24: Nampalys Mendy
05: Wes Morgan
28: Christian Fuchs
12: Danny Ward
Aston Villa Formation
4-3-3
Aston Villa Substitutes
39: Keinan Davis
21: Anwar El-Ghazi
15: Ezri Konsa
04: Daniel Drinkwater
17: Trezeguet
03: Neil Taylor
25: Ørjan Håskjold Nyland
Leicester vs Aston Villa - Injuries, Bans & Suspensions
Leicester vs Aston Villa - Stats
Premier League - Standings & League Table
Premier League
- League Table
| # | Team | G | W | D | L | +/- | P |
| --- | --- | --- | --- | --- | --- | --- | --- |
| 1 | Liverpool | 29 | 27 | 1 | 1 | 66:21 | 82 |
| 2 | Manchester City | 28 | 18 | 3 | 7 | 68:31 | 57 |
| 3 | Leicester | 29 | 16 | 5 | 8 | 58:28 | 53 |
| 4 | Chelsea | 29 | 14 | 6 | 9 | 51:39 | 48 |
| 5 | Manchester United | 29 | 12 | 9 | 8 | 44:30 | 45 |
| 6 | Wolverhampton | 29 | 10 | 13 | 6 | 41:34 | 43 |
| 7 | Sheffield United | 28 | 11 | 10 | 7 | 30:25 | 43 |
| 8 | Tottenham | 29 | 11 | 8 | 10 | 47:40 | 41 |
| 9 | Arsenal | 28 | 9 | 13 | 6 | 40:36 | 40 |
| 10 | Burnley | 29 | 11 | 6 | 12 | 34:40 | 39 |
| 11 | Crystal Palace | 29 | 10 | 9 | 10 | 26:32 | 39 |
| 12 | Everton | 29 | 10 | 7 | 12 | 37:46 | 37 |
| 13 | Newcastle | 29 | 9 | 8 | 12 | 25:41 | 35 |
| 14 | Southampton | 29 | 10 | 4 | 15 | 35:52 | 34 |
| 15 | Brighton | 29 | 6 | 11 | 12 | 32:40 | 29 |
| 16 | West Ham | 29 | 7 | 6 | 16 | 35:50 | 27 |
| 17 | Watford | 29 | 6 | 9 | 14 | 27:44 | 27 |
| 18 | Bournemouth | 29 | 7 | 6 | 16 | 29:47 | 27 |
| 19 | Aston Villa | 28 | 7 | 4 | 17 | 34:56 | 25 |
| 20 | Norwich | 29 | 5 | 6 | 18 | 25:52 | 21 |
| # | Team | G | W | D | L | +/- | P |
| --- | --- | --- | --- | --- | --- | --- | --- |
| 1 | Liverpool | 15 | 15 | 0 | 0 | 40:12 | 45 |
| 2 | Leicester | 15 | 9 | 3 | 3 | 30:15 | 30 |
| 3 | Manchester City | 13 | 9 | 2 | 2 | 33:12 | 29 |
| 4 | Manchester United | 15 | 8 | 5 | 2 | 29:12 | 29 |
| 5 | Tottenham | 14 | 8 | 2 | 4 | 27:15 | 26 |
| 6 | Arsenal | 15 | 7 | 5 | 3 | 26:20 | 26 |
| 7 | Everton | 14 | 7 | 4 | 3 | 19:15 | 25 |
| 8 | Chelsea | 15 | 7 | 3 | 5 | 22:15 | 24 |
| 9 | Sheffield United | 15 | 7 | 3 | 5 | 17:13 | 24 |
| 10 | Burnley | 15 | 7 | 2 | 6 | 20:19 | 23 |
| 11 | Wolverhampton | 15 | 5 | 7 | 3 | 21:17 | 22 |
| 12 | Crystal Palace | 15 | 6 | 4 | 5 | 12:13 | 22 |
| 13 | Newcastle | 14 | 5 | 6 | 3 | 12:12 | 21 |
| 14 | Brighton | 14 | 4 | 6 | 4 | 17:15 | 18 |
| 15 | Watford | 14 | 4 | 5 | 5 | 16:17 | 17 |
| 16 | Bournemouth | 14 | 4 | 5 | 5 | 17:21 | 17 |
| 17 | Aston Villa | 13 | 5 | 2 | 6 | 18:24 | 17 |
| 18 | West Ham | 14 | 4 | 3 | 7 | 23:26 | 15 |
| 19 | Norwich | 14 | 4 | 3 | 7 | 19:26 | 15 |
| 20 | Southampton | 15 | 4 | 2 | 9 | 16:31 | 14 |
Free Daily Betting Tips from our Expert Tipsters
Free Daily Betting Tips from our Tipsters
20:30 Friday 05 Jun
15:30 Saturday 06 Jun
15:30 Saturday 06 Jun
15:30 Saturday 06 Jun
15:30 Saturday 06 Jun
18:30 Saturday 06 Jun
13:30 Sunday 07 Jun
15:30 Sunday 07 Jun
18:00 Sunday 07 Jun
22:00 Thursday 11 Jun
19:30 Friday 12 Jun
22:00 Friday 12 Jun
13:00 Saturday 13 Jun
17:00 Saturday 13 Jun
19:30 Saturday 13 Jun
22:00 Saturday 13 Jun
19:30 Sunday 14 Jun
20:00 Wednesday 17 Jun
20:00 Wednesday 17 Jun
17:30 Tuesday 30 Jun
21:00 Tuesday 30 Jun