Liverpool
vs

Everton Betting Tips & Predictions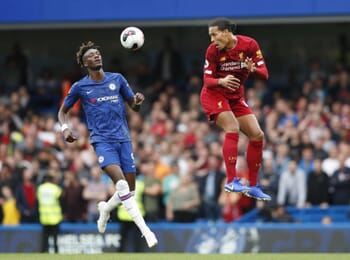 21:15 Wed 04 Dec
Football
Tip: 1/1 HT/FT
Units: 2/5
Some might think it's incredible that Everton have kept the faith with Marco Silva, although the Portuguese remains in charge at the time of writing and he could be set for an uncomfortable ninety minutes at Anfield on Wednesday night.
Team news | League Table | Odds
His Toffees team managed just fourteen points from their first thirteen games. This would be a decent total for a newly-promoted side but not an established Premier League outfit who had aspirations to finish in the top six of the table this season.
Yet there doesn't appear to be a huge appetite to dispense with Silva's service and Everton make the short journey across Stanley Park as massive outsiders for a Merseyside derby which could be distinctly one-sided.
The Toffees played wonderfully well in the same fixture last season before a freak winner in injury-time, although it's hard to see them matching a Liverpool side who have a 100% record at Anfield so far.
Jurgen Klopp's side are averaging nearly three goals per home match and that ratio could well continue considering that Sadio Mane and Roberto Firmino are enjoying a rich vein of form in front of goal.
Naturally, the Reds are trading at a short price to win this encounter although there could be some merit in backing Liverpool to lead at half-time and full-time in this clash at even money.
This has happened in 5/6 Liverpool home matches this season and Klopp's side often make a habit of flying out of the traps as Manchester City can testify after falling two goals behind very quickly in their recent match.
The Everton defence has conceded twenty goals already this season and they come into the game after a tough ordeal at the King Power Stadium, with the players low on confidence and likely to be on the back foot from kick-off.
BETTING TIP
Liverpool half time/full time @ 2.00 (evens) with bet365
Team News
Confirmed Lineup
Liverpool vs Everton - Predicted Lineups & Confirmed Starting 11s
Liverpool Lineup
Confirmed Lineup & Formation
Everton Lineup
Confirmed Lineup & Formation
13

San Miguel del Castillo Adrian
66

Trent Alexander-Arnold
Liverpool Formation
4-3-3
Liverpool Substitutes
62: Caoimhin Kelleher
15: Alex Oxlade-Chamberlain
12: Joe Gomez
14: Jordan Henderson
08: Naby Keita
11: Mohamed Salah
09: Roberto Firmino
Everton Formation
5-4-1
Everton Substitutes
27: Moise Kean
18: Morgan Schneiderlin
11: Theo Walcott
49: Jonas Lössl
03: Leighton Baines
20: Bernard Anicio Caldeira Duarte
14: Cenk Tosun
Liverpool vs Everton - Injuries, Bans & Suspensions
Liverpool vs Everton - Stats
Premier League - Standings & League Table
Premier League
- League Table
| # | Team | G | W | D | L | +/- | P |
| --- | --- | --- | --- | --- | --- | --- | --- |
| 1 | Liverpool | 29 | 27 | 1 | 1 | 66:21 | 82 |
| 2 | Manchester City | 28 | 18 | 3 | 7 | 68:31 | 57 |
| 3 | Leicester | 29 | 16 | 5 | 8 | 58:28 | 53 |
| 4 | Chelsea | 29 | 14 | 6 | 9 | 51:39 | 48 |
| 5 | Manchester United | 29 | 12 | 9 | 8 | 44:30 | 45 |
| 6 | Wolverhampton | 29 | 10 | 13 | 6 | 41:34 | 43 |
| 7 | Sheffield United | 28 | 11 | 10 | 7 | 30:25 | 43 |
| 8 | Tottenham | 29 | 11 | 8 | 10 | 47:40 | 41 |
| 9 | Arsenal | 28 | 9 | 13 | 6 | 40:36 | 40 |
| 10 | Burnley | 29 | 11 | 6 | 12 | 34:40 | 39 |
| 11 | Crystal Palace | 29 | 10 | 9 | 10 | 26:32 | 39 |
| 12 | Everton | 29 | 10 | 7 | 12 | 37:46 | 37 |
| 13 | Newcastle | 29 | 9 | 8 | 12 | 25:41 | 35 |
| 14 | Southampton | 29 | 10 | 4 | 15 | 35:52 | 34 |
| 15 | Brighton | 29 | 6 | 11 | 12 | 32:40 | 29 |
| 16 | West Ham | 29 | 7 | 6 | 16 | 35:50 | 27 |
| 17 | Watford | 29 | 6 | 9 | 14 | 27:44 | 27 |
| 18 | Bournemouth | 29 | 7 | 6 | 16 | 29:47 | 27 |
| 19 | Aston Villa | 28 | 7 | 4 | 17 | 34:56 | 25 |
| 20 | Norwich | 29 | 5 | 6 | 18 | 25:52 | 21 |
| # | Team | G | W | D | L | +/- | P |
| --- | --- | --- | --- | --- | --- | --- | --- |
| 1 | Liverpool | 15 | 15 | 0 | 0 | 40:12 | 45 |
| 2 | Leicester | 15 | 9 | 3 | 3 | 30:15 | 30 |
| 3 | Manchester City | 13 | 9 | 2 | 2 | 33:12 | 29 |
| 4 | Manchester United | 15 | 8 | 5 | 2 | 29:12 | 29 |
| 5 | Tottenham | 14 | 8 | 2 | 4 | 27:15 | 26 |
| 6 | Arsenal | 15 | 7 | 5 | 3 | 26:20 | 26 |
| 7 | Everton | 14 | 7 | 4 | 3 | 19:15 | 25 |
| 8 | Chelsea | 15 | 7 | 3 | 5 | 22:15 | 24 |
| 9 | Sheffield United | 15 | 7 | 3 | 5 | 17:13 | 24 |
| 10 | Burnley | 15 | 7 | 2 | 6 | 20:19 | 23 |
| 11 | Wolverhampton | 15 | 5 | 7 | 3 | 21:17 | 22 |
| 12 | Crystal Palace | 15 | 6 | 4 | 5 | 12:13 | 22 |
| 13 | Newcastle | 14 | 5 | 6 | 3 | 12:12 | 21 |
| 14 | Brighton | 14 | 4 | 6 | 4 | 17:15 | 18 |
| 15 | Watford | 14 | 4 | 5 | 5 | 16:17 | 17 |
| 16 | Bournemouth | 14 | 4 | 5 | 5 | 17:21 | 17 |
| 17 | Aston Villa | 13 | 5 | 2 | 6 | 18:24 | 17 |
| 18 | West Ham | 14 | 4 | 3 | 7 | 23:26 | 15 |
| 19 | Norwich | 14 | 4 | 3 | 7 | 19:26 | 15 |
| 20 | Southampton | 15 | 4 | 2 | 9 | 16:31 | 14 |
Free Daily Betting Tips from our Expert Tipsters
Free Daily Betting Tips from our Tipsters
20:30 Wednesday 03 Jun
20:30 Friday 05 Jun
15:30 Saturday 06 Jun
18:30 Saturday 06 Jun
15:30 Sunday 07 Jun
22:00 Thursday 11 Jun
19:30 Friday 12 Jun
22:00 Friday 12 Jun
22:00 Saturday 13 Jun
19:30 Sunday 14 Jun
20:00 Wednesday 17 Jun
20:00 Wednesday 17 Jun
17:30 Tuesday 30 Jun
21:00 Tuesday 30 Jun