Liverpool
vs

Man Utd Betting Tips & Predictions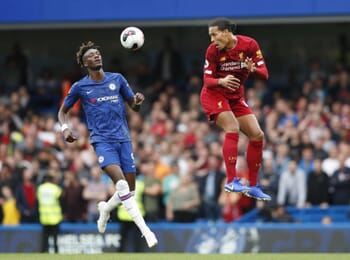 17:30 Sun 19 Jan
Football
Incredibly, we're not far away from the prospect of Liverpool claiming the 2019/20 Premier League title, with the Reds going seventeen points clear of champions Manchester City after winning at White Hart Lane last weekend.
Team news | League Table | Odds
Jurgen Klopp's side have only wobbled once this term and that was actually at Old Trafford when they trailed to Marcus Rashford's first-half strike until Adam Lallana grabbed a late equaliser.
Apart from that game against the Red Devils, Liverpool have won the lot and they're strong favourites to get the better of their arch-rivals at Anfield, with the Merseyside team having won this fixture 3-1 last season.
That result actually signalled a change of United manager and Ole Gunnar Solskjaer has been at the helm ever since, landing the role on a temporary basis before getting the gig full-time although it's been a mixed season for the visitors.
They did go to Manchester City recently and land a 2-1 victory although it's possible that the same counter-attacking tactics might not work as effectively against a Liverpool side who have won eleven straight games at Anfield this term.
It's also worth noting that the Reds have tightened their belts defensively in recent weeks, with the team having won six consecutive top-flight encounters without conceding and we can't pass up the opportunity to back them at odds-against to win and keep a clean sheet.
While United put Norwich to the sword by a 4-0 scoreline last weekend, they will be mainly be in defensive mode for this encounter and it could be that Anthony Martial and Marcus Rashford are left to feed off scraps.
Virgil van Dijk and Trent Alexander-Arnold seem to be in competition with team-mates Mohamed Salah and Sadio Mane when it comes to PFA Player of the Year, with Liverpool now in the mood to grind out the victories and ensure that they land the title for the first time in thirty years.
BETTING TIP
Liverpool win to nil @ 2.50 with bet365
Team News
Confirmed Lineup
Liverpool vs Manchester United - Predicted Lineups & Confirmed Starting 11s
Liverpool Lineup
Confirmed Lineup & Formation
Manchester United Lineup
Confirmed Lineup & Formation
66

Trent Alexander-Arnold
15

Alex Oxlade-Chamberlain
02

Victor Nilsson-Lindelof
Liverpool Formation
4-3-3
Liverpool Substitutes
32: Joel Matip
03: Fabinho
27: Divock Origi
18: Takumi Minamino
48: Curtis Jones
20: Adam Lallana
13: San Miguel del Castillo Adrian
Manchester United Formation
3-5-2
Manchester United Substitutes
03: Eric Bailly Bertrand
26: Mason Greenwood
14: Jesse Lingard
08: Juan Mata
20: Diogo Dalot
04: Phil Jones
22: Sergio Romero
Liverpool vs Manchester United - Injuries, Bans & Suspensions
Liverpool vs Manchester United - Stats
Premier League - Standings & League Table
Premier League
- League Table
| # | Team | G | W | D | L | +/- | P |
| --- | --- | --- | --- | --- | --- | --- | --- |
| 1 | Liverpool | 29 | 27 | 1 | 1 | 66:21 | 82 |
| 2 | Manchester City | 28 | 18 | 3 | 7 | 68:31 | 57 |
| 3 | Leicester | 29 | 16 | 5 | 8 | 58:28 | 53 |
| 4 | Chelsea | 29 | 14 | 6 | 9 | 51:39 | 48 |
| 5 | Manchester United | 29 | 12 | 9 | 8 | 44:30 | 45 |
| 6 | Wolverhampton | 29 | 10 | 13 | 6 | 41:34 | 43 |
| 7 | Sheffield United | 28 | 11 | 10 | 7 | 30:25 | 43 |
| 8 | Tottenham | 29 | 11 | 8 | 10 | 47:40 | 41 |
| 9 | Arsenal | 28 | 9 | 13 | 6 | 40:36 | 40 |
| 10 | Burnley | 29 | 11 | 6 | 12 | 34:40 | 39 |
| 11 | Crystal Palace | 29 | 10 | 9 | 10 | 26:32 | 39 |
| 12 | Everton | 29 | 10 | 7 | 12 | 37:46 | 37 |
| 13 | Newcastle | 29 | 9 | 8 | 12 | 25:41 | 35 |
| 14 | Southampton | 29 | 10 | 4 | 15 | 35:52 | 34 |
| 15 | Brighton | 29 | 6 | 11 | 12 | 32:40 | 29 |
| 16 | West Ham | 29 | 7 | 6 | 16 | 35:50 | 27 |
| 17 | Watford | 29 | 6 | 9 | 14 | 27:44 | 27 |
| 18 | Bournemouth | 29 | 7 | 6 | 16 | 29:47 | 27 |
| 19 | Aston Villa | 28 | 7 | 4 | 17 | 34:56 | 25 |
| 20 | Norwich | 29 | 5 | 6 | 18 | 25:52 | 21 |
| # | Team | G | W | D | L | +/- | P |
| --- | --- | --- | --- | --- | --- | --- | --- |
| 1 | Liverpool | 15 | 15 | 0 | 0 | 40:12 | 45 |
| 2 | Leicester | 15 | 9 | 3 | 3 | 30:15 | 30 |
| 3 | Manchester City | 13 | 9 | 2 | 2 | 33:12 | 29 |
| 4 | Manchester United | 15 | 8 | 5 | 2 | 29:12 | 29 |
| 5 | Tottenham | 14 | 8 | 2 | 4 | 27:15 | 26 |
| 6 | Arsenal | 15 | 7 | 5 | 3 | 26:20 | 26 |
| 7 | Everton | 14 | 7 | 4 | 3 | 19:15 | 25 |
| 8 | Chelsea | 15 | 7 | 3 | 5 | 22:15 | 24 |
| 9 | Sheffield United | 15 | 7 | 3 | 5 | 17:13 | 24 |
| 10 | Burnley | 15 | 7 | 2 | 6 | 20:19 | 23 |
| 11 | Wolverhampton | 15 | 5 | 7 | 3 | 21:17 | 22 |
| 12 | Crystal Palace | 15 | 6 | 4 | 5 | 12:13 | 22 |
| 13 | Newcastle | 14 | 5 | 6 | 3 | 12:12 | 21 |
| 14 | Brighton | 14 | 4 | 6 | 4 | 17:15 | 18 |
| 15 | Watford | 14 | 4 | 5 | 5 | 16:17 | 17 |
| 16 | Bournemouth | 14 | 4 | 5 | 5 | 17:21 | 17 |
| 17 | Aston Villa | 13 | 5 | 2 | 6 | 18:24 | 17 |
| 18 | West Ham | 14 | 4 | 3 | 7 | 23:26 | 15 |
| 19 | Norwich | 14 | 4 | 3 | 7 | 19:26 | 15 |
| 20 | Southampton | 15 | 4 | 2 | 9 | 16:31 | 14 |
Free Daily Betting Tips from our Expert Tipsters
Free Daily Betting Tips from our Tipsters
18:30 Tuesday 26 May
21:00 Friday 12 Jun
17:30 Tuesday 30 Jun
21:00 Tuesday 30 Jun