Liverpool
vs

West Ham Betting Tips & Predictions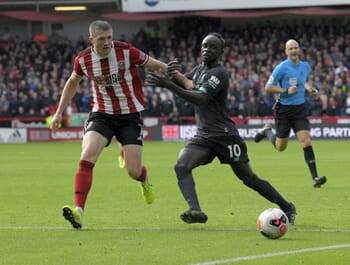 21:00 Mon 24 Feb
Football
Liverpool were shipping a few goals at the beginning of the season, although the defence is now racking up clean sheets like they're going out of business and we can expect more of the same on Monday night.
Team news | League Table | Odds
We're surprised that the bookies are offering anything close to even money about the Reds landing a victory against West Ham without conceding, with the Merseyside team hell bent on landing the title at the earliest possible juncture and they have a 100% record at Anfield this season.
While Liverpool recently suffered a Champions League setback away to Atletico Madrid, they might not have to come out of second gear in order to beat a Hammers side who are truly in a relegation scrap which looked unlikely after a bright opening to the season.
However, the London side have been struggling to accrue points in recent months and their recent 2-0 defeat at the Etihad Stadium had David Moyes praising the fact that the visitors were able to keep the scoreline down and pointed to goal different potentially being crucial.
If that's the mindset on Monday night, then we're unlikely to see much ambition from a team who have managed just ten goals in thirteen away games this season.
It has been six Premier League matches since West Ham last managed a victory, with that being an emphatic 4-0 victory over Bournemouth although life has been tougher going since then.
The team will essentially want to get this fixture out of the way without much collateral damage and instead focus on the eleven "cup finals" that lie in their wake between now and the remainder of the season.
As for the champions-elect, Wolves are the only team to have breached the defence since that crazy 5-2 Merseyside derby victory at the beginning of December. Why try to mend a bike that isn't broken?
BETTING TIP
Liverpool win to nil @ 1.90 with bet365
Team News
Confirmed Lineup
Liverpool vs West Ham - Predicted Lineups & Confirmed Starting 11s
Liverpool Lineup
Confirmed Lineup & Formation
West Ham Lineup
Confirmed Lineup & Formation
66

Trent Alexander-Arnold
Liverpool Formation
4-3-3
Liverpool Substitutes
27: Divock Origi
18: Takumi Minamino
20: Adam Lallana
15: Alex Oxlade-Chamberlain
32: Joel Matip
06: Dejan Lovren
13: San Miguel del Castillo Adrian
West Ham Formation
4-1-4-1
West Ham Substitutes
N/A: Jarrod Bowen
22: Sebastien Haller
18: Pablo Fornals
10: Manuel Lanzini
05: Pablo Zabaleta
04: Fabian Balbuena
35: Darren Randolph
Liverpool vs West Ham - Injuries, Bans & Suspensions
Liverpool vs West Ham - Stats
Premier League - Standings & League Table
Premier League
- League Table
| # | Team | G | W | D | L | +/- | P |
| --- | --- | --- | --- | --- | --- | --- | --- |
| 1 | Liverpool | 29 | 27 | 1 | 1 | 66:21 | 82 |
| 2 | Manchester City | 28 | 18 | 3 | 7 | 68:31 | 57 |
| 3 | Leicester | 29 | 16 | 5 | 8 | 58:28 | 53 |
| 4 | Chelsea | 29 | 14 | 6 | 9 | 51:39 | 48 |
| 5 | Manchester United | 29 | 12 | 9 | 8 | 44:30 | 45 |
| 6 | Wolverhampton | 29 | 10 | 13 | 6 | 41:34 | 43 |
| 7 | Sheffield United | 28 | 11 | 10 | 7 | 30:25 | 43 |
| 8 | Tottenham | 29 | 11 | 8 | 10 | 47:40 | 41 |
| 9 | Arsenal | 28 | 9 | 13 | 6 | 40:36 | 40 |
| 10 | Burnley | 29 | 11 | 6 | 12 | 34:40 | 39 |
| 11 | Crystal Palace | 29 | 10 | 9 | 10 | 26:32 | 39 |
| 12 | Everton | 29 | 10 | 7 | 12 | 37:46 | 37 |
| 13 | Newcastle | 29 | 9 | 8 | 12 | 25:41 | 35 |
| 14 | Southampton | 29 | 10 | 4 | 15 | 35:52 | 34 |
| 15 | Brighton | 29 | 6 | 11 | 12 | 32:40 | 29 |
| 16 | West Ham | 29 | 7 | 6 | 16 | 35:50 | 27 |
| 17 | Watford | 29 | 6 | 9 | 14 | 27:44 | 27 |
| 18 | Bournemouth | 29 | 7 | 6 | 16 | 29:47 | 27 |
| 19 | Aston Villa | 28 | 7 | 4 | 17 | 34:56 | 25 |
| 20 | Norwich | 29 | 5 | 6 | 18 | 25:52 | 21 |
| # | Team | G | W | D | L | +/- | P |
| --- | --- | --- | --- | --- | --- | --- | --- |
| 1 | Liverpool | 15 | 15 | 0 | 0 | 40:12 | 45 |
| 2 | Leicester | 15 | 9 | 3 | 3 | 30:15 | 30 |
| 3 | Manchester City | 13 | 9 | 2 | 2 | 33:12 | 29 |
| 4 | Manchester United | 15 | 8 | 5 | 2 | 29:12 | 29 |
| 5 | Tottenham | 14 | 8 | 2 | 4 | 27:15 | 26 |
| 6 | Arsenal | 15 | 7 | 5 | 3 | 26:20 | 26 |
| 7 | Everton | 14 | 7 | 4 | 3 | 19:15 | 25 |
| 8 | Chelsea | 15 | 7 | 3 | 5 | 22:15 | 24 |
| 9 | Sheffield United | 15 | 7 | 3 | 5 | 17:13 | 24 |
| 10 | Burnley | 15 | 7 | 2 | 6 | 20:19 | 23 |
| 11 | Wolverhampton | 15 | 5 | 7 | 3 | 21:17 | 22 |
| 12 | Crystal Palace | 15 | 6 | 4 | 5 | 12:13 | 22 |
| 13 | Newcastle | 14 | 5 | 6 | 3 | 12:12 | 21 |
| 14 | Brighton | 14 | 4 | 6 | 4 | 17:15 | 18 |
| 15 | Watford | 14 | 4 | 5 | 5 | 16:17 | 17 |
| 16 | Bournemouth | 14 | 4 | 5 | 5 | 17:21 | 17 |
| 17 | Aston Villa | 13 | 5 | 2 | 6 | 18:24 | 17 |
| 18 | West Ham | 14 | 4 | 3 | 7 | 23:26 | 15 |
| 19 | Norwich | 14 | 4 | 3 | 7 | 19:26 | 15 |
| 20 | Southampton | 15 | 4 | 2 | 9 | 16:31 | 14 |
Free Daily Betting Tips from our Expert Tipsters
Free Daily Betting Tips from our Tipsters
18:30 Tuesday 26 May
21:00 Friday 12 Jun
17:30 Tuesday 30 Jun
21:00 Tuesday 30 Jun