Man City
vs

Arsenal Betting Tips & Predictions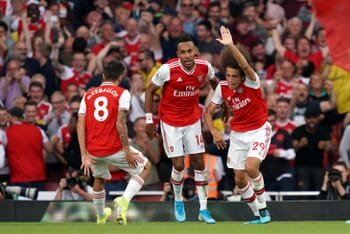 20:30 Tue 10 Mar
Football
Tip: 2 AH +1.5
Units: 3/5
It was only a few months ago that Mikel Arteta was sitting next to Pep Guardiola on the Manchester City bench although the two Spaniards will be in opposite dugouts on Wednesday night when Arsenal head to the Etihad Stadium.
Team news | League Table | Odds
Arteta was recently given the chance to manage the Gunners and won't necessarily be able to put his imprint on the squad until the summer, although this match represents an opportunity for the visitors to get closer to the top four of the Premier League.
The team enjoyed a hard-fought 1-0 win over West Ham in Saturday's London derby, with that stretching Arsenal's unbeaten run in the top flight to eight games, although it's certainly on the line when they play a team who were wounded in the Manchester derby.
Perhaps there are mitigating circumstances for City's defeat in the game considering that they have given up hope of catching Liverpool and they recently bagged the EFL Cup, while Real Madrid are the visitors to the Etihad next week.
Kevin de Bruyne missed the Old Trafford clash and there might be a temptation to keep him in reserve for this midweek encounter, while it's worth noting that the Citizens haven't really been crushing the opposition since winning 6-1 at Villa Park in early January.
There continue to be defensive frailties considering that Aymeric Laporte recently suffered an injury setback, with Kyle Walker, Benjamin Mendy and Riyad Mahrez among the players who could return to the starting line-up in this clash.
We can expect Arsenal to try and keep things tight, with Arteta knowing all too well how dangerous the team's opponents can be if they're allowed the freedom of the Etihad pitch and the best way to play this match could be the Gunners on the Asian Handicap.
Getting with the visitors enjoying a +1.5 goal advantage means that they can afford to lose by a single goal and still land us a profit.
BETTING TIP
Arsenal +1.5 @ 1.95 with bet365
Team News
Predicted Lineup
Manchester City vs Arsenal - Predicted Lineups & Confirmed Starting 11s
Manchester City Lineup
Predicted Lineup & Formation
Arsenal Lineup
Predicted Lineup & Formation
05

Sokratis Papastathopoulos
14

Pierre Emerick Aubameyang
Manchester City vs Arsenal - Injuries, Bans & Suspensions
Type
Player
Info
Expected return

No players are currently injured or suspended.
Manchester City vs Arsenal - Stats
Premier League - Standings & League Table
Premier League
- League Table
| # | Team | G | W | D | L | +/- | P |
| --- | --- | --- | --- | --- | --- | --- | --- |
| 1 | Liverpool | 29 | 27 | 1 | 1 | 66:21 | 82 |
| 2 | Manchester City | 28 | 18 | 3 | 7 | 68:31 | 57 |
| 3 | Leicester | 29 | 16 | 5 | 8 | 58:28 | 53 |
| 4 | Chelsea | 29 | 14 | 6 | 9 | 51:39 | 48 |
| 5 | Manchester United | 29 | 12 | 9 | 8 | 44:30 | 45 |
| 6 | Wolverhampton | 29 | 10 | 13 | 6 | 41:34 | 43 |
| 7 | Sheffield United | 28 | 11 | 10 | 7 | 30:25 | 43 |
| 8 | Tottenham | 29 | 11 | 8 | 10 | 47:40 | 41 |
| 9 | Arsenal | 28 | 9 | 13 | 6 | 40:36 | 40 |
| 10 | Burnley | 29 | 11 | 6 | 12 | 34:40 | 39 |
| 11 | Crystal Palace | 29 | 10 | 9 | 10 | 26:32 | 39 |
| 12 | Everton | 29 | 10 | 7 | 12 | 37:46 | 37 |
| 13 | Newcastle | 29 | 9 | 8 | 12 | 25:41 | 35 |
| 14 | Southampton | 29 | 10 | 4 | 15 | 35:52 | 34 |
| 15 | Brighton | 29 | 6 | 11 | 12 | 32:40 | 29 |
| 16 | West Ham | 29 | 7 | 6 | 16 | 35:50 | 27 |
| 17 | Watford | 29 | 6 | 9 | 14 | 27:44 | 27 |
| 18 | Bournemouth | 29 | 7 | 6 | 16 | 29:47 | 27 |
| 19 | Aston Villa | 28 | 7 | 4 | 17 | 34:56 | 25 |
| 20 | Norwich | 29 | 5 | 6 | 18 | 25:52 | 21 |
| # | Team | G | W | D | L | +/- | P |
| --- | --- | --- | --- | --- | --- | --- | --- |
| 1 | Liverpool | 15 | 15 | 0 | 0 | 40:12 | 45 |
| 2 | Leicester | 15 | 9 | 3 | 3 | 30:15 | 30 |
| 3 | Manchester City | 13 | 9 | 2 | 2 | 33:12 | 29 |
| 4 | Manchester United | 15 | 8 | 5 | 2 | 29:12 | 29 |
| 5 | Tottenham | 14 | 8 | 2 | 4 | 27:15 | 26 |
| 6 | Arsenal | 15 | 7 | 5 | 3 | 26:20 | 26 |
| 7 | Everton | 14 | 7 | 4 | 3 | 19:15 | 25 |
| 8 | Chelsea | 15 | 7 | 3 | 5 | 22:15 | 24 |
| 9 | Sheffield United | 15 | 7 | 3 | 5 | 17:13 | 24 |
| 10 | Burnley | 15 | 7 | 2 | 6 | 20:19 | 23 |
| 11 | Wolverhampton | 15 | 5 | 7 | 3 | 21:17 | 22 |
| 12 | Crystal Palace | 15 | 6 | 4 | 5 | 12:13 | 22 |
| 13 | Newcastle | 14 | 5 | 6 | 3 | 12:12 | 21 |
| 14 | Brighton | 14 | 4 | 6 | 4 | 17:15 | 18 |
| 15 | Watford | 14 | 4 | 5 | 5 | 16:17 | 17 |
| 16 | Bournemouth | 14 | 4 | 5 | 5 | 17:21 | 17 |
| 17 | Aston Villa | 13 | 5 | 2 | 6 | 18:24 | 17 |
| 18 | West Ham | 14 | 4 | 3 | 7 | 23:26 | 15 |
| 19 | Norwich | 14 | 4 | 3 | 7 | 19:26 | 15 |
| 20 | Southampton | 15 | 4 | 2 | 9 | 16:31 | 14 |
Free Daily Betting Tips from our Expert Tipsters
Free Daily Betting Tips from our Tipsters
20:30 Friday 05 Jun
15:30 Saturday 06 Jun
15:30 Saturday 06 Jun
15:30 Saturday 06 Jun
15:30 Saturday 06 Jun
18:30 Saturday 06 Jun
13:30 Sunday 07 Jun
15:30 Sunday 07 Jun
18:00 Sunday 07 Jun
22:00 Thursday 11 Jun
19:30 Friday 12 Jun
22:00 Friday 12 Jun
13:00 Saturday 13 Jun
17:00 Saturday 13 Jun
19:30 Saturday 13 Jun
22:00 Saturday 13 Jun
19:30 Sunday 14 Jun
20:00 Wednesday 17 Jun
20:00 Wednesday 17 Jun
17:30 Tuesday 30 Jun
21:00 Tuesday 30 Jun