Man City v Chelsea Premier League betting preview and tips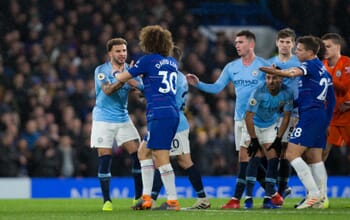 17:00 Sun 10 Feb
Football
Manchester City's problems started when they lost at Stamford Bridge in December, with Chelsea soaking up some early pressure before winning the game by a 2-0 scoreline.
Goals from N'Golo Kante and David Luiz gave the London side the win on that occasion and a similar outcome in this clash will surely mean that the Premier League title is heading to Anfield.
After all, the Citizens have subsequently lost against Crystal Palace, Leicester City and Newcastle, with Pep Guardiola's side not having that invincible sheen that saw them win the title at a canter last season.
The games have been coming thick and fast for the champions, although they recently purred when beating Arsenal 3-1 and created enough chances to win the match by a more emphatic margin.
They should be tested more against Chelsea in this clash, although Maurizio Sarri's side did recently suffer a heavy 4-0 defeat at the hands of Bournemouth, with the Italian at a loss to explain how that happened.
The Blues recovered to beat Huddersfield 5-0 and it appears that Gonzalo Higuain will have a profitable time in front of goal if his brace in that game is any yardstick, while Eden Hazard certainly looks the part and will relish going up against City in this contest.
Chelsea do show weakness on the road as four away defeats will testify and we can therefore be confident that the home side will claim a victory seeing as they boast 12-0-1 at the Etihad this season.
They also have Kevin de Bruyne coming back to form although eleven goals conceded at home suggests that Chelsea will have some joy with their attacking play and they won't be arriving to play for a draw.
BETTING TIP
Man City + BTTS @ 3.00 with bet365

All odds are correct at time of publishing and are subject to change
Published Feb 04, 2019, 11:04 by
Tony Thomas
Team News
Man City: 4-3-3 (Confirmed Line-ups)
Chelsea: 4-3-3 (Confirmed Line-ups)
Premier League
| # | Team | G | W | D | L | +/- | P |
| --- | --- | --- | --- | --- | --- | --- | --- |
| 1 | Liverpool | 31 | 23 | 7 | 1 | 70:18 | 76 |
| 2 | Manchester City | 30 | 23 | 3 | 4 | 76:20 | 72 |
| 3 | Tottenham | 30 | 20 | 1 | 9 | 57:32 | 61 |
| 4 | Arsenal | 30 | 18 | 6 | 6 | 63:39 | 60 |
| 5 | Manchester Unit | 30 | 17 | 7 | 6 | 58:40 | 58 |
| 6 | Chelsea | 30 | 17 | 6 | 7 | 50:33 | 57 |
| 7 | Wolverhampton W | 30 | 12 | 8 | 10 | 38:36 | 44 |
| 8 | Watford | 30 | 12 | 7 | 11 | 42:44 | 43 |
| 9 | West Ham | 31 | 12 | 6 | 13 | 41:46 | 42 |
| 10 | Everton | 31 | 11 | 8 | 12 | 42:39 | 41 |
| 11 | Leicester | 31 | 12 | 5 | 14 | 40:43 | 41 |
| 12 | Bournemouth | 31 | 11 | 5 | 15 | 43:56 | 38 |
| 13 | Newcastle Unite | 31 | 9 | 8 | 14 | 31:40 | 35 |
| 14 | Crystal Palace | 30 | 9 | 6 | 15 | 36:41 | 33 |
| 15 | Brighton | 29 | 9 | 6 | 14 | 32:42 | 33 |
| 16 | Southampton | 30 | 7 | 9 | 14 | 34:50 | 30 |
| 17 | Burnley | 31 | 8 | 6 | 17 | 35:59 | 30 |
| 18 | Cardiff | 30 | 8 | 4 | 18 | 27:57 | 28 |
| 19 | Fulham | 31 | 4 | 5 | 22 | 29:70 | 17 |
| 20 | Huddersfield | 31 | 3 | 5 | 23 | 18:57 | 14 |