Man City
v

Man Utd Betting Tips & Predictions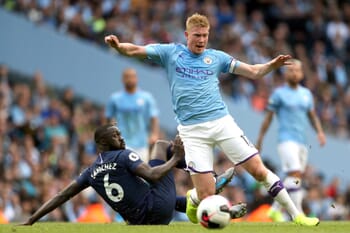 18:30 Sat 07 Dec
Football
Manchester City are now as big as 7/2 to win a third consecutive Premier League title, with Pep Guardiola's side lagging eleven points behind Liverpool at the time of writing and they are clearly relying on the Reds to now drop points over the next few months.
Team news | League Table | Odds
Equally as importantly, the Citizens need to embark on a winning run as they did last season although the longest streak they have managed to put together has been three victories and they recently dropped two points at St James' Park after twice leading against Newcastle.
However, a Manchester derby gives the home side a chance to get fired up ahead of the festive schedule of fixtures and the champions have averaged three goals per home in the Premier League thus far.
The Etihad can often provide a subdued atmosphere although the home supporters will be pumped by the arrival of a United team who have only won one of their seven games on the road in the Premier League.
Ole Gunnar Solskjaer continues to put a brave face on poor results, with Sheffield United and Aston Villa matching and sometimes outplaying the Red Devils recently and this doesn't bode well against a slick City team who have all those attacking riches.
It appears that Sergio Aguero will be absent for the clash, although Gabriel Jesus can be a thorn in the side and is likely to be flanked by Riyad Mahrez and Raheem Sterling, although it's Kevin de Bruyne who is likely to be the driving force from midfield.
The one big positive for United is that they often flourish in the role of underdogs and actually came close to beating Liverpool at Old Trafford this season, although this is a far tougher assignment.
As per last season, we feel as though the visitors can get themselves on the scoresheet although they will surely be outscored by opponents who still have bundles of class.
BETTING TIP
Man City + BTTS @ 2.62 with bet365
Team News
Confirmed Lineup
Manchester City v Manchester United - Predicted Lineups & Confirmed Starting 11s
Manchester City Lineup
Confirmed Lineup & Formation
Manchester United Lineup
Confirmed Lineup & Formation
02

Victor Nilsson-Lindelof
Manchester City Formation
4-3-3
Manchester City Substitutes
47: Phil Foden
30: Nicolas Otamendi
27: Joao Cancelo
26: Riyad Mahrez
22: Benjamin Mendy
08: Ilkay Gündogan
01: Claudio Bravo
Manchester United Formation
4-2-3-1
Manchester United Substitutes
26: Mason Greenwood
08: Juan Mata
15: Andreas Pereira
18: Ashley Young
53: Brandon Williams
38: Axel Tuanzebe
22: Sergio Romero
Manchester City v Manchester United - Injuries, Bans & Suspensions
Manchester City v Manchester United - Stats
Corners
- Last 5 Matches
Manchester City
Manchester United
For / match
Against / match
Total / match
Manchester City
Manchester United
For / match
Against / match
Total / match
Manchester City
Manchester United
For / match
Against / match
Total / match
Premier League - Standings & League Table
Premier League
- League Table
| # | Team | G | W | D | L | +/- | P |
| --- | --- | --- | --- | --- | --- | --- | --- |
| 1 | Liverpool | 29 | 27 | 1 | 1 | 66:21 | 82 |
| 2 | Manchester City | 28 | 18 | 3 | 7 | 68:31 | 57 |
| 3 | Leicester | 29 | 16 | 5 | 8 | 58:28 | 53 |
| 4 | Chelsea | 29 | 14 | 6 | 9 | 51:39 | 48 |
| 5 | Manchester United | 29 | 12 | 9 | 8 | 44:30 | 45 |
| 6 | Wolverhampton | 29 | 10 | 13 | 6 | 41:34 | 43 |
| 7 | Sheffield United | 28 | 11 | 10 | 7 | 30:25 | 43 |
| 8 | Tottenham | 29 | 11 | 8 | 10 | 47:40 | 41 |
| 9 | Arsenal | 28 | 9 | 13 | 6 | 40:36 | 40 |
| 10 | Burnley | 29 | 11 | 6 | 12 | 34:40 | 39 |
| 11 | Crystal Palace | 29 | 10 | 9 | 10 | 26:32 | 39 |
| 12 | Everton | 29 | 10 | 7 | 12 | 37:46 | 37 |
| 13 | Newcastle | 29 | 9 | 8 | 12 | 25:41 | 35 |
| 14 | Southampton | 29 | 10 | 4 | 15 | 35:52 | 34 |
| 15 | Brighton | 29 | 6 | 11 | 12 | 32:40 | 29 |
| 16 | West Ham | 29 | 7 | 6 | 16 | 35:50 | 27 |
| 17 | Watford | 29 | 6 | 9 | 14 | 27:44 | 27 |
| 18 | Bournemouth | 29 | 7 | 6 | 16 | 29:47 | 27 |
| 19 | Aston Villa | 28 | 7 | 4 | 17 | 34:56 | 25 |
| 20 | Norwich | 29 | 5 | 6 | 18 | 25:52 | 21 |
| # | Team | G | W | D | L | +/- | P |
| --- | --- | --- | --- | --- | --- | --- | --- |
| 1 | Liverpool | 15 | 15 | 0 | 0 | 40:12 | 45 |
| 2 | Leicester | 15 | 9 | 3 | 3 | 30:15 | 30 |
| 3 | Manchester City | 13 | 9 | 2 | 2 | 33:12 | 29 |
| 4 | Manchester United | 15 | 8 | 5 | 2 | 29:12 | 29 |
| 5 | Tottenham | 14 | 8 | 2 | 4 | 27:15 | 26 |
| 6 | Arsenal | 15 | 7 | 5 | 3 | 26:20 | 26 |
| 7 | Everton | 14 | 7 | 4 | 3 | 19:15 | 25 |
| 8 | Chelsea | 15 | 7 | 3 | 5 | 22:15 | 24 |
| 9 | Sheffield United | 15 | 7 | 3 | 5 | 17:13 | 24 |
| 10 | Burnley | 15 | 7 | 2 | 6 | 20:19 | 23 |
| 11 | Wolverhampton | 15 | 5 | 7 | 3 | 21:17 | 22 |
| 12 | Crystal Palace | 15 | 6 | 4 | 5 | 12:13 | 22 |
| 13 | Newcastle | 14 | 5 | 6 | 3 | 12:12 | 21 |
| 14 | Brighton | 14 | 4 | 6 | 4 | 17:15 | 18 |
| 15 | Watford | 14 | 4 | 5 | 5 | 16:17 | 17 |
| 16 | Bournemouth | 14 | 4 | 5 | 5 | 17:21 | 17 |
| 17 | Aston Villa | 13 | 5 | 2 | 6 | 18:24 | 17 |
| 18 | West Ham | 14 | 4 | 3 | 7 | 23:26 | 15 |
| 19 | Norwich | 14 | 4 | 3 | 7 | 19:26 | 15 |
| 20 | Southampton | 15 | 4 | 2 | 9 | 16:31 | 14 |
Free Daily Betting Tips from our Expert Tipsters
Free Daily Betting Tips from our Tipsters
Sat 02 May
Sun 03 May
Sat 30 May