Man Utd
v

Man City Betting Tips & Predictions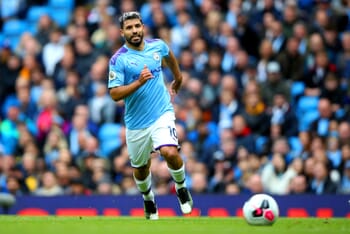 17:30 Sun 08 Mar
Football
When Manchester United lost 2-0 at home to Burnley on Wednesday 22 January, the knives were out for the Red Devils and Ole Gunnar Solskjaer. The defeat came hard on the heels of a 2-0 defeat at Anfield and it apparently illustrated how the mighty had fallen.
Team news | League Table | Odds
However, the north-west giant have since embarked on an eight-match unbeaten run in all competitions and there have been five victories including triumphs at the Etihad Stadium and Stamford Bridge.
Admittedly, the victory over Manchester City wasn't enough for United to overturn a 3-1 first leg deficit although it should be noted that Solskjaer's team have now beaten the Citizens on two occasions this season.
The January acquisition of Bruno Fernandes has clearly boosted the squad and the Portuguese has hit the ground running since arriving from Sporting for nearly £50 million, with the midfielder having found the net in his past three matches.
Not that the Portuguese international has been hired principally for his scoring ability and he should add some cut and thrust in midfield, with the visitors sure to keep tabs on him throughout the ninety minutes.
Manchester City make the short journey to Old Trafford after a busy week which saw them play the EFL Cup final before an FA Cup clash against Sheffield Wednesday, while there's a Champions League second leg tie against Real Madrid looming large on the horizon.
However, Pep Guardiola will field a strong team for the derby and understands the significance of this fixture. Having lost the reverse game at the Etihad Stadium, there will be plenty of focus despite the fact that City have no motivation left to win the title.
Aside from that blank drawn against United in the EFL Cup match, you have to go back to 6 October to find the last time that Manchester City failed to score a goal and we'll therefore go down the "Yes" route at a tasty price here.
BETTING TIP
BTTS @ 1.75 with bet365
Team News
Confirmed Lineup
Manchester United v Manchester City - Predicted Lineups & Confirmed Starting 11s
Manchester United Lineup
Confirmed Lineup & Formation
Manchester City Lineup
Confirmed Lineup & Formation
02

Victor Nilsson-Lindelof
Manchester United Formation
3-5-2
Manchester United Substitutes
26: Mason Greenwood
25: Odion Ighalo
39: Scott McTominay
08: Juan Mata
03: Eric Bailly Bertrand
38: Axel Tuanzebe
22: Sergio Romero
Manchester City Formation
4-3-3
Manchester City Substitutes
26: Riyad Mahrez
09: Gabriel Jesus
21: David Silva
50: Eric García
22: Benjamin Mendy
02: Kyle Walker
01: Claudio Bravo
Manchester United v Manchester City - Injuries, Bans & Suspensions
Manchester United v Manchester City - Stats
Corners
- Last 5 Matches
Manchester United
Manchester City
For / match
Against / match
Total / match
Manchester United
Manchester City
For / match
Against / match
Total / match
Manchester United
Manchester City
For / match
Against / match
Total / match
Premier League - Standings & League Table
Premier League
- League Table
| # | Team | G | W | D | L | +/- | P |
| --- | --- | --- | --- | --- | --- | --- | --- |
| 1 | Liverpool | 29 | 27 | 1 | 1 | 66:21 | 82 |
| 2 | Manchester City | 28 | 18 | 3 | 7 | 68:31 | 57 |
| 3 | Leicester | 29 | 16 | 5 | 8 | 58:28 | 53 |
| 4 | Chelsea | 29 | 14 | 6 | 9 | 51:39 | 48 |
| 5 | Manchester United | 29 | 12 | 9 | 8 | 44:30 | 45 |
| 6 | Wolverhampton | 29 | 10 | 13 | 6 | 41:34 | 43 |
| 7 | Sheffield United | 28 | 11 | 10 | 7 | 30:25 | 43 |
| 8 | Tottenham | 29 | 11 | 8 | 10 | 47:40 | 41 |
| 9 | Arsenal | 28 | 9 | 13 | 6 | 40:36 | 40 |
| 10 | Burnley | 29 | 11 | 6 | 12 | 34:40 | 39 |
| 11 | Crystal Palace | 29 | 10 | 9 | 10 | 26:32 | 39 |
| 12 | Everton | 29 | 10 | 7 | 12 | 37:46 | 37 |
| 13 | Newcastle | 29 | 9 | 8 | 12 | 25:41 | 35 |
| 14 | Southampton | 29 | 10 | 4 | 15 | 35:52 | 34 |
| 15 | Brighton | 29 | 6 | 11 | 12 | 32:40 | 29 |
| 16 | West Ham | 29 | 7 | 6 | 16 | 35:50 | 27 |
| 17 | Watford | 29 | 6 | 9 | 14 | 27:44 | 27 |
| 18 | Bournemouth | 29 | 7 | 6 | 16 | 29:47 | 27 |
| 19 | Aston Villa | 28 | 7 | 4 | 17 | 34:56 | 25 |
| 20 | Norwich | 29 | 5 | 6 | 18 | 25:52 | 21 |
| # | Team | G | W | D | L | +/- | P |
| --- | --- | --- | --- | --- | --- | --- | --- |
| 1 | Liverpool | 15 | 15 | 0 | 0 | 40:12 | 45 |
| 2 | Leicester | 15 | 9 | 3 | 3 | 30:15 | 30 |
| 3 | Manchester City | 13 | 9 | 2 | 2 | 33:12 | 29 |
| 4 | Manchester United | 15 | 8 | 5 | 2 | 29:12 | 29 |
| 5 | Tottenham | 14 | 8 | 2 | 4 | 27:15 | 26 |
| 6 | Arsenal | 15 | 7 | 5 | 3 | 26:20 | 26 |
| 7 | Everton | 14 | 7 | 4 | 3 | 19:15 | 25 |
| 8 | Chelsea | 15 | 7 | 3 | 5 | 22:15 | 24 |
| 9 | Sheffield United | 15 | 7 | 3 | 5 | 17:13 | 24 |
| 10 | Burnley | 15 | 7 | 2 | 6 | 20:19 | 23 |
| 11 | Wolverhampton | 15 | 5 | 7 | 3 | 21:17 | 22 |
| 12 | Crystal Palace | 15 | 6 | 4 | 5 | 12:13 | 22 |
| 13 | Newcastle | 14 | 5 | 6 | 3 | 12:12 | 21 |
| 14 | Brighton | 14 | 4 | 6 | 4 | 17:15 | 18 |
| 15 | Watford | 14 | 4 | 5 | 5 | 16:17 | 17 |
| 16 | Bournemouth | 14 | 4 | 5 | 5 | 17:21 | 17 |
| 17 | Aston Villa | 13 | 5 | 2 | 6 | 18:24 | 17 |
| 18 | West Ham | 14 | 4 | 3 | 7 | 23:26 | 15 |
| 19 | Norwich | 14 | 4 | 3 | 7 | 19:26 | 15 |
| 20 | Southampton | 15 | 4 | 2 | 9 | 16:31 | 14 |
Free Daily Betting Tips from our Expert Tipsters
Free Daily Betting Tips from our Tipsters
Mon 13 Apr
Thu 30 Apr
Thu 30 Apr