Man Utd
v

Newcastle Betting Tips & Predictions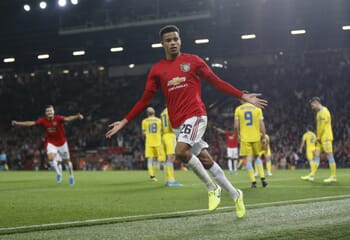 18:30 Thu 26 Dec
Football
Manchester United are sitting just outside of the Champions League places and debate continues to rumble on with regard to whether Ole Gunnar Solskjaer is the right man to take the team forward.
Team news | League Table | Odds
You could argue that the Norwegian has tried to rebuild the squad in the wake of some short-term recruitment that didn't prove particularly effective, with the front three of Daniel James, Anthony Martial and Marcus Rashford proving to be a particular highlight this season.
Harry Maguire has also slotted well into central defence after arriving for a staggering sum of money, while Aaron Wan-Bissaka is arguably the best right-back in the Premier League.
If United are to qualify for Europe's premier competition, then they will surely have to win games like this and Solskjaer will want a commanding victory over a team who beat them at St James' Park.
Newcastle are currently doing enough to stay afloat in the top flight, although they have lost six of their nine games on the road and recently drew blanks at Villa Park and Turf Moor.
Steve Bruce will return to his former stomping ground and certainly set up his team in a defensive fashion considering it would be a brilliant outcome to land a point, although it looks a tall order.
Allan Saint-Maximin's absence is a big problem in terms of providing counter-attacking penetration, with Manchester United looking a respectable price to win the game without conceding.
The home side should control the game for the most part and completely boss possession against the Magpies, with United winning eight of their previous thirteen clashes and this victory ratio is enough for us to side with them.
BETTING TIP
Manchester United win to nil @ 2.20 with bet365
Team News
Confirmed Lineup
Manchester United v Newcastle - Predicted Lineups & Confirmed Starting 11s
Manchester United Lineup
Confirmed Lineup & Formation
Newcastle Lineup
Confirmed Lineup & Formation
02

Victor Nilsson-Lindelof
19

Javier Manquillo Gaitan
Manchester United Formation
4-3-3
Manchester United Substitutes
21: Daniel James
06: Paul Pogba
08: Juan Mata
14: Jesse Lingard
18: Ashley Young
04: Phil Jones
22: Sergio Romero
Newcastle Formation
3-5-2
Newcastle Substitutes
30: Christian Atsu
22: DeAndre Yedlin
17: Emil Krafth
14: Isaac Hayden
08: Jonjo Shelvey
07: Andrew Carroll
26: Karl Darlow
Manchester United v Newcastle - Injuries, Bans & Suspensions
Manchester United v Newcastle - Stats
Premier League - Standings & League Table
Premier League
- League Table
| # | Team | G | W | D | L | +/- | P |
| --- | --- | --- | --- | --- | --- | --- | --- |
| 1 | Liverpool | 29 | 27 | 1 | 1 | 66:21 | 82 |
| 2 | Manchester City | 28 | 18 | 3 | 7 | 68:31 | 57 |
| 3 | Leicester | 29 | 16 | 5 | 8 | 58:28 | 53 |
| 4 | Chelsea | 29 | 14 | 6 | 9 | 51:39 | 48 |
| 5 | Manchester United | 29 | 12 | 9 | 8 | 44:30 | 45 |
| 6 | Wolverhampton | 29 | 10 | 13 | 6 | 41:34 | 43 |
| 7 | Sheffield United | 28 | 11 | 10 | 7 | 30:25 | 43 |
| 8 | Tottenham | 29 | 11 | 8 | 10 | 47:40 | 41 |
| 9 | Arsenal | 28 | 9 | 13 | 6 | 40:36 | 40 |
| 10 | Burnley | 29 | 11 | 6 | 12 | 34:40 | 39 |
| 11 | Crystal Palace | 29 | 10 | 9 | 10 | 26:32 | 39 |
| 12 | Everton | 29 | 10 | 7 | 12 | 37:46 | 37 |
| 13 | Newcastle | 29 | 9 | 8 | 12 | 25:41 | 35 |
| 14 | Southampton | 29 | 10 | 4 | 15 | 35:52 | 34 |
| 15 | Brighton | 29 | 6 | 11 | 12 | 32:40 | 29 |
| 16 | West Ham | 29 | 7 | 6 | 16 | 35:50 | 27 |
| 17 | Watford | 29 | 6 | 9 | 14 | 27:44 | 27 |
| 18 | Bournemouth | 29 | 7 | 6 | 16 | 29:47 | 27 |
| 19 | Aston Villa | 28 | 7 | 4 | 17 | 34:56 | 25 |
| 20 | Norwich | 29 | 5 | 6 | 18 | 25:52 | 21 |
| # | Team | G | W | D | L | +/- | P |
| --- | --- | --- | --- | --- | --- | --- | --- |
| 1 | Liverpool | 15 | 15 | 0 | 0 | 40:12 | 45 |
| 2 | Leicester | 15 | 9 | 3 | 3 | 30:15 | 30 |
| 3 | Manchester City | 13 | 9 | 2 | 2 | 33:12 | 29 |
| 4 | Manchester United | 15 | 8 | 5 | 2 | 29:12 | 29 |
| 5 | Tottenham | 14 | 8 | 2 | 4 | 27:15 | 26 |
| 6 | Arsenal | 15 | 7 | 5 | 3 | 26:20 | 26 |
| 7 | Everton | 14 | 7 | 4 | 3 | 19:15 | 25 |
| 8 | Chelsea | 15 | 7 | 3 | 5 | 22:15 | 24 |
| 9 | Sheffield United | 15 | 7 | 3 | 5 | 17:13 | 24 |
| 10 | Burnley | 15 | 7 | 2 | 6 | 20:19 | 23 |
| 11 | Wolverhampton | 15 | 5 | 7 | 3 | 21:17 | 22 |
| 12 | Crystal Palace | 15 | 6 | 4 | 5 | 12:13 | 22 |
| 13 | Newcastle | 14 | 5 | 6 | 3 | 12:12 | 21 |
| 14 | Brighton | 14 | 4 | 6 | 4 | 17:15 | 18 |
| 15 | Watford | 14 | 4 | 5 | 5 | 16:17 | 17 |
| 16 | Bournemouth | 14 | 4 | 5 | 5 | 17:21 | 17 |
| 17 | Aston Villa | 13 | 5 | 2 | 6 | 18:24 | 17 |
| 18 | West Ham | 14 | 4 | 3 | 7 | 23:26 | 15 |
| 19 | Norwich | 14 | 4 | 3 | 7 | 19:26 | 15 |
| 20 | Southampton | 15 | 4 | 2 | 9 | 16:31 | 14 |
Free Daily Betting Tips from our Expert Tipsters
Free Daily Betting Tips from our Tipsters
Mon 13 Apr
Thu 30 Apr
Thu 30 Apr