Man Utd
v

Tottenham Betting Tips & Predictions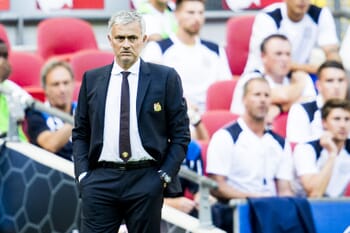 20:30 Wed 04 Dec
Football
Tip: 1 Asian Hcp 0
Units: 3/5
There haven't been too many occasions this season where we've thought Manchester United look a value price for a Premier League match, although it's hard to resist them on the Asian Handicap market for their clash against Tottenham.
Team news | League Table | Odds
All eyes will be on Jose Mourinho for this clash at Old Trafford, with the Portuguese returning to the north-west club for the first time since being sacked last December and he'd like nothing better than to celebrate a win at this ground like he did when he was manager of Porto all those years ago.
However, Tottenham's victory at West Ham was their first win on the road all season and it's worth bearing in mind that the Red Devils have been pretty strong at home this campaign, with Liverpool nearly beaten before a late equaliser from the Reds.
Ole Gunnar Solskjaer's side won't be short of motivation for what is clearly a huge match and it represents their own opportunity to make ground on the leading four teams in the division, with Marcus Rashford and Anthony Martial looking to cause problems among the Spurs rearguard.
Tottenham have conceded fourteen goals on the road in seven away games and Mourinho isn't going to solve the defensive issues overnight. It is surprising that he's persisting with the erratic Serge Aurier and a lot has been made about Dele Alli's transformation after just one match played.
We think that United can be backed off scratch meaning there is money back if this one ends all square. We would have to make them favourites considering that they've enjoyed comfortable recent wins over Brighton and Partizan Belgrade at home.
Indeed, five of their last seven matches have seen the home side come out on top at the time of writing and it might take a little while for Mourinho to have a full impact at White Hart Lane.
BETTING TIP
Man Utd asian hcp 0 @ 1.95 (20/21) with bet365
Team News
Confirmed Lineup
Manchester United v Tottenham - Predicted Lineups & Confirmed Starting 11s
Manchester United Lineup
Confirmed Lineup & Formation
Tottenham Lineup
Confirmed Lineup & Formation
02

Victor Nilsson-Lindelof
Manchester United Formation
4-2-3-1
Manchester United Substitutes
22: Sergio Romero
15: Andreas Pereira
53: Brandon Williams
37: James Garner
38: Axel Tuanzebe
23: Luke Shaw
08: Juan Mata
Tottenham Formation
4-2-3-1
Tottenham Substitutes
49: Brandon Austin
28: Tanguy NDombèlé
03: Danny Rose
21: Juan Foyth
23: Christian Eriksen
18: Giovani Lo Celso
15: Eric Dier
Manchester United v Tottenham - Injuries, Bans & Suspensions
Manchester United v Tottenham - Stats
Premier League - Standings & League Table
Premier League
- League Table
| # | Team | G | W | D | L | +/- | P |
| --- | --- | --- | --- | --- | --- | --- | --- |
| 1 | Liverpool | 29 | 27 | 1 | 1 | 66:21 | 82 |
| 2 | Manchester City | 28 | 18 | 3 | 7 | 68:31 | 57 |
| 3 | Leicester | 29 | 16 | 5 | 8 | 58:28 | 53 |
| 4 | Chelsea | 29 | 14 | 6 | 9 | 51:39 | 48 |
| 5 | Manchester United | 29 | 12 | 9 | 8 | 44:30 | 45 |
| 6 | Wolverhampton | 29 | 10 | 13 | 6 | 41:34 | 43 |
| 7 | Sheffield United | 28 | 11 | 10 | 7 | 30:25 | 43 |
| 8 | Tottenham | 29 | 11 | 8 | 10 | 47:40 | 41 |
| 9 | Arsenal | 28 | 9 | 13 | 6 | 40:36 | 40 |
| 10 | Burnley | 29 | 11 | 6 | 12 | 34:40 | 39 |
| 11 | Crystal Palace | 29 | 10 | 9 | 10 | 26:32 | 39 |
| 12 | Everton | 29 | 10 | 7 | 12 | 37:46 | 37 |
| 13 | Newcastle | 29 | 9 | 8 | 12 | 25:41 | 35 |
| 14 | Southampton | 29 | 10 | 4 | 15 | 35:52 | 34 |
| 15 | Brighton | 29 | 6 | 11 | 12 | 32:40 | 29 |
| 16 | West Ham | 29 | 7 | 6 | 16 | 35:50 | 27 |
| 17 | Watford | 29 | 6 | 9 | 14 | 27:44 | 27 |
| 18 | Bournemouth | 29 | 7 | 6 | 16 | 29:47 | 27 |
| 19 | Aston Villa | 28 | 7 | 4 | 17 | 34:56 | 25 |
| 20 | Norwich | 29 | 5 | 6 | 18 | 25:52 | 21 |
| # | Team | G | W | D | L | +/- | P |
| --- | --- | --- | --- | --- | --- | --- | --- |
| 1 | Liverpool | 15 | 15 | 0 | 0 | 40:12 | 45 |
| 2 | Leicester | 15 | 9 | 3 | 3 | 30:15 | 30 |
| 3 | Manchester City | 13 | 9 | 2 | 2 | 33:12 | 29 |
| 4 | Manchester United | 15 | 8 | 5 | 2 | 29:12 | 29 |
| 5 | Tottenham | 14 | 8 | 2 | 4 | 27:15 | 26 |
| 6 | Arsenal | 15 | 7 | 5 | 3 | 26:20 | 26 |
| 7 | Everton | 14 | 7 | 4 | 3 | 19:15 | 25 |
| 8 | Chelsea | 15 | 7 | 3 | 5 | 22:15 | 24 |
| 9 | Sheffield United | 15 | 7 | 3 | 5 | 17:13 | 24 |
| 10 | Burnley | 15 | 7 | 2 | 6 | 20:19 | 23 |
| 11 | Wolverhampton | 15 | 5 | 7 | 3 | 21:17 | 22 |
| 12 | Crystal Palace | 15 | 6 | 4 | 5 | 12:13 | 22 |
| 13 | Newcastle | 14 | 5 | 6 | 3 | 12:12 | 21 |
| 14 | Brighton | 14 | 4 | 6 | 4 | 17:15 | 18 |
| 15 | Watford | 14 | 4 | 5 | 5 | 16:17 | 17 |
| 16 | Bournemouth | 14 | 4 | 5 | 5 | 17:21 | 17 |
| 17 | Aston Villa | 13 | 5 | 2 | 6 | 18:24 | 17 |
| 18 | West Ham | 14 | 4 | 3 | 7 | 23:26 | 15 |
| 19 | Norwich | 14 | 4 | 3 | 7 | 19:26 | 15 |
| 20 | Southampton | 15 | 4 | 2 | 9 | 16:31 | 14 |
Free Daily Betting Tips from our Expert Tipsters
Free Daily Betting Tips from our Tipsters