Tottenham v Man City Premier League preview and tips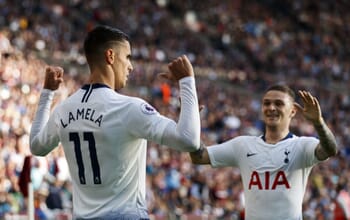 21:00 Mon 29 Oct
Football
Tottenham Hotspur actually have a chance to go ahead of Manchester City on Sunday and really open up the Premier League title race, with Spurs not at their fluent best for much of the season but twenty-one points from nine games is a very solid return.
Mauricio Pochettino admitted his team were fortunate to win 1-0 at West Ham last week and they come into this game after a difficult Champions League trip at PSV although they almost have this as a bonus match against a Manchester City side who are looking so obstinate from a defensive point-of-view.
Harry Kane continues to be typically dangerous and the form of Moussa Sissoko and Erik Lamela will please the manager greatly, with Christian Eriksen also likely to be involved after being restricted to the sub's bench at the London Stadium for nearly all of the match.
Manchester City sit top of the Premier League table after nine games played although they have dropped points at Molineux and Anfield, with this match clearly among the most toughest of assignments for a team who have an elegance of riches.
Kevin de Bruyne might expect to start this clash after a recent return from injury, while Raheem Sterling was wisely rested at Burnley and we should see the England forward play a prominent role against England team mate Kieran Trippier.
Spurs won't want an open game considering that City have the weaponry to outscore them and we might instead see a tactical battle that occurred at Anfield where the two teams effectively cancelled each other out.
Pochettino will know that while a win would see them potentially take top spot, a draw would keep his team on course for a top four finish and the presence of Arsenal and Chelsea near the top means that a more safety-first approach could be employed here.
BETTING TIP
Draw @ 3.80 with bet365

All odds are correct at time of publishing and are subject to change
Published Oct 22, 2018, 11:00 by
Tony Thomas
Team News
Tottenham: 4-2-3-1 (Confirmed Line-ups)
Man City: 4-3-3 (Confirmed Line-ups)
Premier League
| # | Team | G | W | D | L | +/- | P |
| --- | --- | --- | --- | --- | --- | --- | --- |
| 1 | Liverpool | 31 | 23 | 7 | 1 | 70:18 | 76 |
| 2 | Manchester City | 30 | 23 | 3 | 4 | 76:20 | 72 |
| 3 | Tottenham | 30 | 20 | 1 | 9 | 57:32 | 61 |
| 4 | Arsenal | 30 | 18 | 6 | 6 | 63:39 | 60 |
| 5 | Manchester Unit | 30 | 17 | 7 | 6 | 58:40 | 58 |
| 6 | Chelsea | 30 | 17 | 6 | 7 | 50:33 | 57 |
| 7 | Wolverhampton W | 30 | 12 | 8 | 10 | 38:36 | 44 |
| 8 | Watford | 30 | 12 | 7 | 11 | 42:44 | 43 |
| 9 | West Ham | 31 | 12 | 6 | 13 | 41:46 | 42 |
| 10 | Everton | 31 | 11 | 8 | 12 | 42:39 | 41 |
| 11 | Leicester | 31 | 12 | 5 | 14 | 40:43 | 41 |
| 12 | Bournemouth | 31 | 11 | 5 | 15 | 43:56 | 38 |
| 13 | Newcastle Unite | 31 | 9 | 8 | 14 | 31:40 | 35 |
| 14 | Crystal Palace | 30 | 9 | 6 | 15 | 36:41 | 33 |
| 15 | Brighton | 29 | 9 | 6 | 14 | 32:42 | 33 |
| 16 | Southampton | 30 | 7 | 9 | 14 | 34:50 | 30 |
| 17 | Burnley | 31 | 8 | 6 | 17 | 35:59 | 30 |
| 18 | Cardiff | 30 | 8 | 4 | 18 | 27:57 | 28 |
| 19 | Fulham | 31 | 4 | 5 | 22 | 29:70 | 17 |
| 20 | Huddersfield | 31 | 3 | 5 | 23 | 18:57 | 14 |