Watford
v

Leicester Betting Tips & Predictions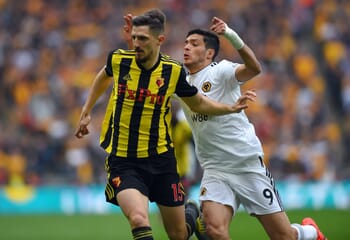 13:30 Sat 14 Mar
Football
Tip: 1 AH +0.5
Units: 3/5
Watford have been largely abject on the road in the Premier League this season and last weekend's 1-0 reverse at Selhurst Park was their ninth defeat away from home.
Team news | League Table | Odds
However, the Hornets are a different proposition at Vicarage Road and that's been especially the case since Nigel Pearson became the club's third Head Coach of the season.
A fortnight ago, the Hertfordshire team became the first team to inflict a top flight defeat on Liverpool in over a year and there was nothing flattering about the 3-0 winning scoreline which gives us confidence that they'll perform well against Leicester.
Watford are just about winning their battle to remain in the Premier League and Pearson is proving to be the cool head needed in this situation, having made a similar type of achievement with Leicester a few seasons ago.
Since he took charge, there have been home victories against Manchester United, Aston Villa, Wolves and Liverpool. There was also a 3-2 home reverse against Everton where the team were cruising 2-0 before conceding two goals before half-time.
As for Leicester, despite their lofty position, they have only won 50% of away games and most of those victories occurred in the early part of the season. They were recently beaten at Carrow Road and their last win on the road came on New Year's Day at Newcastle.
Quite simply, the Foxes aren't playing like a team in the Champions League qualification positions and there's a little bit of pressure on them now that the chasing pack have closed the points gap.
Jamie Vardy has been struggling for goals and we can see Pearson executing an effective game plan against his former club which will involve Troy Deeney battering away up front and leaving Ismaila Sarr to pick up the pieces.
At the very least, Watford should avoid defeat in this clash and a bet on them on the Asian Handicap market looks to be a profitable route here.
BETTING TIP
Watford Asian Hcp +0.5 @ 1.62 (8/13) with bet365
Team News
Predicted Lineup
Watford v Leicester - Predicted Lineups & Confirmed Starting 11s
Watford Lineup
Predicted Lineup & Formation
Leicester Lineup
Predicted Lineup & Formation
Watford v Leicester - Injuries, Bans & Suspensions
Watford v Leicester - Stats
Premier League - Standings & League Table
Premier League
- League Table
| # | Team | G | W | D | L | +/- | P |
| --- | --- | --- | --- | --- | --- | --- | --- |
| 1 | Liverpool | 29 | 27 | 1 | 1 | 66:21 | 82 |
| 2 | Manchester City | 28 | 18 | 3 | 7 | 68:31 | 57 |
| 3 | Leicester | 29 | 16 | 5 | 8 | 58:28 | 53 |
| 4 | Chelsea | 29 | 14 | 6 | 9 | 51:39 | 48 |
| 5 | Manchester United | 29 | 12 | 9 | 8 | 44:30 | 45 |
| 6 | Wolverhampton | 29 | 10 | 13 | 6 | 41:34 | 43 |
| 7 | Sheffield United | 28 | 11 | 10 | 7 | 30:25 | 43 |
| 8 | Tottenham | 29 | 11 | 8 | 10 | 47:40 | 41 |
| 9 | Arsenal | 28 | 9 | 13 | 6 | 40:36 | 40 |
| 10 | Burnley | 29 | 11 | 6 | 12 | 34:40 | 39 |
| 11 | Crystal Palace | 29 | 10 | 9 | 10 | 26:32 | 39 |
| 12 | Everton | 29 | 10 | 7 | 12 | 37:46 | 37 |
| 13 | Newcastle | 29 | 9 | 8 | 12 | 25:41 | 35 |
| 14 | Southampton | 29 | 10 | 4 | 15 | 35:52 | 34 |
| 15 | Brighton | 29 | 6 | 11 | 12 | 32:40 | 29 |
| 16 | West Ham | 29 | 7 | 6 | 16 | 35:50 | 27 |
| 17 | Watford | 29 | 6 | 9 | 14 | 27:44 | 27 |
| 18 | Bournemouth | 29 | 7 | 6 | 16 | 29:47 | 27 |
| 19 | Aston Villa | 28 | 7 | 4 | 17 | 34:56 | 25 |
| 20 | Norwich | 29 | 5 | 6 | 18 | 25:52 | 21 |
| # | Team | G | W | D | L | +/- | P |
| --- | --- | --- | --- | --- | --- | --- | --- |
| 1 | Liverpool | 15 | 15 | 0 | 0 | 40:12 | 45 |
| 2 | Leicester | 15 | 9 | 3 | 3 | 30:15 | 30 |
| 3 | Manchester City | 13 | 9 | 2 | 2 | 33:12 | 29 |
| 4 | Manchester United | 15 | 8 | 5 | 2 | 29:12 | 29 |
| 5 | Tottenham | 14 | 8 | 2 | 4 | 27:15 | 26 |
| 6 | Arsenal | 15 | 7 | 5 | 3 | 26:20 | 26 |
| 7 | Everton | 14 | 7 | 4 | 3 | 19:15 | 25 |
| 8 | Chelsea | 15 | 7 | 3 | 5 | 22:15 | 24 |
| 9 | Sheffield United | 15 | 7 | 3 | 5 | 17:13 | 24 |
| 10 | Burnley | 15 | 7 | 2 | 6 | 20:19 | 23 |
| 11 | Wolverhampton | 15 | 5 | 7 | 3 | 21:17 | 22 |
| 12 | Crystal Palace | 15 | 6 | 4 | 5 | 12:13 | 22 |
| 13 | Newcastle | 14 | 5 | 6 | 3 | 12:12 | 21 |
| 14 | Brighton | 14 | 4 | 6 | 4 | 17:15 | 18 |
| 15 | Watford | 14 | 4 | 5 | 5 | 16:17 | 17 |
| 16 | Bournemouth | 14 | 4 | 5 | 5 | 17:21 | 17 |
| 17 | Aston Villa | 13 | 5 | 2 | 6 | 18:24 | 17 |
| 18 | West Ham | 14 | 4 | 3 | 7 | 23:26 | 15 |
| 19 | Norwich | 14 | 4 | 3 | 7 | 19:26 | 15 |
| 20 | Southampton | 15 | 4 | 2 | 9 | 16:31 | 14 |
Free Daily Betting Tips from our Expert Tipsters
Free Daily Betting Tips from our Tipsters
Mon 13 Apr
Thu 30 Apr
Thu 30 Apr