Watford
vs

Liverpool Betting Tips & Predictions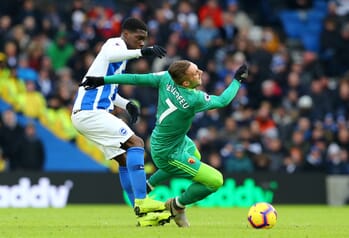 18:30 Sat 29 Feb
Football
Tip: 1 AH +1.5
Units: 3/5
You would have lost money betting against Liverpool this season although there is sometimes an argument for getting with their opponents on the Asian Handicap market.
Team news | League Table | Odds
Anyone who backed Shrewsbury Town, Norwich City, Atletico Madrid or West Ham United with a +1.5 goal headstart for the Reds' previous four matches would have landed a profit on each occasion.
Jurgen Klopp's side continue to break records but they don't always blow teams out of the water, especially away from home. Quite simply, the Merseyside outfit are now at the stage where they are looking to get the job done as quickly as possible.
Watford will feel confident that they can ruffle a few feathers after witnessing the Hammers score twice at Anfield, with the Hornets having been pretty strong at Vicarage Road since Nigel Pearson took charge.
While the previous home match saw Everton enjoy a 3-2 win, Watford were in cruise control at 2-0 up and approaching half-time before Yerry Mina scored twice from corners.
Previously to this, the Herfordshire side were a missed penalty away from beating Tottenham and that came after three consecutive home wins against Manchester United, Aston Villa and Wolves.
Pearson will feel as though his side are still capable of remaining in the top flight and they can keep things close against a Liverpool side who have a Champions League last sixteen clash against Atletico Madrid looming on the horizon.
Jordan Henderson might miss this clash through injury and the midfield blend isn't quite the same without the influential captain, with Alex Oxlade-Chamberlain potentially being given the nod in place of Naby Keita.
While there's always the possibility of Liverpool running riot if they take an early lead, we're happy to side with Watford and a +1.5 goal headstart, with a home win, draw or slender away win still seeing us land a profit.
BETTING TIP
Watford +1.5 @ 1.62 with bet365
Team News
Confirmed Lineup
Watford vs Liverpool - Predicted Lineups & Confirmed Starting 11s
Watford Lineup
Confirmed Lineup & Formation
Liverpool Lineup
Confirmed Lineup & Formation
66

Trent Alexander-Arnold
15

Alex Oxlade-Chamberlain
Watford Formation
4-2-3-1
Watford Substitutes
18: Andre Gray
10: Danny Welbeck
37: Roberto Pereyra
14: Nathaniel Chalobah
33: Ignacio Pussetto
04: Craig Dawson
01: Heurelho Gomes
Liverpool Formation
4-3-3
Liverpool Substitutes
18: Takumi Minamino
27: Divock Origi
48: Curtis Jones
20: Adam Lallana
32: Joel Matip
13: San Miguel del Castillo Adrian
Watford vs Liverpool - Injuries, Bans & Suspensions
Watford vs Liverpool - Stats
Premier League - Standings & League Table
Premier League
- League Table
| # | Team | G | W | D | L | +/- | P |
| --- | --- | --- | --- | --- | --- | --- | --- |
| 1 | Liverpool | 29 | 27 | 1 | 1 | 66:21 | 82 |
| 2 | Manchester City | 28 | 18 | 3 | 7 | 68:31 | 57 |
| 3 | Leicester | 29 | 16 | 5 | 8 | 58:28 | 53 |
| 4 | Chelsea | 29 | 14 | 6 | 9 | 51:39 | 48 |
| 5 | Manchester United | 29 | 12 | 9 | 8 | 44:30 | 45 |
| 6 | Wolverhampton | 29 | 10 | 13 | 6 | 41:34 | 43 |
| 7 | Sheffield United | 28 | 11 | 10 | 7 | 30:25 | 43 |
| 8 | Tottenham | 29 | 11 | 8 | 10 | 47:40 | 41 |
| 9 | Arsenal | 28 | 9 | 13 | 6 | 40:36 | 40 |
| 10 | Burnley | 29 | 11 | 6 | 12 | 34:40 | 39 |
| 11 | Crystal Palace | 29 | 10 | 9 | 10 | 26:32 | 39 |
| 12 | Everton | 29 | 10 | 7 | 12 | 37:46 | 37 |
| 13 | Newcastle | 29 | 9 | 8 | 12 | 25:41 | 35 |
| 14 | Southampton | 29 | 10 | 4 | 15 | 35:52 | 34 |
| 15 | Brighton | 29 | 6 | 11 | 12 | 32:40 | 29 |
| 16 | West Ham | 29 | 7 | 6 | 16 | 35:50 | 27 |
| 17 | Watford | 29 | 6 | 9 | 14 | 27:44 | 27 |
| 18 | Bournemouth | 29 | 7 | 6 | 16 | 29:47 | 27 |
| 19 | Aston Villa | 28 | 7 | 4 | 17 | 34:56 | 25 |
| 20 | Norwich | 29 | 5 | 6 | 18 | 25:52 | 21 |
| # | Team | G | W | D | L | +/- | P |
| --- | --- | --- | --- | --- | --- | --- | --- |
| 1 | Liverpool | 15 | 15 | 0 | 0 | 40:12 | 45 |
| 2 | Leicester | 15 | 9 | 3 | 3 | 30:15 | 30 |
| 3 | Manchester City | 13 | 9 | 2 | 2 | 33:12 | 29 |
| 4 | Manchester United | 15 | 8 | 5 | 2 | 29:12 | 29 |
| 5 | Tottenham | 14 | 8 | 2 | 4 | 27:15 | 26 |
| 6 | Arsenal | 15 | 7 | 5 | 3 | 26:20 | 26 |
| 7 | Everton | 14 | 7 | 4 | 3 | 19:15 | 25 |
| 8 | Chelsea | 15 | 7 | 3 | 5 | 22:15 | 24 |
| 9 | Sheffield United | 15 | 7 | 3 | 5 | 17:13 | 24 |
| 10 | Burnley | 15 | 7 | 2 | 6 | 20:19 | 23 |
| 11 | Wolverhampton | 15 | 5 | 7 | 3 | 21:17 | 22 |
| 12 | Crystal Palace | 15 | 6 | 4 | 5 | 12:13 | 22 |
| 13 | Newcastle | 14 | 5 | 6 | 3 | 12:12 | 21 |
| 14 | Brighton | 14 | 4 | 6 | 4 | 17:15 | 18 |
| 15 | Watford | 14 | 4 | 5 | 5 | 16:17 | 17 |
| 16 | Bournemouth | 14 | 4 | 5 | 5 | 17:21 | 17 |
| 17 | Aston Villa | 13 | 5 | 2 | 6 | 18:24 | 17 |
| 18 | West Ham | 14 | 4 | 3 | 7 | 23:26 | 15 |
| 19 | Norwich | 14 | 4 | 3 | 7 | 19:26 | 15 |
| 20 | Southampton | 15 | 4 | 2 | 9 | 16:31 | 14 |
Free Daily Betting Tips from our Expert Tipsters
Free Daily Betting Tips from our Tipsters
18:30 Tuesday 26 May
21:00 Friday 12 Jun
17:30 Tuesday 30 Jun
21:00 Tuesday 30 Jun