West Ham
v

Arsenal Betting Tips & Predictions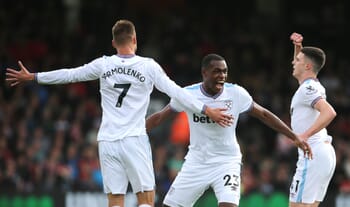 21:00 Mon 09 Dec
Football
Tip: 1 AH +0.5
Units: 3/5
There seems to be a consensus that Arsenal are currently under-performing in the Premier League this season although perhaps the Gunners are just a mid-table team who are now stuck in a rut following the departure of Unai Emery.
Team news | League Table | Odds
The North London side have just nineteen points from fifteen games played and were turned over at home to Brighton recently, with caretaker boss Freddie Ljungberg admitting that his players are short of confidence at the moment.
We're not quite sure why the Gunners are trading at such a short price to win at the London Stadium on Monday night, with the visitors having won just one of their seven games on the road this term and they continue to be defensively porous.
The Seagulls scored two goals at the Emirates Stadium after Norwich had also scored a brace of goals and it might have been more for the Canaries if it wasn't for the goalkeeping heroics of Bernd Leno.
It seems unlikely that Ljungberg is the man to take the team forward on a long-term basis and the team are therefore in a state of flux when it comes to facing a West Ham side who can actually go level with their opponents on Monday night.
Manuel Pellegrini's side are not in great form themselves although they recently dug out a 1-0 win at Stamford Bridge and will feel as though this is a good time to be facing a team who are out of form.
Perhaps Andriy Yarmolenko will come back into the team for this clash, while goalkeeper David Martin makes the team more solid between the sticks and we can't resist a punt on the home side with half a goal start.
Manuel Pellegrini will fire his team up knowing that his own job is in jeopardy although they should at least be good enough to get a point.
BETTING TIP
West Ham +0.5 @ 1.89 with bet365
Team News
Confirmed Lineup
West Ham v Arsenal - Predicted Lineups & Confirmed Starting 11s
West Ham Lineup
Confirmed Lineup & Formation
Arsenal Lineup
Confirmed Lineup & Formation
15

Ainsley Maitland-Niles

05

Sokratis Papastathopoulos
14

Pierre Emerick Aubameyang
West Ham Formation
4-4-1-1
West Ham Substitutes
22: Sebastien Haller
37: Nathan Holland
15: Carlos Sanchez
23: Issa Diop
26: Arthur Masuaku
05: Pablo Zabaleta
13: Roberto Jimenez
Arsenal Formation
4-2-3-1
Arsenal Substitutes
09: Alexandre Lacazette
31: Sead Kolasinac
77: Bukayo Saka
24: Reiss Nelson
29: Matteo Guendouzi
23: David Luiz
26: Damian Emiliano Martinez
West Ham v Arsenal - Injuries, Bans & Suspensions
West Ham v Arsenal - Stats
Premier League - Standings & League Table
Premier League
- League Table
| # | Team | G | W | D | L | +/- | P |
| --- | --- | --- | --- | --- | --- | --- | --- |
| 1 | Liverpool | 22 | 21 | 1 | 0 | 52:14 | 64 |
| 2 | Manchester City | 23 | 15 | 3 | 5 | 64:27 | 48 |
| 3 | Leicester | 23 | 14 | 3 | 6 | 48:23 | 45 |
| 4 | Chelsea | 23 | 12 | 3 | 8 | 39:30 | 39 |
| 5 | Manchester United | 23 | 9 | 7 | 7 | 36:27 | 34 |
| 6 | Wolverhampton | 23 | 8 | 10 | 5 | 34:30 | 34 |
| 7 | Sheffield United | 23 | 8 | 9 | 6 | 25:22 | 33 |
| 8 | Tottenham | 23 | 8 | 7 | 8 | 36:31 | 31 |
| 9 | Crystal Palace | 23 | 7 | 9 | 7 | 22:26 | 30 |
| 10 | Arsenal | 23 | 6 | 11 | 6 | 30:32 | 29 |
| 11 | Everton | 23 | 8 | 5 | 10 | 26:33 | 29 |
| 12 | Newcastle | 23 | 8 | 5 | 10 | 22:34 | 29 |
| 13 | Southampton | 23 | 8 | 4 | 11 | 29:42 | 28 |
| 14 | Burnley | 23 | 8 | 3 | 12 | 26:38 | 27 |
| 15 | Brighton | 23 | 6 | 7 | 10 | 26:31 | 25 |
| 16 | West Ham | 22 | 6 | 5 | 11 | 26:34 | 23 |
| 17 | Watford | 23 | 5 | 8 | 10 | 20:34 | 23 |
| 18 | Aston Villa | 23 | 6 | 4 | 13 | 29:44 | 22 |
| 19 | Bournemouth | 23 | 5 | 5 | 13 | 20:36 | 20 |
| 20 | Norwich | 23 | 4 | 5 | 14 | 23:45 | 17 |
| # | Team | G | W | D | L | +/- | P |
| --- | --- | --- | --- | --- | --- | --- | --- |
| 1 | Liverpool | 12 | 12 | 0 | 0 | 31:9 | 36 |
| 2 | Manchester City | 12 | 8 | 2 | 2 | 31:12 | 26 |
| 3 | Leicester | 11 | 7 | 2 | 2 | 20:11 | 23 |
| 4 | Manchester United | 11 | 6 | 4 | 1 | 24:10 | 22 |
| 5 | Tottenham | 11 | 6 | 2 | 3 | 21:11 | 20 |
| 6 | Everton | 11 | 6 | 2 | 3 | 13:11 | 20 |
| 7 | Newcastle | 12 | 5 | 4 | 3 | 12:12 | 19 |
| 8 | Burnley | 12 | 6 | 0 | 6 | 16:18 | 18 |
| 9 | Chelsea | 11 | 5 | 2 | 4 | 14:10 | 17 |
| 10 | Brighton | 12 | 4 | 5 | 3 | 16:13 | 17 |
| 11 | Sheffield United | 11 | 5 | 2 | 4 | 13:10 | 17 |
| 12 | Wolverhampton | 11 | 4 | 5 | 2 | 17:15 | 17 |
| 13 | Arsenal | 12 | 4 | 5 | 3 | 18:18 | 17 |
| 14 | Crystal Palace | 11 | 4 | 4 | 3 | 10:10 | 16 |
| 15 | Watford | 12 | 3 | 5 | 4 | 11:14 | 14 |
| 16 | Aston Villa | 11 | 4 | 2 | 5 | 14:20 | 14 |
| 17 | Norwich | 12 | 3 | 3 | 6 | 18:25 | 12 |
| 18 | West Ham | 11 | 3 | 2 | 6 | 17:20 | 11 |
| 19 | Southampton | 12 | 3 | 2 | 7 | 13:28 | 11 |
| 20 | Bournemouth | 11 | 2 | 4 | 5 | 10:17 | 10 |
Free Daily Betting Tips from our Expert Tipsters
Free Daily Betting Tips from our Tipsters
Tue 21 Jan
Tue 21 Jan
Tue 21 Jan
Wed 22 Jan
Wed 22 Jan
Wed 22 Jan
Thu 23 Jan
Fri 24 Jan
Sat 25 Jan
Tue 18 Feb
Tue 18 Feb
Wed 19 Feb
Wed 19 Feb
Tue 25 Feb
Tue 25 Feb
Wed 26 Feb
Wed 26 Feb