West Ham v Chelsea Premier League betting preview and tips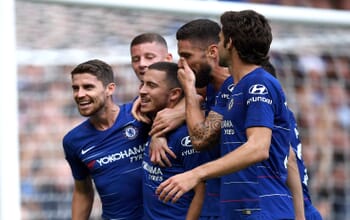 14:30 Sun 23 Sep
Football
So far so good for Maurizio Sarri who has seen his Chelsea side win five games on the bounce, with the Blues slaying Cardiff 4-1 most recently.
Perhaps the fixture list has been kind thus far, with Huddersfield, Arsenal, Newcastle, Bournemouth and Cardiff the opponents to date, although this assignment could be a lot more tricky than the odds suggest.
For starters, we should expect a fervent atmosphere at the London Stadium, with West Ham and Chelsea bitter rivals and the Hammers have their tails up after a 3-1 win at Goodison Park.
Marko Arnautovic was ultimately the difference between the two teams in that game, with Andriy Yarmolenko managing to pilfer a brace and Felipe Anderson looking typically dangerous from the wide left position.
West Ham will look to get a monkey off their back in front of their own supporters, with Bournemouth and Wolves leaving with previous victories although both of these teams have shown some good form this season so perhaps they weren't the worst results in the world.
Chelsea have made a flying start to life under Maurizio Sarri and they are enjoying the very best of Eden Hazard who scored a hat-trick against the Bluebirds.
Sarri claims that the Belgian can score forty goals this season and he's ably supported by the tireless work of Olivier Giroud in attack along with Pedro, Jorginho and N'Golo Kante winning the ball back.
Chelsea might well win for the sixth time this season but we would prefer to go for a high-scoring affair, with most of West Ham's matches being of the higher-scoring variety.
BETTING TIP
Over 2.5 Goals @ 1.57 with bet365

All odds are correct at time of publishing and are subject to change
Published Sep 17, 2018, 13:16 by
Tony Thomas
Team News
West Ham: 4-1-4-1 (Confirmed Line-ups)
Chelsea: 4-3-3 (Confirmed Line-ups)
Premier League
| # | Team | G | W | D | L | +/- | P |
| --- | --- | --- | --- | --- | --- | --- | --- |
| 1 | Liverpool | 31 | 23 | 7 | 1 | 70:18 | 76 |
| 2 | Manchester City | 30 | 23 | 3 | 4 | 76:20 | 72 |
| 3 | Tottenham | 30 | 20 | 1 | 9 | 57:32 | 61 |
| 4 | Arsenal | 30 | 18 | 6 | 6 | 63:39 | 60 |
| 5 | Manchester Unit | 30 | 17 | 7 | 6 | 58:40 | 58 |
| 6 | Chelsea | 30 | 17 | 6 | 7 | 50:33 | 57 |
| 7 | Wolverhampton W | 30 | 12 | 8 | 10 | 38:36 | 44 |
| 8 | Watford | 30 | 12 | 7 | 11 | 42:44 | 43 |
| 9 | West Ham | 31 | 12 | 6 | 13 | 41:46 | 42 |
| 10 | Everton | 31 | 11 | 8 | 12 | 42:39 | 41 |
| 11 | Leicester | 31 | 12 | 5 | 14 | 40:43 | 41 |
| 12 | Bournemouth | 31 | 11 | 5 | 15 | 43:56 | 38 |
| 13 | Newcastle Unite | 31 | 9 | 8 | 14 | 31:40 | 35 |
| 14 | Crystal Palace | 30 | 9 | 6 | 15 | 36:41 | 33 |
| 15 | Brighton | 29 | 9 | 6 | 14 | 32:42 | 33 |
| 16 | Southampton | 30 | 7 | 9 | 14 | 34:50 | 30 |
| 17 | Burnley | 31 | 8 | 6 | 17 | 35:59 | 30 |
| 18 | Cardiff | 30 | 8 | 4 | 18 | 27:57 | 28 |
| 19 | Fulham | 31 | 4 | 5 | 22 | 29:70 | 17 |
| 20 | Huddersfield | 31 | 3 | 5 | 23 | 18:57 | 14 |