West Ham
v

Liverpool Betting Tips & Predictions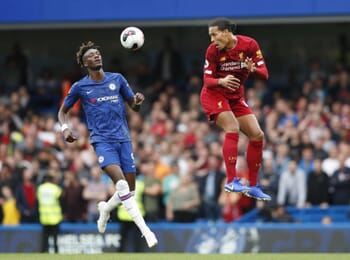 20:45 Wed 29 Jan
Football
Before Raul Jimenez scored an equaliser against Liverpool at Molineux, the Reds had kept consecutive clean sheets against Bournemouth, Watford, Leicester City, Wolverhampton Wanderers, Sheffield United, Tottenham Hotspur and Manchester United.
Team news | League Table | Odds
There's little reason that Jurgen Klopp's side can't continue to churn out clean sheets en route to the Premier League title and we're happy to back them to win to nil against West Ham on Wednesday, with the majority of first-team players having been rested for Sunday's 2-2 draw at Shrewsbury.
Liverpool have only conceded six goals on the road all season and that is three less than the Reds have shipped at Anfield, with the Merseyside team running a tight ship and sure to have the majority of possession against a Hammers side who sit just above the relegation zone.
David Moyes' side have lost six of their eleven home matches this term and look incapable of laying a glove on their opponents in this clash, with a fairly strong XI losing at home to West Brom in the FA Cup on Saturday by a single goal.
Previously to this, West Ham were thumped 4-1 at Leicester and the only bright note since Moyes took charge has been a 4-0 thrashing of Bournemouth which is when the Cherries were at their lowest ebb.
Klopp will be annoyed that a weakened team were unable to see off Shrewsbury on Sunday, although the senior players will be back for this clash even if Sadio Mane looks likely to be sidelined for a short while after hobbling off at Molineux.
Perhaps this is the match where Takumi Minamino steps up to the plate after his recent arrival from Red Bull Salzburg, with Fabinho having also gotten up to speed and he offers competition for midfield places.
BETTING TIP
Liverpool win to nil @ 2.30 with bet365
Team News
Confirmed Lineup
West Ham v Liverpool - Predicted Lineups & Confirmed Starting 11s
West Ham Lineup
Confirmed Lineup & Formation
Liverpool Lineup
Confirmed Lineup & Formation
66

Trent Alexander-Arnold
15

Alex Oxlade-Chamberlain
West Ham Formation
5-3-2
West Ham Substitutes
27: Albian Ajeti
18: Pablo Fornals
15: Carlos Sanchez
05: Pablo Zabaleta
04: Fabian Balbuena
20: Goncalo Cardoso
35: Darren Randolph
Liverpool Formation
4-3-3
Liverpool Substitutes
48: Curtis Jones
32: Joel Matip
18: Takumi Minamino
08: Naby Keita
06: Dejan Lovren
03: Fabinho
13: San Miguel del Castillo Adrian
West Ham v Liverpool - Injuries, Bans & Suspensions
West Ham v Liverpool - Stats
Premier League - Standings & League Table
Premier League
- League Table
| # | Team | G | W | D | L | +/- | P |
| --- | --- | --- | --- | --- | --- | --- | --- |
| 1 | Liverpool | 29 | 27 | 1 | 1 | 66:21 | 82 |
| 2 | Manchester City | 28 | 18 | 3 | 7 | 68:31 | 57 |
| 3 | Leicester | 29 | 16 | 5 | 8 | 58:28 | 53 |
| 4 | Chelsea | 29 | 14 | 6 | 9 | 51:39 | 48 |
| 5 | Manchester United | 29 | 12 | 9 | 8 | 44:30 | 45 |
| 6 | Wolverhampton | 29 | 10 | 13 | 6 | 41:34 | 43 |
| 7 | Sheffield United | 28 | 11 | 10 | 7 | 30:25 | 43 |
| 8 | Tottenham | 29 | 11 | 8 | 10 | 47:40 | 41 |
| 9 | Arsenal | 28 | 9 | 13 | 6 | 40:36 | 40 |
| 10 | Burnley | 29 | 11 | 6 | 12 | 34:40 | 39 |
| 11 | Crystal Palace | 29 | 10 | 9 | 10 | 26:32 | 39 |
| 12 | Everton | 29 | 10 | 7 | 12 | 37:46 | 37 |
| 13 | Newcastle | 29 | 9 | 8 | 12 | 25:41 | 35 |
| 14 | Southampton | 29 | 10 | 4 | 15 | 35:52 | 34 |
| 15 | Brighton | 29 | 6 | 11 | 12 | 32:40 | 29 |
| 16 | West Ham | 29 | 7 | 6 | 16 | 35:50 | 27 |
| 17 | Watford | 29 | 6 | 9 | 14 | 27:44 | 27 |
| 18 | Bournemouth | 29 | 7 | 6 | 16 | 29:47 | 27 |
| 19 | Aston Villa | 28 | 7 | 4 | 17 | 34:56 | 25 |
| 20 | Norwich | 29 | 5 | 6 | 18 | 25:52 | 21 |
| # | Team | G | W | D | L | +/- | P |
| --- | --- | --- | --- | --- | --- | --- | --- |
| 1 | Liverpool | 15 | 15 | 0 | 0 | 40:12 | 45 |
| 2 | Leicester | 15 | 9 | 3 | 3 | 30:15 | 30 |
| 3 | Manchester City | 13 | 9 | 2 | 2 | 33:12 | 29 |
| 4 | Manchester United | 15 | 8 | 5 | 2 | 29:12 | 29 |
| 5 | Tottenham | 14 | 8 | 2 | 4 | 27:15 | 26 |
| 6 | Arsenal | 15 | 7 | 5 | 3 | 26:20 | 26 |
| 7 | Everton | 14 | 7 | 4 | 3 | 19:15 | 25 |
| 8 | Chelsea | 15 | 7 | 3 | 5 | 22:15 | 24 |
| 9 | Sheffield United | 15 | 7 | 3 | 5 | 17:13 | 24 |
| 10 | Burnley | 15 | 7 | 2 | 6 | 20:19 | 23 |
| 11 | Wolverhampton | 15 | 5 | 7 | 3 | 21:17 | 22 |
| 12 | Crystal Palace | 15 | 6 | 4 | 5 | 12:13 | 22 |
| 13 | Newcastle | 14 | 5 | 6 | 3 | 12:12 | 21 |
| 14 | Brighton | 14 | 4 | 6 | 4 | 17:15 | 18 |
| 15 | Watford | 14 | 4 | 5 | 5 | 16:17 | 17 |
| 16 | Bournemouth | 14 | 4 | 5 | 5 | 17:21 | 17 |
| 17 | Aston Villa | 13 | 5 | 2 | 6 | 18:24 | 17 |
| 18 | West Ham | 14 | 4 | 3 | 7 | 23:26 | 15 |
| 19 | Norwich | 14 | 4 | 3 | 7 | 19:26 | 15 |
| 20 | Southampton | 15 | 4 | 2 | 9 | 16:31 | 14 |
Free Daily Betting Tips from our Expert Tipsters
Free Daily Betting Tips from our Tipsters
Mon 13 Apr
Thu 30 Apr
Thu 30 Apr