Wolverhampton
vs

Liverpool Betting Tips & Predictions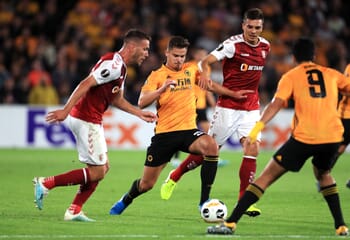 21:00 Thu 23 Jan
Football
Tip: 1 AH +1.5
Units: 4/5
Wolverhampton Wanderers are the latest team to try and beat Liverpool in the Premier League and there's a decent case for backing the Midlands side on the Asian Handicap market when they clash with the champions-elect.
Team news | League Table | Odds
Nuno Espirito Santo will be targeting a top four finish this season and they sit eight points behind fourth-placed Chelsea at the time of writing, with the Portuguese looking to strengthen his squad for the second half of the campaign.
Wanderers could be a lot higher if their form at Molineux was better. While Wolves have only lost twice in front of their own supporters, they have drawn more (5) than they have won (4) and they are capable of making life tough for Liverpool.
The home team will feel a sense of injustice when it comes to that 1-0 reverse at Anfield during the festive period where Wolves put together some impressive defending and had a goal harshly disallowed after Liverpool had taken the lead.
That result sparked a five match winless run for Wanderers although two of these games were against Manchester United in the FA Cup and this match is an opportunity to play a Liverpool side for whom the games are coming thick and fast.
Let's also note that recent clash at White Hart Lane where Jurgen Klopp's side only triumphed by a single goal and could have conceded an equaliser towards the end of the match.
Liverpool certainly looked all at sea for part of that game and they are now in the sort of mode where they are trying to grind out a victory in these type of games and keep pushing to land the Premier League title.
Therefore, a bet on Wolves with 1.5 goals could be the way forward and that covers the home win, the draw and an away win by a single goal.
BETTING TIP
Wolves +1.5 @ 1.50 with bet365
Team News
Confirmed Lineup
Wolverhampton vs Liverpool - Predicted Lineups & Confirmed Starting 11s
Wolverhampton Lineup
Confirmed Lineup & Formation
Liverpool Lineup
Confirmed Lineup & Formation
66

Trent Alexander-Arnold
15

Alex Oxlade-Chamberlain
Wolverhampton Formation
3-4-3
Wolverhampton Substitutes
18: Diogo Jota
15: Willy Boly
33: Ryan Giles
56: Benny Ashley-Seal
49: Max Kilman
17: Morgan Gibbs-White
21: John Ruddy
Liverpool Formation
4-3-3
Liverpool Substitutes
76: Neco Williams
48: Curtis Jones
32: Joel Matip
27: Divock Origi
18: Takumi Minamino
03: Fabinho
13: San Miguel del Castillo Adrian
Wolverhampton vs Liverpool - Injuries, Bans & Suspensions
Type
Player
Info
Expected return

No players are currently injured or suspended.
Wolverhampton vs Liverpool - Stats
Premier League - Standings & League Table
Premier League
- League Table
| # | Team | G | W | D | L | +/- | P |
| --- | --- | --- | --- | --- | --- | --- | --- |
| 1 | Liverpool | 29 | 27 | 1 | 1 | 66:21 | 82 |
| 2 | Manchester City | 28 | 18 | 3 | 7 | 68:31 | 57 |
| 3 | Leicester | 29 | 16 | 5 | 8 | 58:28 | 53 |
| 4 | Chelsea | 29 | 14 | 6 | 9 | 51:39 | 48 |
| 5 | Manchester United | 29 | 12 | 9 | 8 | 44:30 | 45 |
| 6 | Wolverhampton | 29 | 10 | 13 | 6 | 41:34 | 43 |
| 7 | Sheffield United | 28 | 11 | 10 | 7 | 30:25 | 43 |
| 8 | Tottenham | 29 | 11 | 8 | 10 | 47:40 | 41 |
| 9 | Arsenal | 28 | 9 | 13 | 6 | 40:36 | 40 |
| 10 | Burnley | 29 | 11 | 6 | 12 | 34:40 | 39 |
| 11 | Crystal Palace | 29 | 10 | 9 | 10 | 26:32 | 39 |
| 12 | Everton | 29 | 10 | 7 | 12 | 37:46 | 37 |
| 13 | Newcastle | 29 | 9 | 8 | 12 | 25:41 | 35 |
| 14 | Southampton | 29 | 10 | 4 | 15 | 35:52 | 34 |
| 15 | Brighton | 29 | 6 | 11 | 12 | 32:40 | 29 |
| 16 | West Ham | 29 | 7 | 6 | 16 | 35:50 | 27 |
| 17 | Watford | 29 | 6 | 9 | 14 | 27:44 | 27 |
| 18 | Bournemouth | 29 | 7 | 6 | 16 | 29:47 | 27 |
| 19 | Aston Villa | 28 | 7 | 4 | 17 | 34:56 | 25 |
| 20 | Norwich | 29 | 5 | 6 | 18 | 25:52 | 21 |
| # | Team | G | W | D | L | +/- | P |
| --- | --- | --- | --- | --- | --- | --- | --- |
| 1 | Liverpool | 15 | 15 | 0 | 0 | 40:12 | 45 |
| 2 | Leicester | 15 | 9 | 3 | 3 | 30:15 | 30 |
| 3 | Manchester City | 13 | 9 | 2 | 2 | 33:12 | 29 |
| 4 | Manchester United | 15 | 8 | 5 | 2 | 29:12 | 29 |
| 5 | Tottenham | 14 | 8 | 2 | 4 | 27:15 | 26 |
| 6 | Arsenal | 15 | 7 | 5 | 3 | 26:20 | 26 |
| 7 | Everton | 14 | 7 | 4 | 3 | 19:15 | 25 |
| 8 | Chelsea | 15 | 7 | 3 | 5 | 22:15 | 24 |
| 9 | Sheffield United | 15 | 7 | 3 | 5 | 17:13 | 24 |
| 10 | Burnley | 15 | 7 | 2 | 6 | 20:19 | 23 |
| 11 | Wolverhampton | 15 | 5 | 7 | 3 | 21:17 | 22 |
| 12 | Crystal Palace | 15 | 6 | 4 | 5 | 12:13 | 22 |
| 13 | Newcastle | 14 | 5 | 6 | 3 | 12:12 | 21 |
| 14 | Brighton | 14 | 4 | 6 | 4 | 17:15 | 18 |
| 15 | Watford | 14 | 4 | 5 | 5 | 16:17 | 17 |
| 16 | Bournemouth | 14 | 4 | 5 | 5 | 17:21 | 17 |
| 17 | Aston Villa | 13 | 5 | 2 | 6 | 18:24 | 17 |
| 18 | West Ham | 14 | 4 | 3 | 7 | 23:26 | 15 |
| 19 | Norwich | 14 | 4 | 3 | 7 | 19:26 | 15 |
| 20 | Southampton | 15 | 4 | 2 | 9 | 16:31 | 14 |
Free Daily Betting Tips from our Expert Tipsters
Free Daily Betting Tips from our Tipsters
20:30 Friday 05 Jun
15:30 Saturday 06 Jun
15:30 Saturday 06 Jun
15:30 Saturday 06 Jun
15:30 Saturday 06 Jun
18:30 Saturday 06 Jun
13:30 Sunday 07 Jun
15:30 Sunday 07 Jun
18:00 Sunday 07 Jun
22:00 Thursday 11 Jun
19:30 Friday 12 Jun
22:00 Friday 12 Jun
13:00 Saturday 13 Jun
17:00 Saturday 13 Jun
19:30 Saturday 13 Jun
22:00 Saturday 13 Jun
19:30 Sunday 14 Jun
20:00 Wednesday 17 Jun
20:00 Wednesday 17 Jun
17:30 Tuesday 30 Jun
21:00 Tuesday 30 Jun