Wolverhampton
v

Man City Betting Tips & Predictions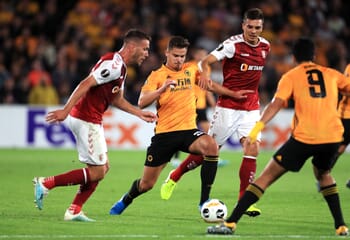 20:45 Fri 27 Dec
Football
Wolverhampton Wanderers are having a wonderful season and their latest party trick was to come from behind at Carrow Road to land a 2-1 victory.
Team news | League Table | Odds
It means that Wolves have only lost three of their eighteen Premier League matches this season, with Nuno Espirito Santo's side managing twenty-seven points from their eighteen games played and that was despite a poor start to proceedings.
It should also be noted that the Midlands side performed well against Manchester City when winning 2-0 at the Etihad Stadium earlier this season and they also drew 1-1 in this fixture last season, with Wanderers taking the lead before having to settle for a point.
On the basis of recent results, we're happy to back Wolves with a +1.5 goal advantage in this clash, with Pep Guardiola having to manage his squad after a busy schedule of fixtures which included a recent 3-1 win at Oxford in the League Cup.
We should expect to see Sergio Aguero back in the team for this clash although it's possible that Raheem Sterling or Riyad Mahrez will be given a rest, while there continue to be question marks over a central defence that comprises Fernandinho and Nicolas Otamendi.
Wolves nearly always have a settled team out in force, with Raul Jimenez spearheading the attack and there's also Adama Traore who is capable of direct running against a team who might once again find him a handful.
While City can ill-afford to drop any further points and have achieved some emphatic results on the road, perhaps a slender margin is the best that they can hope to achieve at Molineux, with Saiss, Dendoncker and Coady now proving to be a solid trio when it comes to central defensive units.
BETTING TIP
Wolves +1.5 @ 1.75 with bet365
Team News
Confirmed Lineup
Wolverhampton v Manchester City - Predicted Lineups & Confirmed Starting 11s
Wolverhampton Lineup
Confirmed Lineup & Formation
Manchester City Lineup
Confirmed Lineup & Formation
Wolverhampton Formation
3-4-3
Wolverhampton Substitutes
49: Max Kilman
29: Ruben Vinagre
10: Patrick Cutrone
07: Pedro Neto
05: Ryan Bennett
04: Jesús Vallejo
21: John Ruddy
Manchester City Formation
4-3-3
Manchester City Substitutes
50: Eric García
47: Phil Foden
27: Joao Cancelo
12: José Angel Tasende
11: Oleksandr Zinchenko
08: Ilkay Gündogan
01: Claudio Bravo
Wolverhampton v Manchester City - Injuries, Bans & Suspensions
Wolverhampton v Manchester City - Stats
Premier League - Standings & League Table
Premier League
- League Table
| # | Team | G | W | D | L | +/- | P |
| --- | --- | --- | --- | --- | --- | --- | --- |
| 1 | Liverpool | 29 | 27 | 1 | 1 | 66:21 | 82 |
| 2 | Manchester City | 28 | 18 | 3 | 7 | 68:31 | 57 |
| 3 | Leicester | 29 | 16 | 5 | 8 | 58:28 | 53 |
| 4 | Chelsea | 29 | 14 | 6 | 9 | 51:39 | 48 |
| 5 | Manchester United | 29 | 12 | 9 | 8 | 44:30 | 45 |
| 6 | Wolverhampton | 29 | 10 | 13 | 6 | 41:34 | 43 |
| 7 | Sheffield United | 28 | 11 | 10 | 7 | 30:25 | 43 |
| 8 | Tottenham | 29 | 11 | 8 | 10 | 47:40 | 41 |
| 9 | Arsenal | 28 | 9 | 13 | 6 | 40:36 | 40 |
| 10 | Burnley | 29 | 11 | 6 | 12 | 34:40 | 39 |
| 11 | Crystal Palace | 29 | 10 | 9 | 10 | 26:32 | 39 |
| 12 | Everton | 29 | 10 | 7 | 12 | 37:46 | 37 |
| 13 | Newcastle | 29 | 9 | 8 | 12 | 25:41 | 35 |
| 14 | Southampton | 29 | 10 | 4 | 15 | 35:52 | 34 |
| 15 | Brighton | 29 | 6 | 11 | 12 | 32:40 | 29 |
| 16 | West Ham | 29 | 7 | 6 | 16 | 35:50 | 27 |
| 17 | Watford | 29 | 6 | 9 | 14 | 27:44 | 27 |
| 18 | Bournemouth | 29 | 7 | 6 | 16 | 29:47 | 27 |
| 19 | Aston Villa | 28 | 7 | 4 | 17 | 34:56 | 25 |
| 20 | Norwich | 29 | 5 | 6 | 18 | 25:52 | 21 |
| # | Team | G | W | D | L | +/- | P |
| --- | --- | --- | --- | --- | --- | --- | --- |
| 1 | Liverpool | 15 | 15 | 0 | 0 | 40:12 | 45 |
| 2 | Leicester | 15 | 9 | 3 | 3 | 30:15 | 30 |
| 3 | Manchester City | 13 | 9 | 2 | 2 | 33:12 | 29 |
| 4 | Manchester United | 15 | 8 | 5 | 2 | 29:12 | 29 |
| 5 | Tottenham | 14 | 8 | 2 | 4 | 27:15 | 26 |
| 6 | Arsenal | 15 | 7 | 5 | 3 | 26:20 | 26 |
| 7 | Everton | 14 | 7 | 4 | 3 | 19:15 | 25 |
| 8 | Chelsea | 15 | 7 | 3 | 5 | 22:15 | 24 |
| 9 | Sheffield United | 15 | 7 | 3 | 5 | 17:13 | 24 |
| 10 | Burnley | 15 | 7 | 2 | 6 | 20:19 | 23 |
| 11 | Wolverhampton | 15 | 5 | 7 | 3 | 21:17 | 22 |
| 12 | Crystal Palace | 15 | 6 | 4 | 5 | 12:13 | 22 |
| 13 | Newcastle | 14 | 5 | 6 | 3 | 12:12 | 21 |
| 14 | Brighton | 14 | 4 | 6 | 4 | 17:15 | 18 |
| 15 | Watford | 14 | 4 | 5 | 5 | 16:17 | 17 |
| 16 | Bournemouth | 14 | 4 | 5 | 5 | 17:21 | 17 |
| 17 | Aston Villa | 13 | 5 | 2 | 6 | 18:24 | 17 |
| 18 | West Ham | 14 | 4 | 3 | 7 | 23:26 | 15 |
| 19 | Norwich | 14 | 4 | 3 | 7 | 19:26 | 15 |
| 20 | Southampton | 15 | 4 | 2 | 9 | 16:31 | 14 |
Free Daily Betting Tips from our Expert Tipsters
Free Daily Betting Tips from our Tipsters
Mon 13 Apr
Thu 30 Apr
Thu 30 Apr