France Ligue 1 Betting Tips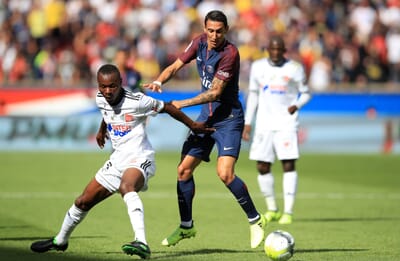 The history of Ligue 1 in France
Ligue 1 is the top professional football league in France, with the division originally founded in 1932 and a total of 76 clubs have participated since its foundation. Paris Saint-Germain remain the only club not to have suffered a points relegation, having arrived in Ligue 1 for the 1974/5 season.
PSG are among the best-known clubs in France, along with Olympique de Marseille, AS Monaco, Olympique Lyonnais, AS Saint-Etienne, Lille OSC and Girondins de Bordeaux.
At the time of writing, it is Saint-Etienne who have won the most Ligue 1 titles, having finished top of the league on ten occasions. The majority of their success came in the 1960's, with the Saints having won five titles in that decade.
Marseille have won nine Ligue 1 titles and their most recent success was in 2010, although they previously suffered from financial problems and a match-fixing scandal which saw them demoted to the second division.
Despite having spend big money in the past few years, Paris Saint-Germain have only won the Ligue 1 title on six occasions, with Lyon, Monaco and Nantes having managed more silverware than this.
Mickaël Landreau has made the most Ligue 1 appearances, with the former Nantes and PSG goalkeeper having played in 618 games between 1997-2014, while Jean-Luc Ettori is second on the list and he played exclusively for Monaco between 1975-1994.
Latest France Ligue 1 Winners
2016 / 17
Monaco
Edinson Cavani (35)
2015 / 16
Paris Saint Germain
Zlatan Ibrahimovic (38)
2014 / 15
Paris Saint Germain
Alexandre Lacazette (27)
View more
How to bet on the French Ligue 1
A bookmaker will typically offer around 75 pre-match betting markets for each Ligue 1 game. In addition to betting on a team to win, you can choose from popular markets such as First Goalscorer, Correct Score, Both Teams to Score along with a range of Asian Handicap possibilities.
There are also antepost markets for Ligue 1 which allows betting customers to back the Ligue 1 winner, the top scorer, which teams will be relegated, which sides will enjoy a top three finish and also the winner without Paris Saint-Germain. Research your bet with Sportsgambler's excellent round up of the latest player injuries and suspensions in Ligue 1. These antepost markets are regularly updated so that you can check the latest odds and often get into a profitable situation by betting on a selection at bigger odds only to see the prices shorten which allows for Cash Out opportunities.
France Ligue 1 2017/18 To Win Outright
Team To Win Outright
Current Best Odds
Bookmarker
View more
How to watch Ligue 1 live streaming
The great news for European football fans is that several bookmakers have the live streaming rights to Ligue 1 football. That means if you hold a bookmaker account with bet365 or William Hill , then you simply need to have money in this account to access any live stream of a football match.
Alternatively, placing a bet with an operator will also qualify you to watch any match live, which means you can watch any game involving Paris Saint-Germain and it's great for those who want to see Neymar in action.
Alongside the live streaming, there is also the opportunity to bet In-Play on every Ligue 1 game, with the bookmakers offering live odds which change according to what's happening on the pitch.
In-Play betting on football is getting increasingly popular, with customers wanting watch a football match before they think about placing a bet. Once you have placed an In-Play bet, you often get a Cash Out value which can rise and fall depending on what has happened in the game.
If you bet on Paris Saint-Germain to beat Monaco at evens for a stake of 100 Euros, then you might start with a cash out value of 95 Euros. However, if PSG take the lead, you might have a cash out value of 160 Euros. There is then an opportunity to land a profit without waiting for the match to end.