Bundesliga Betting Tips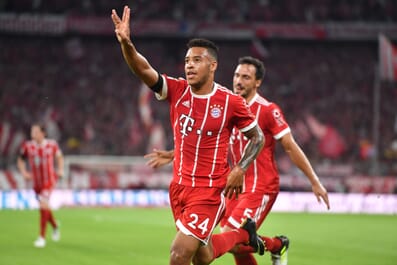 Why is the German Bundesliga so popular?
The German Bundesliga is great for online betting, with football fans recommending some of the household names who are competing on a weekly basis. Bayern Munich are often included in weekend accumulator bets, while this is a football league which attracts the biggest average attendance. This means there's a great atmosphere for all the games.
There have been 54 clubs who have competed in the German Bundesliga since its inauguration, with this league among the highest when it comes to the UEFA coefficient ranking and that means that more teams can ultimately qualify for European competition.
Latest Germany Bundesliga Winners
2016 / 17
Bayern Munich
Pierre-Emerick Aubameyang (31)
2015 / 16
Bayern Munich
Robert Lewandowski (30)
2014 / 15
Bayern Munich
Alexander Meier (19)
View more
How to bet on the German Bundesliga
There are a number of ways in which customers can enjoy betting on the German Bundesliga, starting with the moment that a bookmaker starts pricing up ante post bets for the new season. These can include Bundesliga Winner, Bundesliga Top Scorer and Bundesliga Relegation, while it's also common to see match bets between two particular teams.
As the start of the season gets closer, operators will price up the next round of games and it's worth paying attention to the finishing places in the Bundesliga the previous season, while previous form is also used as a barometer when it comes to predicting the outcome of matches.
Match betting on the Bundesliga is very popular, especially when it comes to the games which are televised as betting turnover is always higher when customers are widely able to watch a particular match. Some Bundesliga matches are live streamed by a particular bookmaker and it's a great way of enjoying the action and placing an In-Play bet. Punters can read up on the latest Bundesliga injuries and suspensions right here on the Sportsgambler.com site.
Germany Bundesliga I 2017/18 To Win Outright
Team To Win Outright
Current Best Odds
Bookmarker
View more
Bundesliga Live Streaming and Cash Out
Depending on where you are based in the world, there is live streaming available and bet365 are a bookmaker that offer Bundesliga live streaming. Some operators have secured the online rights to stream football divisions and this is a great way to enjoy watching football matches without having to pay a television subscription.
Live streaming of Bundesliga matches can be accessed by taking the simple step of opening a betting account and depositing into that account. If you have a funded account or if you have placed a recent bet, then you will be able to click on the live stream icon and enjoy watching the game on your particular device.
When you are enjoying the live streaming of the football matches, there is also an opportunity to bet In-Play and the live odds change quickly according to what is happening on the pitch. For example, you might back Bayern Munich to win their game at odds of 2.00 and an early Bayern goal would lead to their odds changing to 1.33.
Should the above happen, customers would have the opportunity to cash out winnings on their bet well before the final whistle is blown. The Cash Out value can often be bigger than your original stake allowing you to close out the bet for a profit or alternatively stay in the bet and hope to receive your full winnings.
There is sometimes the option for Partial Cash Out on the Bundesliga which means you can take some winnings or cut some losses on a particular bet while still remaining partially in the bet.
Place an accumulator bet on the Bundesliga for bigger winnings
Most Bundesliga league games take place at the weekend and that means an opportunity to place multiple bets on several matches in the hope to enjoy a bigger return on their stake. An online accumulator bet is a great way of combining several teams and hoping that they all win so that you win your particular wager.
You can place single bets on the Bundesliga or go for a double involving two teams. However, an accumulator featuring four or more teams means that the odds all multiply and you're able to win a larger amount for a small stake.
Accumulator cash out is also available and it's a great way of making a profit if your Saturday selections have all won but you also have some legs of the bet on a Sunday.