Augsburg
vs

Wolfsburg Betting Tips & Predictions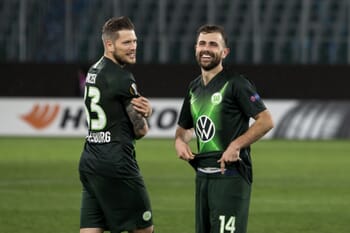 15:30 Sat 16 May
Football
Tip: Over 2.5 Goals
Units: 3/5
It's the battle of the "burgs" on Saturday afternoon, with Augsburg and Wolfsburg clashing at the WWK Arena and the bookmakers have the visitors as the favourites considering their higher position in the German Bundesliga.
Team news | League Table | Odds
The Wolves are sitting seventh in the table after a reasonable campaign to date which has seen them earn 36 points from 25 games played, with Oliver Glasner's team actually landing more wins on their travels than they have accrued at the Volkswagen Arena.
The target for Wolfsburg will be to land a Europa League spot for next season and enjoy some European competition, with the team still in this season's tournament and they are halfway through a tie against Shakhtar.
Wout Weghorst has been their main marksman this season and the Dutchman has fifteen goals in all competitions this term, although his goals have dried up in recent months and the forward will hope that coming out of the lockdown will see him return to his prolific ways.
As for Augsburg, the team sit in fourteenth position in the Bundesliga and they have been reasonably strong at home, winning five and drawing three of their twelve matches at the WWK Arena, with the Fuggerstadter having scored plenty of goals in front of their own fans.
While supporters won't be able to attend this match, Heiko Herrlich's side look capable of continuing to find the net considering they are averaging two per home game, although their attacking brand of football means they have nearly conceded as many.
Forty-five goals have been scored in twelve home games and we're surprised that you can get such a big price when it comes to the Over 2.5 Goals.
We can see this being an open game of football and both teams looking to get a maximum haul. The Overs quote seems to be the best way to play the game considering that Wolfsburg's away win quota doesn't inspire a huge amount of confidence.
BETTING TIP
Over 2.5 Goals @ 2.00 (evens) with bet365
Team News
Confirmed Lineup
Augsburg vs Wolfsburg - Predicted Lineups & Confirmed Starting 11s
Augsburg Lineup
Confirmed Lineup & Formation
Wolfsburg Lineup
Confirmed Lineup & Formation
Augsburg Formation
4-2-3-1
Augsburg Substitutes
17: Noah-Joel Sarenren-Bazee
09: Sergio Córdova
14: Jan Moravek
25: Carlos Gruezo
19: Felix Uduokhai
36: Reece Oxford
02: Stephan Lichtsteiner
22: Iago
21: Tomáš Koubek
Wolfsburg Formation
4-3-3
Wolfsburg Substitutes
11: Felix Klaus
33: Daniel Ginczek
44: Iba May
15: Jerome Roussillon
32: Marcel Tisserand
31: Robin Knoche
12: Pavao Pervan
Augsburg vs Wolfsburg - Injuries, Bans & Suspensions
Augsburg vs Wolfsburg - Stats
Bundesliga - Standings & League Table
Bundesliga
- League Table
| # | Team | G | W | D | L | +/- | P |
| --- | --- | --- | --- | --- | --- | --- | --- |
| 1 | Bayern Munich | 26 | 18 | 4 | 4 | 75:26 | 58 |
| 2 | Borussia Dortmund | 26 | 16 | 6 | 4 | 72:33 | 54 |
| 3 | B M'gladbach | 26 | 16 | 4 | 6 | 52:31 | 52 |
| 4 | RB Leipzig | 26 | 14 | 9 | 3 | 63:27 | 51 |
| 5 | Bayer Leverkusen | 26 | 15 | 5 | 6 | 49:31 | 50 |
| 6 | Wolfsburg | 26 | 10 | 9 | 7 | 36:31 | 39 |
| 7 | Freiburg | 26 | 10 | 7 | 9 | 35:36 | 37 |
| 8 | Schalke 04 | 26 | 9 | 10 | 7 | 33:40 | 37 |
| 9 | Hoffenheim | 26 | 10 | 5 | 11 | 35:46 | 35 |
| 10 | FC Cologne | 26 | 10 | 3 | 13 | 41:47 | 33 |
| 11 | Hertha Berlin | 26 | 8 | 7 | 11 | 35:48 | 31 |
| 12 | Union Berlin | 26 | 9 | 3 | 14 | 32:43 | 30 |
| 13 | Eintracht Frankfurt | 25 | 8 | 4 | 13 | 39:44 | 28 |
| 14 | Augsburg | 26 | 7 | 6 | 13 | 37:54 | 27 |
| 15 | Mainz 05 | 26 | 8 | 3 | 15 | 36:55 | 27 |
| 16 | Fortuna Dusseldorf | 26 | 5 | 8 | 13 | 27:50 | 23 |
| 17 | Werder Bremen | 25 | 4 | 6 | 15 | 28:59 | 18 |
| 18 | Paderborn | 26 | 4 | 5 | 17 | 30:54 | 17 |
| # | Team | G | W | D | L | +/- | P |
| --- | --- | --- | --- | --- | --- | --- | --- |
| 1 | Borussia Dortmund | 13 | 10 | 3 | 0 | 45:10 | 33 |
| 2 | Bayern Munich | 13 | 9 | 2 | 2 | 38:11 | 29 |
| 3 | B M'gladbach | 13 | 9 | 2 | 2 | 30:16 | 29 |
| 4 | RB Leipzig | 13 | 7 | 5 | 1 | 33:14 | 26 |
| 5 | Bayer Leverkusen | 13 | 7 | 4 | 2 | 25:13 | 25 |
| 6 | Eintracht Frankfurt | 13 | 6 | 3 | 4 | 28:19 | 21 |
| 7 | Schalke 04 | 13 | 5 | 6 | 2 | 18:18 | 21 |
| 8 | FC Cologne | 13 | 6 | 2 | 5 | 22:18 | 20 |
| 9 | Freiburg | 12 | 6 | 2 | 4 | 16:14 | 20 |
| 10 | Union Berlin | 13 | 6 | 1 | 6 | 18:18 | 19 |
| 11 | Wolfsburg | 13 | 4 | 6 | 3 | 16:13 | 18 |
| 12 | Augsburg | 13 | 5 | 3 | 5 | 25:23 | 18 |
| 13 | Hoffenheim | 14 | 5 | 1 | 8 | 19:34 | 16 |
| 14 | Mainz 05 | 13 | 4 | 2 | 7 | 15:21 | 14 |
| 15 | Fortuna Dusseldorf | 13 | 3 | 4 | 6 | 13:23 | 13 |
| 16 | Hertha Berlin | 13 | 3 | 3 | 7 | 14:28 | 12 |
| 17 | Paderborn | 13 | 2 | 1 | 10 | 17:31 | 7 |
| 18 | Werder Bremen | 12 | 1 | 2 | 9 | 9:30 | 5 |
Free Daily Betting Tips from our Expert Tipsters
Free Daily Betting Tips from our Tipsters
18:30 Tuesday 26 May
21:00 Friday 12 Jun
17:30 Tuesday 30 Jun
21:00 Tuesday 30 Jun