Huddersfield Betting Tips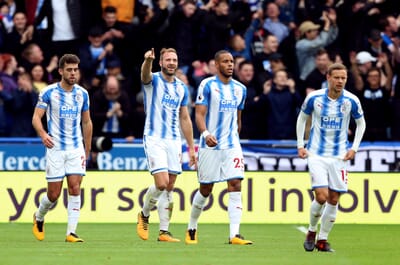 Huddersfield betting tips help you to get an idea of where the best value lies when the Terriers are in action. The club are one of the biggest in the County of York and they've won the English Division One title on several occasions.
Get the latest odds on the next Huddersfield Town match and find out the injury situation in order to arrive at a conclusion for how the next game might pan out. You can get team news days in advance of kick-off allowing you plenty of time to place bets.
If you want free Huddersfield betting tips and starting 11 information, check out our picks including predicted lineups and also the official and confirmed teams as kick-off approaches.
Huddersfield Free Bets & Bonuses
Huddersfield Injuries
Type
Name
Position
Matches
Goals
Assists
Info
Expected Return
Ryan Schofield
G
2
0
0
Back injury
Late October
Aaron Rowe
M
0
0
0
Broken toe
Late November
Alex Vallejo
M
5
1
0
Knee injury
Mid November
Pipa
D
0
0
0
Hip injury
Late November
Jordan Rhodes
F
2
0
0
Back injury
Early November
Next Game: Bournemouth vs Huddersfield
1:

1.66

X:

4.00

2:

4.75
Bet Now!
T&Cs apply, Gamble Responsibly 18+
Huddersfield Lineups
Confirmed Lineups
Predicted Lineups
Huddersfield Squad
Manager: Carlos Corberán
Goalkeepers

21

Lee Nicholls

31

Ryan Schofield

42

N. Bilokapic

44

Michael Roxburgh
Defenders

2

Pipa

3

Harry Toffolo

4

Matty Pearson

14

Josh Ruffels

20

Oliver Turton

23

Naby Sarr

26

Levi Colwill

32

Tom Lees

38

Jaheim Headley

0

Luke Daley
Midfielders

5

Alex Vallejo

6

Jonathan Hogg

8

Lewis OBrien

11

Rolando Aarons

12

Reece Brown

15

Scott High

16

Sorba Thomas

19

Duane Holmes

24

Danel Sinani

29

Aaron Rowe

30

Ben Jackson

33

Josh Austerfield

37

Jon Russell
Forwards

7

Ademipo Odubeko

9

Jordan Rhodes

10

Josh Koroma

22

Fraizer Campbell

24

Kian Harratt

25

Daniel Ward

28

Daniel Grant

39

Micah Obiero

41

Patrick Jones

51

Kit Elliot
Huddersfield Fixtures
Saturday 23 October
Best Odds
Saturday 30 October
Tuesday 02 November
Saturday 06 November
Saturday 20 November
Huddersfield Results
Wednesday 20 October
Championship 21:45 Wed 20 Oct
21:45
England Championship
Huddersfield
0-0
Birmingham
Saturday 16 October
Championship 17:00 Sat 16 Oct
17:00
England Championship
Saturday 02 October
Championship 17:00 Sat 2 Oct
17:00
England Championship
Tuesday 28 September
Championship 21:45 Tue 28 Sep
21:45
England Championship
Huddersfield
3-2
Blackburn
Saturday 25 September
Championship 17:00 Sat 25 Sep
17:00
England Championship
Championship 2021/2022
| # | Team | G | W | D | L | +/- | P |
| --- | --- | --- | --- | --- | --- | --- | --- |
| 1 | Bournemouth | 13 | 9 | 4 | 0 | 21:8 | 31 |
| 2 | Fulham | 13 | 8 | 2 | 3 | 29:14 | 26 |
| 3 | West Brom | 13 | 7 | 4 | 2 | 22:11 | 25 |
| 4 | Coventry | 13 | 7 | 2 | 4 | 19:16 | 23 |
| 5 | QPR | 13 | 6 | 3 | 4 | 24:20 | 21 |
| 6 | Huddersfield | 13 | 6 | 3 | 4 | 18:14 | 21 |
| 7 | Stoke | 13 | 6 | 3 | 4 | 16:14 | 21 |
| 8 | Reading | 13 | 6 | 1 | 6 | 20:22 | 19 |
| 9 | Luton | 13 | 4 | 6 | 3 | 22:18 | 18 |
| 10 | Middlesbrough | 13 | 5 | 3 | 5 | 15:13 | 18 |
| 11 | Millwall | 13 | 4 | 6 | 3 | 13:14 | 18 |
| 12 | Blackpool | 13 | 5 | 3 | 5 | 15:18 | 18 |
| 13 | Blackburn | 13 | 4 | 5 | 4 | 21:17 | 17 |
| 14 | Nottingham Forest | 13 | 5 | 2 | 6 | 18:16 | 17 |
| 15 | Swansea | 13 | 4 | 5 | 4 | 14:15 | 17 |
| 16 | Bristol City | 13 | 4 | 4 | 5 | 15:17 | 16 |
| 17 | Sheffield United | 13 | 4 | 3 | 6 | 17:19 | 15 |
| 18 | Preston | 13 | 3 | 6 | 4 | 14:16 | 15 |
| 19 | Birmingham | 13 | 3 | 4 | 6 | 10:16 | 13 |
| 20 | Peterborough | 13 | 3 | 2 | 8 | 14:26 | 11 |
| 21 | Cardiff | 13 | 3 | 2 | 8 | 12:24 | 11 |
| 22 | Hull | 13 | 2 | 3 | 8 | 9:19 | 9 |
| 23 | Barnsley | 13 | 1 | 5 | 7 | 7:17 | 8 |
| 24 | Derby | 13 | 3 | 7 | 3 | 9:10 | 4 |
| # | Team | G | W | D | L | +/- | P |
| --- | --- | --- | --- | --- | --- | --- | --- |
| 1 | Coventry | 6 | 6 | 0 | 0 | 14:3 | 18 |
| 2 | Fulham | 7 | 5 | 1 | 1 | 16:5 | 16 |
| 3 | Stoke | 7 | 5 | 1 | 1 | 10:5 | 16 |
| 4 | West Brom | 6 | 4 | 2 | 0 | 11:4 | 14 |
| 5 | Bournemouth | 6 | 4 | 2 | 0 | 13:7 | 14 |
| 6 | QPR | 7 | 4 | 2 | 1 | 12:7 | 14 |
| 7 | Middlesbrough | 7 | 4 | 1 | 2 | 12:7 | 13 |
| 8 | Reading | 7 | 4 | 1 | 2 | 14:11 | 13 |
| 9 | Huddersfield | 7 | 4 | 1 | 2 | 11:9 | 13 |
| 10 | Swansea | 7 | 3 | 3 | 1 | 7:4 | 12 |
| 11 | Preston | 7 | 3 | 3 | 1 | 9:8 | 12 |
| 12 | Blackburn | 6 | 3 | 2 | 1 | 14:8 | 11 |
| 13 | Derby | 7 | 2 | 5 | 0 | 7:5 | 11 |
| 14 | Sheffield United | 7 | 3 | 1 | 3 | 13:10 | 10 |
| 15 | Luton | 6 | 2 | 3 | 1 | 11:8 | 9 |
| 16 | Blackpool | 6 | 3 | 0 | 3 | 4:7 | 9 |
| 17 | Peterborough | 6 | 2 | 2 | 2 | 9:7 | 8 |
| 18 | Millwall | 6 | 2 | 2 | 2 | 6:7 | 8 |
| 19 | Barnsley | 6 | 1 | 2 | 3 | 3:6 | 5 |
| 20 | Hull | 7 | 1 | 2 | 4 | 5:10 | 5 |
| 21 | Birmingham | 6 | 1 | 2 | 3 | 3:9 | 5 |
| 22 | Nottingham Forest | 6 | 1 | 1 | 4 | 6:10 | 4 |
| 23 | Bristol City | 7 | 0 | 4 | 3 | 4:8 | 4 |
| 24 | Cardiff | 6 | 1 | 1 | 4 | 5:10 | 4 |