Preston Betting Tips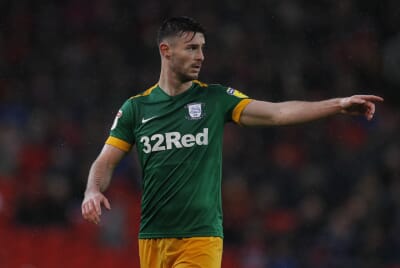 Preston North End are one of the oldest football clubs in England and we are proud to provide free Preston betting tips and picks when it comes to their latest matches throughout the course of the football season.
Odds can be found at Sportsgambler.com where we showcase the most popular bookmaker markets so that customers can peruse the prices and decide where the best value lies. There's the option to bet pre-match or instead wait for the In-Play odds.
You can get Preston betting tips on a regular basis and that includes team news and injury information which is used to shape the predicted and starting lineups that can be found at the site.
Preston Free Bets & Bonuses
Preston Injuries
Type
Name
Position
Matches
Goals
Assists
Info
Expected Return
Ched Evans
F
2
0
0
Foot injury
Early November
Connor Wickham
F
0
0
0
Hamstring
Mid November
Isaiah Brown
F
0
0
0
Achilles tendon
Late October
Matthew Olosunde
D
0
0
0
Heel injury
Late October
Next Game: Blackpool vs Preston
1:

2.30

X:

3.30

2:

3.10
Bet Now!
T&Cs apply, Gamble Responsibly 18+
Preston Lineups
Confirmed Lineups
Predicted Lineups
Preston Squad
Manager: Frankie McAvoy
Goalkeepers

1

Declan Rudd

12

Daniel Iversen

25

Connor Ripley

28

Mathew Hudson
Defenders

2

S. van den

3

G. Cunningham

5

Patrick Bauer

6

Liam Lindsay

14

Jordan Storey

15

Joe Rafferty

16

Andrew Hughes

22

Matthew Olosunde

23

Paul Huntington

32

Josh Earl

34

Lewis Coulton
Midfielders

4

Ben Whiteman

8

Alan Browne

10

Josh Harrop

11

Daniel Johnson

13

Alistair McCann

17

Lewis Leigh

18

Ryan Ledson

26

Adam O'Reilly

30

Jack Baxter

31

Scott Sinclair

44

Brad Potts
Forwards

9

Ched Evans

19

E. Riis Jakobsen

20

Isaiah Brown

21

Connor Wickham

24

Sean Maguire

29

Tom Barkhuizen

33

Ethan Walker

38

J. Rodwell-Grant

40

Jamie Thomas

45

Joshua Murphy
Preston Fixtures
Saturday 23 October
Best Odds
Saturday 30 October
Wednesday 03 November
Saturday 06 November
Saturday 20 November
Preston Results
Wednesday 20 October
Championship 21:45 Wed 20 Oct
21:45
England Championship
Saturday 16 October
Championship 17:00 Sat 16 Oct
17:00
England Championship
Saturday 02 October
Championship 17:00 Sat 2 Oct
17:00
England Championship
Tuesday 28 September
Championship 21:45 Tue 28 Sep
21:45
England Championship
Saturday 25 September
Championship 17:00 Sat 25 Sep
17:00
England Championship
Championship 2021/2022
| # | Team | G | W | D | L | +/- | P |
| --- | --- | --- | --- | --- | --- | --- | --- |
| 1 | Bournemouth | 13 | 9 | 4 | 0 | 21:8 | 31 |
| 2 | Fulham | 13 | 8 | 2 | 3 | 29:14 | 26 |
| 3 | West Brom | 13 | 7 | 4 | 2 | 22:11 | 25 |
| 4 | Coventry | 13 | 7 | 2 | 4 | 19:16 | 23 |
| 5 | QPR | 13 | 6 | 3 | 4 | 24:20 | 21 |
| 6 | Huddersfield | 13 | 6 | 3 | 4 | 18:14 | 21 |
| 7 | Stoke | 13 | 6 | 3 | 4 | 16:14 | 21 |
| 8 | Reading | 13 | 6 | 1 | 6 | 20:22 | 19 |
| 9 | Luton | 13 | 4 | 6 | 3 | 22:18 | 18 |
| 10 | Middlesbrough | 13 | 5 | 3 | 5 | 15:13 | 18 |
| 11 | Millwall | 13 | 4 | 6 | 3 | 13:14 | 18 |
| 12 | Blackpool | 13 | 5 | 3 | 5 | 15:18 | 18 |
| 13 | Blackburn | 13 | 4 | 5 | 4 | 21:17 | 17 |
| 14 | Nottingham Forest | 13 | 5 | 2 | 6 | 18:16 | 17 |
| 15 | Swansea | 13 | 4 | 5 | 4 | 14:15 | 17 |
| 16 | Bristol City | 13 | 4 | 4 | 5 | 15:17 | 16 |
| 17 | Sheffield United | 13 | 4 | 3 | 6 | 17:19 | 15 |
| 18 | Preston | 13 | 3 | 6 | 4 | 14:16 | 15 |
| 19 | Birmingham | 13 | 3 | 4 | 6 | 10:16 | 13 |
| 20 | Peterborough | 13 | 3 | 2 | 8 | 14:26 | 11 |
| 21 | Cardiff | 13 | 3 | 2 | 8 | 12:24 | 11 |
| 22 | Hull | 13 | 2 | 3 | 8 | 9:19 | 9 |
| 23 | Barnsley | 13 | 1 | 5 | 7 | 7:17 | 8 |
| 24 | Derby | 13 | 3 | 7 | 3 | 9:10 | 4 |
| # | Team | G | W | D | L | +/- | P |
| --- | --- | --- | --- | --- | --- | --- | --- |
| 1 | Coventry | 6 | 6 | 0 | 0 | 14:3 | 18 |
| 2 | Fulham | 7 | 5 | 1 | 1 | 16:5 | 16 |
| 3 | Stoke | 7 | 5 | 1 | 1 | 10:5 | 16 |
| 4 | West Brom | 6 | 4 | 2 | 0 | 11:4 | 14 |
| 5 | Bournemouth | 6 | 4 | 2 | 0 | 13:7 | 14 |
| 6 | QPR | 7 | 4 | 2 | 1 | 12:7 | 14 |
| 7 | Middlesbrough | 7 | 4 | 1 | 2 | 12:7 | 13 |
| 8 | Reading | 7 | 4 | 1 | 2 | 14:11 | 13 |
| 9 | Huddersfield | 7 | 4 | 1 | 2 | 11:9 | 13 |
| 10 | Swansea | 7 | 3 | 3 | 1 | 7:4 | 12 |
| 11 | Preston | 7 | 3 | 3 | 1 | 9:8 | 12 |
| 12 | Blackburn | 6 | 3 | 2 | 1 | 14:8 | 11 |
| 13 | Derby | 7 | 2 | 5 | 0 | 7:5 | 11 |
| 14 | Sheffield United | 7 | 3 | 1 | 3 | 13:10 | 10 |
| 15 | Luton | 6 | 2 | 3 | 1 | 11:8 | 9 |
| 16 | Blackpool | 6 | 3 | 0 | 3 | 4:7 | 9 |
| 17 | Peterborough | 6 | 2 | 2 | 2 | 9:7 | 8 |
| 18 | Millwall | 6 | 2 | 2 | 2 | 6:7 | 8 |
| 19 | Barnsley | 6 | 1 | 2 | 3 | 3:6 | 5 |
| 20 | Hull | 7 | 1 | 2 | 4 | 5:10 | 5 |
| 21 | Birmingham | 6 | 1 | 2 | 3 | 3:9 | 5 |
| 22 | Nottingham Forest | 6 | 1 | 1 | 4 | 6:10 | 4 |
| 23 | Bristol City | 7 | 0 | 4 | 3 | 4:8 | 4 |
| 24 | Cardiff | 6 | 1 | 1 | 4 | 5:10 | 4 |