La Liga Betting Tips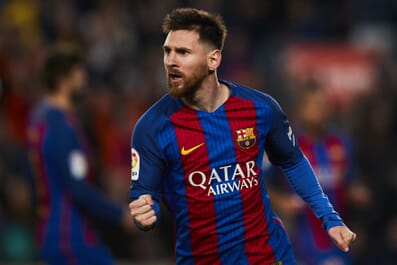 Why should I bet on the Spanish La Liga?
The Spanish top flight features many famous clubs, including Real Madrid, Barcelona, Atletico Madrid, Sevilla and Villarreal, with these teams featuring on TV and on live streaming channels a lot because of the demand to watch their games.
However, the standard of La Liga is very high and all twenty teams are involved in competitive matches every weekend, with three teams being relegated each year and being replaced by three promoted teams from the Segunda Division.
Every bookmaker offers a first-class service when it comes to La Liga betting, with this including pre-match and In-Play wagering. Pre-match betting on Spanish football remains popular and that applies to accumulators where the potential winnings get bigger with the more selections that are added.
Betting on La Liga can often mean enjoying the action even more, especially if you manage to back the team that wins the game, the player that scores the first goal or the correct score in the match. There are lots of betting markets available before a ball is kicked and customers should find the ones that suit them best.
Spain Primera Liga 2017/18 To Win Outright
Team To Win Outright
Current Best Odds
Bookmarker
View more
The History of La Liga
It is little surprise to find that Real Madrid and Barcelona were two of the founding members of La Liga, with the Spanish football league enjoying its inauguration in 1929 with ten original teams. Real, Barcelona and Athletic Bilbao remain the only three teams who have never been demoted from the Spanish top flight.
Athletic Bilbao were the early pace-setters in La Liga, with title victories in 1930, 1931, 1934 and 1936. The Spanish Civil War halted the progress of the competition although when it returned in the 1940's, Atletico Madrid, Valencia and Sevilla were the dominant forces and it wasn't until the 1950's that Real Madrid and Barcelona began a dominance which is still in effect today. Real claimed La Liga titles in 1954, 1955, 1957 and 1958.
Real Madrid continued to impose a stranglehold in Spain during the 1960's and 1970's, with their spending power and appeal meaning they could attract overseas players. Between 1961 and 1980, fourteen La Liga titles were landed by Los Merengues, with Johan Cruyff's arrival as Barcelona manager in 1988 helping the Catalan side to wrest power from their rivals.
The Barca "Dream Team" won the La Liga title four times between 1991 and 1994, with Ronald Koeman, Pep Guardiola and Romario among the star players in the side. Louis van Gaal would arrive later in the decade and win Spanish league titles in 1998 and 1999.
While the current landscape in La Liga continues to be dominated by Real Madrid and Barcelona, there have been some notable exceptions including Valencia managing to land the spoils in 2002 and 2004 under Rafael Benitez.
Atletico Madrid also managed to finish above the "Big Two" during the 2013-14 season, although the presence of Cristiano Ronaldo in the Real team has helped them achieve new heights and the same can be said of Lionel Messi at the Nou Camp.
Latest Spain La Liga Winners
2016 / 17
Real Madrid
Lionel Messi (37)
2015 / 16
Barcelona
Luis Suarez (40)
2014 / 15
Barcelona
Cristiano Ronaldo (48)
View more
Enjoy La Liga Team News and Updates
For every La Liga match, SportsGambler.com will be providing essential information relating to the game including which La Liga players are suspended or injured. You will also be able to see predicted line-ups along with the actual line-ups when we get closer to kick-off.
We will also be supplying tips ahead of each round of matches, with La Liga teams also participating in the Champions League and Europa League, meaning that the games come thick and fast.
Several bookmakers also offer customers the chance to enjoy live streaming of La Liga matches, with this being a simple case of logging into your account and placing a bet on the match you want to watch.