Stoke Betting Tips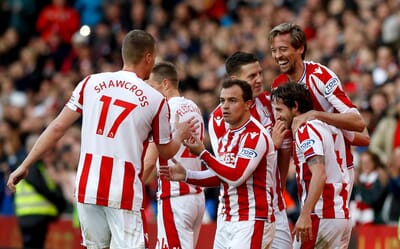 Stoke City are a historic club based in Staffordshire and they play at the bet365 Stadium, with the Potters having a large fanbase who regularly flock to watch their team in action.
We're always keen to provide expert Stoke betting tips so that anyone who is interested in the game can have some solid recommendations and picks and get insights into how the team has been playing before proceeding with a bet.
Get free Stoke betting tips and team news by accessing the dedicated pages and find out which players are suspended before reading our predicted lineups. If you'd rather wait for the confirmed teams and the starting 11s, we also have that information available.
Stoke Free Bets & Bonuses
Stoke Injuries
Type
Name
Position
Matches
Goals
Assists
Info
Expected Return
Alfie Doughty
M
0
0
0
Illness
Late October
Tashan Oakley-Boothe
M
0
0
0
Back injury
Early November
Abdallah Sima
F
2
0
0
Ankle injury
Late October
Morgan Fox
D
1
0
0
Hamstring
Late October
Next Game: Millwall vs Stoke
1:

2.40

X:

3.30

2:

2.87
Bet Now!
T&Cs apply, Gamble Responsibly 18+
Stoke Lineups
Confirmed Lineups
Predicted Lineups
Stoke Squad
Manager: Michael O Neill
Goalkeepers

12

Josef Bursik

13

Jack Bonham
Defenders

2

Tom Smith

3

Morgan Fox

5

James Chester

6

Danny Batth

16

Ben Wilmot

19

Leo Østigard

21

Demeaco Duhaney

26

W. Forrester

35

Josh Tymon

36

Harry Souttar

43

Kieran Coates
Midfielders

1

Adam Davies

4

Joe Allen

7

Sam Clucas

8

Mario Vrancic

11

Alfie Doughty

15

Jordan Thompson

20

T. Oakley-Boothe

23

Thomas Ince

25

Nick Powell

28

Romaine Sawyers

48

Adam Porter

0

Dan Malone
Forwards

9

Steven Fletcher

10

Tyrese Campbell

18

Jacob Brown

22

Sam Surridge

27

Abdallah Sima
Stoke Fixtures
Saturday 23 October
Best Odds
Saturday 30 October
Wednesday 03 November
Saturday 06 November
Saturday 20 November
Stoke Results
Tuesday 19 October
Championship 21:45 Tue 19 Oct
21:45
England Championship
Saturday 16 October
Championship 17:00 Sat 16 Oct
17:00
England Championship
Sheffield United
0-0
Stoke
Friday 01 October
Championship 21:45 Fri 1 Oct
21:45
England Championship
Tuesday 28 September
Championship 21:45 Tue 28 Sep
21:45
England Championship
Saturday 25 September
Championship 17:00 Sat 25 Sep
17:00
England Championship
Championship 2021/2022
| # | Team | G | W | D | L | +/- | P |
| --- | --- | --- | --- | --- | --- | --- | --- |
| 1 | Bournemouth | 13 | 9 | 4 | 0 | 21:8 | 31 |
| 2 | West Brom | 12 | 7 | 4 | 1 | 21:9 | 25 |
| 3 | Fulham | 12 | 7 | 2 | 3 | 27:14 | 23 |
| 4 | Coventry | 12 | 7 | 2 | 3 | 18:14 | 23 |
| 5 | QPR | 13 | 6 | 3 | 4 | 24:20 | 21 |
| 6 | Stoke | 13 | 6 | 3 | 4 | 16:14 | 21 |
| 7 | Huddersfield | 12 | 6 | 2 | 4 | 18:14 | 20 |
| 8 | Reading | 12 | 6 | 1 | 5 | 18:19 | 19 |
| 9 | Luton | 13 | 4 | 6 | 3 | 22:18 | 18 |
| 10 | Millwall | 13 | 4 | 6 | 3 | 13:14 | 18 |
| 11 | Blackburn | 13 | 4 | 5 | 4 | 21:17 | 17 |
| 12 | Nottingham Forest | 13 | 5 | 2 | 6 | 18:16 | 17 |
| 13 | Bristol City | 13 | 4 | 4 | 5 | 15:17 | 16 |
| 14 | Middlesbrough | 12 | 4 | 3 | 5 | 13:13 | 15 |
| 15 | Sheffield United | 13 | 4 | 3 | 6 | 17:19 | 15 |
| 16 | Blackpool | 12 | 4 | 3 | 5 | 12:16 | 15 |
| 17 | Swansea | 12 | 3 | 5 | 4 | 12:14 | 14 |
| 18 | Preston | 12 | 2 | 6 | 4 | 12:15 | 12 |
| 19 | Birmingham | 12 | 3 | 3 | 6 | 10:16 | 12 |
| 20 | Cardiff | 12 | 3 | 2 | 7 | 12:22 | 11 |
| 21 | Hull | 12 | 2 | 3 | 7 | 8:17 | 9 |
| 22 | Barnsley | 12 | 1 | 5 | 6 | 7:15 | 8 |
| 23 | Peterborough | 12 | 2 | 2 | 8 | 12:25 | 8 |
| 24 | Derby | 13 | 3 | 7 | 3 | 9:10 | 4 |
| # | Team | G | W | D | L | +/- | P |
| --- | --- | --- | --- | --- | --- | --- | --- |
| 1 | Coventry | 6 | 6 | 0 | 0 | 14:3 | 18 |
| 2 | Stoke | 7 | 5 | 1 | 1 | 10:5 | 16 |
| 3 | West Brom | 6 | 4 | 2 | 0 | 11:4 | 14 |
| 4 | Bournemouth | 6 | 4 | 2 | 0 | 13:7 | 14 |
| 5 | QPR | 7 | 4 | 2 | 1 | 12:7 | 14 |
| 6 | Fulham | 6 | 4 | 1 | 1 | 14:5 | 13 |
| 7 | Reading | 6 | 4 | 1 | 1 | 12:8 | 13 |
| 8 | Huddersfield | 6 | 4 | 0 | 2 | 11:9 | 12 |
| 9 | Blackburn | 6 | 3 | 2 | 1 | 14:8 | 11 |
| 10 | Derby | 7 | 2 | 5 | 0 | 7:5 | 11 |
| 11 | Sheffield United | 7 | 3 | 1 | 3 | 13:10 | 10 |
| 12 | Middlesbrough | 6 | 3 | 1 | 2 | 10:7 | 10 |
| 13 | Luton | 6 | 2 | 3 | 1 | 11:8 | 9 |
| 14 | Swansea | 6 | 2 | 3 | 1 | 5:3 | 9 |
| 15 | Preston | 6 | 2 | 3 | 1 | 7:7 | 9 |
| 16 | Blackpool | 6 | 3 | 0 | 3 | 4:7 | 9 |
| 17 | Peterborough | 6 | 2 | 2 | 2 | 9:7 | 8 |
| 18 | Millwall | 6 | 2 | 2 | 2 | 6:7 | 8 |
| 19 | Barnsley | 6 | 1 | 2 | 3 | 3:6 | 5 |
| 20 | Hull | 6 | 1 | 2 | 3 | 4:8 | 5 |
| 21 | Birmingham | 6 | 1 | 2 | 3 | 3:9 | 5 |
| 22 | Nottingham Forest | 6 | 1 | 1 | 4 | 6:10 | 4 |
| 23 | Bristol City | 7 | 0 | 4 | 3 | 4:8 | 4 |
| 24 | Cardiff | 6 | 1 | 1 | 4 | 5:10 | 4 |