World Snooker Championship First Round Predictions Betting Tips & Predictions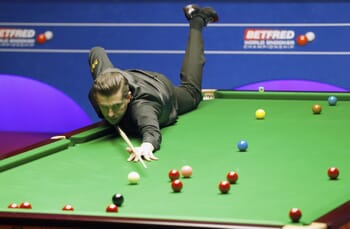 England
World Snooker Championship
Tip: 1st Round Tips
Units: 1/5
We look ahead to the first round of the 2020 World Snooker Championship and here are the Sportsgambler.com betting predictions for every match.
Judd Trump vs Tom Ford
This is the opening match of the World Championship and Judd will be relishing that moment he's introduced as reigning World Champion by Rob Walker MC. On his day, Tom Ford can compete with the top 8 in the world. He's also played Judd at the Crucible before (Trump won 10-8) but he's a bit hot and cold, too often.
Judd hasn't looked quite as sharp since pre lockdown and the 6 ranking title haul he's amassed this season. That said, he's playing with an air of superiority, his safety is sharp, his scoring is ridiculous and shot making absolutely tremendous. Despite poor shows in the Championship League and the Tour Championship, Judd will be firing and will take some stopping this year.
Prediction: Judd Trump 10-4
Yan Bingtao vs Elliot Slessor
Yan Bingtao is just 20 but does feel like a regular in the latter stages of tournaments these days. He's just broken into the Top 16 in the rankings and captured his first ranking title (the Riga Open) and made the semi-finals of the UK and Welsh this year. On paper this should be a rout against Elliot Slessor, a plucky Geordie, ranked 69th in the world.
Slessor was impressive in the final round of qualifying against Martin O'Donnell winning 7 frames on the spin to book his Crucible swab test! He's pretty fearless and has taken the scalp of none other than Ronnie O'Sullivan twice before. He's a Crucible rookie, and first-timers either fly or flop – given Slessor's attitude and ability to reel of frames quickly, we're perhaps controversially going for an upset here and a Slessor win.
Prediction: Elliot Slessor 10-8
Stephen Maguire vs Martin Gould
Maguire was the form horse at the recent Tour Championship and collected £250,000 for a stunning week's performance in Milton Keynes. His practice facility with Higgins and McGill is paying off (for all 3 players actually) and expectation levels are rising about Maguire finally justifying his incredible talent and going all the way this year. It took Ding to stop him winning the UK in December (Maguire's semi final win, 6-0 against Mark Allen was near perfection) and he defeated Robertson, Trump and Allen (again!) romping home in the Tour Championship.
Martin Gould has had demons creeping in to his game, he's thought about retirement and slipped down the rankings to 61st – his tour card was actually in danger but a sterling win against gritty Scot Graeme Dott to qualify has sealed his professional status. Can he relax now? Will his new Dennis Taylor glasses see him into the 2nd round in Sheffield. We doubt it, it's Maguire all the way here.
Prediction: Stephen Maguire 10-5
Kyren Wilson vs Anthony Hamilton
Anthony Hamilton has been criticising the decision to let a reduced 300 strong crowd into the Crucible for fear of Covid spread. He's got asthma and had back/neck problems but he's a top breakbuilder and has been a pro for 30 years. Kyren Wilson, went out early (ish) last year to David Gilbert and has said he's learnt a lot and ready to push onto the 1 table situation again. He'll have to beat Trump or Maguire to do that but certainly for this match, the Warrior Wilson will have too much for Hamilton, who may have his mind on other things. *** UPDATE – Anthony Hamilton has now withdrawn from the Championship, citing safety concerns over the reduced crowd inside the Crucible Theatre. Kyren Wilson will now receive a bye in to the Last 16 ***
Prediction: Wilson 10-4
John Higgins vs Matthew Stevens
Rolling back the years here. Higgins has reached the final for the past 3 years. He loves the Crucible, he relishes the longer frame matches and will despatch opponents efficiently if he has his scoring boots on. Higgins underperformed against Judd in the recent Tour Championship but has said he expects the standard at this years World Championship to be incredibly high due to all players having lots of preparation time. Stevens, will be happy to be in the Last 32 and has hardly practiced during lockdown. We can't see anything other than a Higgins win here.
Prediction: John Higgins 10-6
David Gilbert vs Kurt Maflin
This is going to be tasty. Kurt Maflin was heralded as a future star when his was in his early teens and has never quite delivered (yet). Similarly Gilbert has promised and not really performed but over the last 2 to 3 years he's made several ranking finals and made the semis here last year, losing out in a 17-16 thriller to Higgins.
These two will score heavily (consider a century break bet here too) and Gilbert is potentially a top 8 player though he's currently 12th. Maflin has been to the Crucible before in 2015, nearly beating the Jester from Leicester, Mark Selby as he defended his title – he lost 10-9 but won an army of fans. Very tough call this, especially if Kurt turns up.
Prediction: David Gilbert 10-9
Jack Lisowski vs Anthony McGill
Everyone loves watching Jackpot Lisowski when he's in full flow. But 'when' is the important word here. Since the start of the 2018/19 season, Jack's made 4 ranking event finals and lost them all. He's due a big win soon – is it bottle? Is he taking on too many risky opening reds? Is he pushing the boat too much to quench his flamboyancy? Either way, we don't think Lisowski will triumph this year.
He's drawn the form guy from the qualifiers in Anthony McGill. McGill dropped just 2 frames in beating Jak Jones 6-1 and Sam Baird 10-1 and he tends to play well in Sheffield – remember his quarter final run in 2015? We reckon McGill's form plus the fact he's in that industrial unit practicing with Higgins and Maguire, in addition to Lisowski's unpredictability make this a win for the Smiling Assassin.
Prediction: Anthony McGill 10-7
Mark Allen vs Jamie Clarke

Jamie Clarke failed at the last hurdle to win his pro tour card on 4 occasions. He had to qualify for the Crucible to maintain his pro status. He also had to beat 17th seed Joe Perry. And quite understandably, Clarke was in tears after seeing off Sunni Akani in the final qualifying round to guarantee himself £20,000. He deserves to be here and can enjoy the experience, relishing in the fact he's made it to snooker's hallowed ground.
Mark Allen has hit his highest ranking of 4th coming into this Championship, he made the final of the recent Tour Championship and has apparently been trying to shed a few pounds to power through potentially 17 days of gruelling match play. Allen is going through divorce proceedings currently so this year's World Championship could be a welcome distraction. The Antrim lad never knows when he's beaten either. He'll have too much for Jamie Clarke in this one.
Predictions: Mark Allen 10-4
Mark Williams vs Alan McManus
The mercurial Mark Williams has had an on-off love affair with snooker over the past decade, only to rediscover his inner-fire spectacularly in 2018 when he went all the way to the world crown, 15 years after his previous title. He's a proven winner in Sheffield, and can stick the longer distance matches, plus his temperament is probably the best in the game. Hardly gets flustered even in the most dogged of safety battles. His opponent, Alan 'Angles' McManus, showed emerging prospect Louis Heathcote who was boss in the final qualifying round and has had a run to the semi's here in 2016, so he's no pushover but surely at 49 yrs old, he's less of a threat? We think Willo's recent dedication to practicing in lockdown will see him go deep, especially in this quarter, with a quarter final showdown with Rocket Ronnie on the cards. Several tipsters are predicting Williams can go all the way again at around 45/1 he's certainly value though let's hope he doesn't bother with the naked press conference this time!
Prediction: Mark Williams 10-5
Stuart Bingham vs Ashley Carty
Tearful, relieved, ecstatic, overwhelmed Carty saved his tour card by qualifying against a tough opponent in Rob Milkins. Similar to Elliot Slessor and Jamie Clarke, Carty is a rookie Crucible debutant who can relax into the match and try to 'enjoy' being in the pressure cauldron of the Crucible. Bingham has nabbed a couple of ranking titles this season and is extremely dangerous here in Sheffield. He won the world title in 2015 beating Judd and Ronnie en route. His scoring prowess and unflappable experience will see him across the line in this one, he can be ruthless too, it could be a quick kill for Ballrun Bingham.
Prediction: Bingham 10-3
Ding Junhui vs Mark King
One loves a rhyming clash of players 'Ding v King'.... King will be over the moon to be at the Crucible again for the first time in 7 years but we think it'll be a short visit for the enigmatic Essex lad. Ding will simply have too much for him. That said, Ding has travelled from China, self-isolated for 2 weeks and opened a snooker centre in the past few weeks, he may feel a little jaded but he'll outscore King here. Whether or not the Dragon can go all the way, which he's threatened to on a few occasions remains to be seen. Ding sits 11th in the world rankings but many feel that belies his talent, his win in the UK Championships (out of nowhere form-wise it has to be said) proved once again, Ding is a class act. Will the lack of crowd, help reduce that almighty pressure he puts on himself and help him win the world crown for China for the first time in history? (it'll be tough - he'll have to beat Ronnie, Bingham or Williams to even make the semis!)
Prediction: Ding 10-3
Ronnie O'Sullivan vs Thepchaiya Un-Nooh
Ahhh Ronnie. Ronnie. Ronnie. The undisputed greatest of all time on the table, a genius and when he's 'on his game' he's unplayable. We'd still give him the edge over Judd in this regard. But his loss to Selby in the 2014 clearly still haunts him here. His seeding of 6th for this tournament, is probably about right. James Cahill, who had amateur status at the time, knocked him out at this stage last season in possibly the Crucible's biggest ever upset, and bizarrely towards the end of the match Ronnie caught a cold (make your own minds up there folks).
Speedy, former Shoot Out Champion Thepchaiya Un-Nooh is unlucky with these draws – he's now played Judd (lost 10-9 last year), John Higgins and now Ronnie O'Sullivan. Is it 3rd time lucky against these big guns? Probably not. It'll be a fast, rapid, open affair, these are the 2 quickest players on tour, averaging around 14-15 seconds per shot. Ronnie has stated he prefers matches like this. But he's so hard to read, last week he was threatening pulling out (yawn) and he's now recently tweeted that he's raring to go and looking forward to competing again. As the saying goes "with every genius, comes a hint of madness", Ronnie's definitely not mad, just inconsistent. Anyway, assuming Ronnie wants to play, we'll be backing Ronnie, certainly for this match but as for the outright, we're not so sure.
Predictions: Ronnie O'Sullivan 10-6
Mark Selby vs Jordan Brown
Jordan Brown managed to avoid best mate Mark Allen in the Last 32 draw but getting Mark Selby is not exactly favourable. Selby has had an 'ok' season, he's won two of the Home Nations events (the English and the Scottish) and had 4 semi-final berths in other high profile events. He's won the Crucible crown 3 times and is so, so hard to beat, especially over the longer multi session matches. Jordan Brown's professional status is secured by winning through to this stage but it's unlikely he'll progress to the Last 16. A fine achievement though by Jordan Brown, an incredibly underrated player from Antrim.
Prediction: Selby 10-4
Shaun Murphy vs Noppon Saengkham
Many people have been talking up the SMurph's chances this year, he's had one of his best season's in a long time. He's in form and sitting at 10th in the rankings. A sublime cueist, if the Magician does get on a roll early, it's going to be extremely difficult for Noppon Saengkham to catch him. The Thai was impressive in qualifying against Eden Sharav (10-2) and has been to the Crucible before but Shaun will need to be having an 'off' day if Saengkham is to prevail. A Murphy v Selby last 16 encounter would be one to relish too.
Prediction: Murphy 10-4
Barry Hawkins vs Alexander Ursenbacher
Now this is an interesting match up. It's been 7 years since they last played (Ursenbacher is only 25 too!) and the Hawk has won both matches in the head to head. But Alexander Ursenbacher (who represents Switzerland as the 19th different nation to appear at the Crucible) is a fluent, quick scoring, confident player. Further, from what we saw at the qualifying this week, he has a good temperament and has a realistic chance of upsetting Barry Hawkins, who's form has definitely dipped. The Hawk has made 4 quarter finals this year, and did win the Paul Hunter Classic but his school report this term would definitely read 'could do better'. Hawkins has had a frustrating season, reflected in his ranking of 15th. Ursenbacher will fancy this but it'll be tough as Hawkins has a solid Crucible record.
Prediction: Ursenbacher 10-9
Neil Robertson vs Liang Wenbo
Second seed Neil Robertson, is a serious contender for the outright this year. He's bang in form (let's ignore the lockdown tournaments) having won 3 ranking titles in the space of 3 weeks (European Masters, World Grand Prix and the Champion of Champions). He was heavily fancied last year only to hit the Wall from Wishaw in the shape of John Higgins (Higgins suits Wall more than Wizard in our opinion!). He should have no issues against Liang Wenbo, who will probably still be recovering from his 10-9 win over Ireland's gritty, Fergal O'Brien (unsurprisingly with Fergal, it was the last qualifying match to finish). Wenbo can score well and if he plays well from the off will put Robbo under pressure. We can't see past Robertson for this though. Plus the Thunder from Down Under could well ultimately prosper in this quarter of the draw.
Prediction: Neil Robertson 10-6
Free Daily Betting Tips & Predictions
Free Daily Betting Tips & Predictions
19:30 Saturday 24 Oct
16:00 Sunday 25 Oct
21:15 Sunday 25 Oct
22:00 Monday 26 Oct
22:00 Tuesday 27 Oct
22:00 Wednesday 28 Oct