Tottenham
v

Aston Villa Betting Tips & Predictions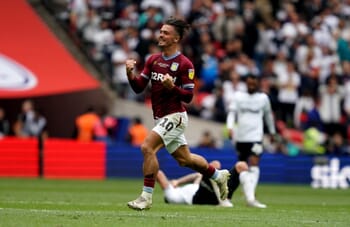 18:30 Sat 10 Aug
Football
Tip: 1/1 HT/FT
Units: 3/5
Tottenham Hotspur have been handed a nice easy opener to their 2019/20 Premier League campaign, with Spurs facing a team who were promoted from the Championship through the play-offs.
Team news | League Table | Odds
We're not saying that Aston Villa are certainties to be relegated, although Dean Smith will be acutely aware of the task of trying to remain in the top flight, with the Midlands side having scrambled past West Brom and Derby in the play-offs to return to the Premier League.
Mauricio Pochettino has been visibly frustrated by the lack of new signings, although Ryan Sessegnon arrived on deadline day to join Tanguy Ndombele and that would add dynamism in the full-back area.
Ironically, Spurs' signings might have included Jack Grealish if Aston Villa hadn't achieved promotion last season, although the Brummie looks set to stay with his boyhood club and is likely to shine on several big stages after previously sparkling at a lower level.
However, Smith understood the need to recruit in order for this team to now be competitive at a tough level, with the Midlands club having spent over £100 million in the transfer market. Wesley Moraes is likely to start in attack, although Jota and Trezeguet are also exciting prospects, while Tom Heaton and Douglas Luiz are other eye-catching captures.
John McGinn and Conor Hourihane are likely to take their place in midfield, while Tyrone Mings has become a permanent signing in central defence.
Ultimately, there is likely to be a difference in class between a team who were probably third best in England last season and one that will take a while to find their feet at Premier League level.
Spurs will look to get off to a fast start, with Harry Kane completely up to speed after injury prematurely ended last season's Premier League campaign and the striker can help ensure Tottenham are at least one goal to the good come half-time.
BETTING TIP
1/1 HT/FT @ 1.90 (9/10) with bet365
Team News
Confirmed Lineup
Tottenham v Aston Villa - Predicted Lineups & Confirmed Starting 11s
Tottenham Lineup
Confirmed Lineup & Formation
Aston Villa Lineup
Confirmed Lineup & Formation
Tottenham Formation
4-3-3
Tottenham Substitutes
52: Oliver Skipp
24: Serge Aurier
23: Christian Eriksen
15: Eric Dier
14: Georges-Kevin N'Koudou
12: Victor Wanyama
22: Paulo Gazzaniga
Aston Villa Formation
4-2-3-1
Aston Villa Substitutes
26: Jonathan Kodjia
23: Jota Peleteiro
08: Henri Lansbury
06: Douglas Luiz
18: Matthew Robert Targett
15: Ezri Konsa
12: Jed Steer
Tottenham v Aston Villa - Injuries, Bans & Suspensions
Tottenham v Aston Villa - Stats
Premier League - Standings & League Table
Premier League
- League Table
| # | Team | G | W | D | L | +/- | P |
| --- | --- | --- | --- | --- | --- | --- | --- |
| 1 | Liverpool | 8 | 8 | 0 | 0 | 20:6 | 24 |
| 2 | Manchester City | 8 | 5 | 1 | 2 | 27:9 | 16 |
| 3 | Arsenal | 8 | 4 | 3 | 1 | 13:11 | 15 |
| 4 | Leicester | 8 | 4 | 2 | 2 | 14:7 | 14 |
| 5 | Chelsea | 8 | 4 | 2 | 2 | 18:14 | 14 |
| 6 | Crystal Palace | 8 | 4 | 2 | 2 | 8:8 | 14 |
| 7 | Burnley | 8 | 3 | 3 | 2 | 11:9 | 12 |
| 8 | West Ham | 8 | 3 | 3 | 2 | 11:11 | 12 |
| 9 | Tottenham | 8 | 3 | 2 | 3 | 14:12 | 11 |
| 10 | Bournemouth | 8 | 3 | 2 | 3 | 13:13 | 11 |
| 11 | Wolverhampton | 8 | 2 | 4 | 2 | 11:11 | 10 |
| 12 | Manchester Utd | 8 | 2 | 3 | 3 | 9:8 | 9 |
| 13 | Sheffield Utd | 8 | 2 | 3 | 3 | 7:7 | 9 |
| 14 | Brighton | 8 | 2 | 3 | 3 | 8:10 | 9 |
| 15 | Aston Villa | 8 | 2 | 2 | 4 | 13:12 | 8 |
| 16 | Newcastle | 8 | 2 | 2 | 4 | 5:13 | 8 |
| 17 | Southampton | 8 | 2 | 1 | 5 | 8:15 | 7 |
| 18 | Everton | 8 | 2 | 1 | 5 | 6:13 | 7 |
| 19 | Norwich | 8 | 2 | 0 | 6 | 10:21 | 6 |
| 20 | Watford | 8 | 0 | 3 | 5 | 4:20 | 3 |
| # | Team | G | W | D | L | +/- | P |
| --- | --- | --- | --- | --- | --- | --- | --- |
| 1 | Liverpool | 4 | 4 | 0 | 0 | 12:4 | 12 |
| 2 | Leicester | 4 | 3 | 1 | 0 | 10:2 | 10 |
| 3 | Arsenal | 4 | 3 | 1 | 0 | 8:5 | 10 |
| 4 | Tottenham | 4 | 3 | 0 | 1 | 9:3 | 9 |
| 5 | Burnley | 4 | 3 | 0 | 1 | 6:3 | 9 |
| 6 | Crystal Palace | 4 | 2 | 2 | 0 | 4:1 | 8 |
| 7 | Manchester City | 4 | 2 | 1 | 1 | 14:4 | 7 |
| 8 | Manchester Utd | 4 | 2 | 1 | 1 | 7:3 | 7 |
| 9 | Norwich | 4 | 2 | 0 | 2 | 9:11 | 6 |
| 10 | Everton | 4 | 2 | 0 | 2 | 5:7 | 6 |
| 11 | West Ham | 4 | 2 | 0 | 2 | 5:7 | 6 |
| 12 | Chelsea | 4 | 1 | 2 | 1 | 6:5 | 5 |
| 13 | Aston Villa | 4 | 1 | 2 | 1 | 5:4 | 5 |
| 14 | Brighton | 4 | 1 | 2 | 1 | 5:4 | 5 |
| 15 | Bournemouth | 4 | 1 | 2 | 1 | 7:7 | 5 |
| 16 | Newcastle | 4 | 1 | 2 | 1 | 2:2 | 5 |
| 17 | Wolverhampton | 4 | 1 | 2 | 1 | 6:7 | 5 |
| 18 | Sheffield Utd | 4 | 1 | 0 | 3 | 2:4 | 3 |
| 19 | Watford | 4 | 0 | 2 | 2 | 3:8 | 2 |
| 20 | Southampton | 4 | 0 | 1 | 3 | 4:10 | 1 |
Free Daily Betting Tips from our Expert Tipsters
Free Daily Betting Tips from our Tipsters
Mon 14 Oct
Tue 15 Oct
Tue 15 Oct
Fri 18 Oct
Sat 19 Oct
Sat 19 Oct
Sun 20 Oct
Mon 21 Oct
Tue 22 Oct
Tue 22 Oct
Wed 23 Oct
Wed 23 Oct
Sun 27 Oct
Sun 10 Nov