Tottenham
v

Brighton Betting Tips & Predictions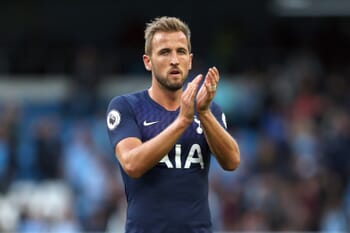 13:30 Thu 26 Dec
Football
Tip: Brighton +1.5
Units: 3/5
Brighton & Hove Albion came off the Selhurst Park pitch recently wondering how they didn't end up putting arch-rivals Crystal Palace to the sword, with the Seagulls having largely controlled the Monday night encounter.
Team news | League Table | Odds
Now Graham Potter's side enter the festive schedule of fixtures and we're surprised that they are trading at such a big price to overcome Tottenham at White Hart Lane despite the home team's recent resurgence.
While Brighton might be lurking in thirteenth place, there are signs that Potter is putting together some excellent foundations at the AMEX Stadium and we should also remember that Albion did beat Tottenham 3-0 in the reverse fixture.
While this result happened at a time when Mauricio Pochettino's time at Spurs was clearly coming to an end, we shouldn't rule out the possibility of a Premier League double, especially at a time when players are being rested.
Jose Mourinho is driven to steer Spurs into the top four places of the Premier League this season although he has to give due consideration to the fact that his players need to be rotated and this match follows hard on the heels of a tough clash with Chelsea the previous Sunday.
There is also a clash at Norwich two days later and we really fancy Brighton to give a good account of themselves in this clash and keep the scoreline close.
The Seagulls might have lost five of their nine encounters on the road although there are signs that they are improving and just fifteen goals have been conceded.
We think that a draw is eminently achievable and are happy to back them with the cushion of 1.5 goals for this road trip against a team who will be content to get over the line with a slender advantage.
BETTING TIP
Brighton +1.5 @ 1.60 with bet365
Team News
Confirmed Lineup
Tottenham v Brighton - Predicted Lineups & Confirmed Starting 11s
Tottenham Lineup
Confirmed Lineup & Formation
Brighton Lineup
Confirmed Lineup & Formation
44

Aaron Anthony Connolly
Tottenham Formation
4-2-3-1
Tottenham Substitutes
23: Christian Eriksen
18: Giovani Lo Celso
15: Eric Dier
11: Erik Lamela
39: Japhet Tanganga
21: Juan Foyth
13: Michel Vorm
Brighton Formation
3-1-4-2
Brighton Substitutes
17: Glenn Murray
07: Neal Maupay
24: Davy Pröpper
11: Leandro Trossard
08: Yves Bissouma
22: Martin Montoya
27: David Button
Tottenham v Brighton - Injuries, Bans & Suspensions
Tottenham v Brighton - Stats
Premier League - Standings & League Table
Premier League
- League Table
| # | Team | G | W | D | L | +/- | P |
| --- | --- | --- | --- | --- | --- | --- | --- |
| 1 | Liverpool | 29 | 27 | 1 | 1 | 66:21 | 82 |
| 2 | Manchester City | 28 | 18 | 3 | 7 | 68:31 | 57 |
| 3 | Leicester | 29 | 16 | 5 | 8 | 58:28 | 53 |
| 4 | Chelsea | 29 | 14 | 6 | 9 | 51:39 | 48 |
| 5 | Manchester United | 29 | 12 | 9 | 8 | 44:30 | 45 |
| 6 | Wolverhampton | 29 | 10 | 13 | 6 | 41:34 | 43 |
| 7 | Sheffield United | 28 | 11 | 10 | 7 | 30:25 | 43 |
| 8 | Tottenham | 29 | 11 | 8 | 10 | 47:40 | 41 |
| 9 | Arsenal | 28 | 9 | 13 | 6 | 40:36 | 40 |
| 10 | Burnley | 29 | 11 | 6 | 12 | 34:40 | 39 |
| 11 | Crystal Palace | 29 | 10 | 9 | 10 | 26:32 | 39 |
| 12 | Everton | 29 | 10 | 7 | 12 | 37:46 | 37 |
| 13 | Newcastle | 29 | 9 | 8 | 12 | 25:41 | 35 |
| 14 | Southampton | 29 | 10 | 4 | 15 | 35:52 | 34 |
| 15 | Brighton | 29 | 6 | 11 | 12 | 32:40 | 29 |
| 16 | West Ham | 29 | 7 | 6 | 16 | 35:50 | 27 |
| 17 | Watford | 29 | 6 | 9 | 14 | 27:44 | 27 |
| 18 | Bournemouth | 29 | 7 | 6 | 16 | 29:47 | 27 |
| 19 | Aston Villa | 28 | 7 | 4 | 17 | 34:56 | 25 |
| 20 | Norwich | 29 | 5 | 6 | 18 | 25:52 | 21 |
| # | Team | G | W | D | L | +/- | P |
| --- | --- | --- | --- | --- | --- | --- | --- |
| 1 | Liverpool | 15 | 15 | 0 | 0 | 40:12 | 45 |
| 2 | Leicester | 15 | 9 | 3 | 3 | 30:15 | 30 |
| 3 | Manchester City | 13 | 9 | 2 | 2 | 33:12 | 29 |
| 4 | Manchester United | 15 | 8 | 5 | 2 | 29:12 | 29 |
| 5 | Tottenham | 14 | 8 | 2 | 4 | 27:15 | 26 |
| 6 | Arsenal | 15 | 7 | 5 | 3 | 26:20 | 26 |
| 7 | Everton | 14 | 7 | 4 | 3 | 19:15 | 25 |
| 8 | Chelsea | 15 | 7 | 3 | 5 | 22:15 | 24 |
| 9 | Sheffield United | 15 | 7 | 3 | 5 | 17:13 | 24 |
| 10 | Burnley | 15 | 7 | 2 | 6 | 20:19 | 23 |
| 11 | Wolverhampton | 15 | 5 | 7 | 3 | 21:17 | 22 |
| 12 | Crystal Palace | 15 | 6 | 4 | 5 | 12:13 | 22 |
| 13 | Newcastle | 14 | 5 | 6 | 3 | 12:12 | 21 |
| 14 | Brighton | 14 | 4 | 6 | 4 | 17:15 | 18 |
| 15 | Watford | 14 | 4 | 5 | 5 | 16:17 | 17 |
| 16 | Bournemouth | 14 | 4 | 5 | 5 | 17:21 | 17 |
| 17 | Aston Villa | 13 | 5 | 2 | 6 | 18:24 | 17 |
| 18 | West Ham | 14 | 4 | 3 | 7 | 23:26 | 15 |
| 19 | Norwich | 14 | 4 | 3 | 7 | 19:26 | 15 |
| 20 | Southampton | 15 | 4 | 2 | 9 | 16:31 | 14 |
Free Daily Betting Tips from our Expert Tipsters
Free Daily Betting Tips from our Tipsters
Mon 13 Apr
Thu 30 Apr
Thu 30 Apr